Liverpool Fans Surely in an Uproar with Dalglish Dismissing His Departure?
May 14, 2012
Bryn Lennon/Getty Images
The Guardian reported that Kenny Dalglish, current Liverpool manager, has dispelled rumors of his departure in the summer. 
The Scot scoffed at reporters after the Swansea game after being asked if FSG will boot him from the managerial seat, as some newspapers reported that he was set to be replaced with Wigan Athletic's Roberto Martinez (via the UK Press Association). 
However, the Daily Mail revealed this morning that Dalglish was flown across the pond to meet with the executives regarding Liverpool's position in the league.
Fenway Sports Group has been quiet regarding its position on Dalglish, but it is said to be supportive of the Scotsman although Damien Comolli was sacked just weeks ago.
Dalglish had this to say: 
We've got to keep believing and in credit to the players they have kept believing.... We just have to keep going and maybe next year the luck will change for us.

We won't run away from the points tally or hide or say the points tally is satisfactory to anyone who works for or supports Liverpool Football Club. We will face up to reality. The performances have been excellent in a lot of cases but not the points tally, so we will try our best to correct that.
Well, King Kenny, the fans believed in you earlier this season. We believed so much that we had Roy Hodgson thrown out with 31 games to his name. We finished below rivals Everton this season—first since 2005. We finished in eighth place, the worst since 1963. Our belief wasn't enough. The players' belief wasn't enough either.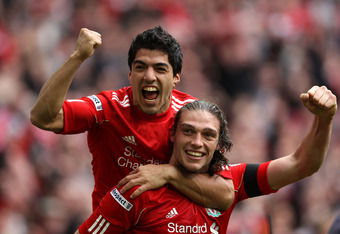 Scott Heavey/Getty Images
Believing can win games but without passion, perseverance and performance, it amounts to nothing—just like this season. Yes, that line is from a tire commercial. 
Liverpool won a League Cup. Andy Carroll's been looking up in the final three weeks. We even brought in Luis Suarez to fill the shoes of "He-Who-Must-Not-Be-Named." The Reds spent over £100 million on players.
How in the world did Liverpool lose to Swansea City? How do you lose to Wigan, to Fulham, to West Bromwich Albion, to Stoke City, to QPR, to Sunderland? To be fair, Wigan did have a superb string of games against top clubs this season.
We had our arms and legs severed by Manchester City. We almost went to extra time at the FA Cup against Chelsea. We got beat by Manchester United and Arsenal and thrashed by Tottenham.
I'm at a loss to explain how we are able to spend just as much as any of these clubs but not get similar results—of course, signing just British players didn't help, but is that really the problem?
With King Kenny came complacency. His history and our blind belief in the man led us to believe that Liverpool had a chance. We thought the King's reign would take us to the top four, to the Champions League again, where Liverpool should belong, but everything during this season just didn't go that way.
Some blame the transitory period Liverpool is going through; some blame the youngsters and the questionable tactics played throughout the season—speaking of which, why is Jordan Henderson the most capped this season for Liverpool? All are true but all the ire and criticism lands on the shoulders on the head honcho: Kenny Dalglish.
Liverpool and the fans believed in complacency and this is what we undeservingly got. 
Let's face it, everyone, King Kenny is here to stay. A king doesn't just up-and-leave his throne; some higher powers have to do it and that's FSG. For now, they seem content with rebuilding the club from the ground up, snapping up young and unproven players even if it draws the ire of the fans and makes history as one of the worst seasons Liverpool's ever had in this decade. 
Then again, who really knows about next season and how well or poorly we'll do? This is the world of football—no one could have predicted Swansea City staying in the Premier League. No one expected Newcastle to be contenders for the top four.
Maybe, just maybe, we'll see a spark next season that we haven't see at all since August 2011.
King Kenny, please make me eat my words next season. Please, for all of the Liverpool fans out there.