Will Middlebrooks: Has Boston Red Sox Prospect 'Wally Pipped' Kevin Youkilis?
May 14, 2012

Darren McCollester/Getty Images
Especially in baseball, history has a tendency to repeat itself. It looks like that is exactly what is happening right now for the Boston Red Sox.
Will Middlebrooks, the Red Sox's top third base prospect, who joined the MLB roster as an injury replacement for incumbent Kevin Youkilis, has instantly become one of the team's best offensive players and has showed no signs of cooling off at the plate.
It would be foolhardy of manager Bobby Valentine to remove Middlebrooks from the lineup even when Youkilis returns from the DL.
In just 42 at-bats, the young Sox third baseman has driven in 13 runs and has clubbed an astounding nine extra-base hits (four home runs and five doubles). Youkilis, despite having 22 more at-bats than Middlebrooks, has just one more hit (14) and five fewer extra-base hits.
While the sample size is small and it is unlikely Middlebrooks will maintain this 40-50 home run pace, it is clear that he needs to continue to play every day. Because Youkilis hasn't been able to play, he has in effect lost his job despite doing nothing on the field to warrant it.
Historically, incidents like this one—where a player's spot in the lineup is usurped by a young upstart—happen all the time. The most famous example is that of Wally Pipp.
For those not familiar with the story, Pipp was a veteran first baseman for the New York Yankees from 1915 to 1925. After leading the AL in triples with 19 and driving in 114 runs in 1924, Pipp sat out the Yankees' June 2nd, 1925 game with a headache. He was replaced in the lineup that day by a young prospect named Lou Gehrig.
Gehrig of course went on to start 2,129 consecutive games after that one, and at the end of the season, Pipp was sold to the Cincinnati Reds.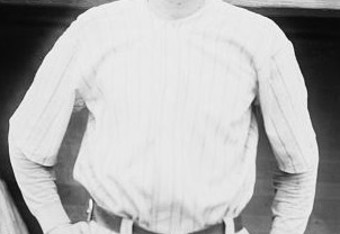 The parallels between the Pipp-Gehrig and Youkilis-Middlebrooks pairs are actually quite eerie. It was Pipp who encouraged the Yankees to sign Gehrig out of college, and Pipp subsequently helped mentor the young Gehrig while he was developing in the Yankees' farm system.
Likewise, Youkilis helped mentor Middlebrooks during spring training this year. He can also frequently be seen on TV broadcasts as Middlebrooks' biggest cheerleader, meeting him at the top step of the dugout after all of his big hits.
It's unfortunate that a player such as Youkilis, who has given this team so much and has been a star performer for many seasons, will likely see his Sox career end so unceremoniously. It speaks to the incredibly tenuous position of each player on the team that someone can go from cleanup hitter to out of a job in two weeks. Such is the fickle nature of baseball.
Youkilis has had a remarkable run in Boston. He's been an All-Star three times, a Gold Glove winner and an MVP candidate. He was the Sox's first home-grown player in a long time to come up through their minor league system and make a lasting impact at the MLB level.
However, the time has come for both the Sox and Youkilis to move on; the third baseman has grown increasingly injury-prone and inconsistent at the plate and defensively he is a shell of his former self. He would be best suited to return to first base, but with Adrian Gonzalez and David Ortiz entrenched at the first base/DH spots, there is nowhere for him to go.
Middlebrooks has demonstrated in his short stint with the Sox that he is ready to take over the everyday job at the hot corner. Like Gehrig with Pipp, the pupil has suddenly and forcefully demonstrated that he is now the teacher.