Who Really Deserves the UFC WW Title Shot: Hendricks, Kampmann or Ellenberger?
May 14, 2012

Jason Merritt/Getty Images
The welterweight division is quickly becoming one of the deepest pools of talent in the UFC.  Just a year ago, there were talks of Georges St-Pierre having cleaned out the division, and just one year later, he has challengers lining up to take a shot at him when he returns from injury.
Obviously, because of that injury, Carlos Condit has claimed a piece of the title in the form of an interim belt.  With GSP not scheduled to compete till late this year at best, many agree that Condit should offer a challenger a shot at the belt in the meantime.  This would cut down on the traffic jam at the top of the division and give fight fans the welterweight title fight that we crave.
The three top contenders in the division are pretty unanimous: Martin Kampmann, Johny Hendricks and Jake Ellenberger.  But if we are making a hypothetical interim title fight, who gets the first shot?  Who really deserves it? 
The best way to determine who has the best resume is to look at them side by side.  By taking a look at their last five fights, we should come to a reasonable conclusion on who should be the No. 1 contender.  So let's take Martin Kampmann first.
Martin Kampmann is 3-2 in his last five fights.  He has defeated a former No. 1 contender, Thiago Alves, and former up-and-comer, Rick Story.  You'll find that Rick Story plays an important part in how we see things.  Story has had the unenviable task of having fought all three of these men.  Actually, he went 2-1 against them, but the one guy he didn't beat was Martin Kampmann.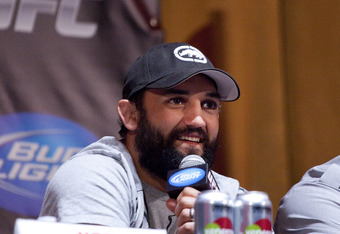 Michael Nagle/Getty Images
Another jewel in Kampmann's resume is the fact that he is the only loss on Carlos Condit's UFC resume.  With all that, it still seems that Kampmann would come up short in a debate of being No. 1 contender because of his two losses in his last four fights.   
Next is Jake Ellenberger.  Jake Ellenberger is 5-0 in his last five fights, with notable wins over Diego Sanchez and Jake Shields.  Ellenberger has also fought Condit, but he lost a close split decision.  The X-factor of Rick Story doesn't seem to apply here, though Story did defeat Ellenberger in their pre-UFC days. 
With Ellenberger's lone loss having come by way of Condit, along with the pending outcome of his fight with the aforementioned Kampmann at The Ultimate Fighter finale in June, it just seems that both fighters are a fight away from a title shot. 
Johny Hendricks is 4-1 in his last five fights, with his lone loss coming from (you guessed it) Rick Story.  Hendricks just defeated BFF's Josh Koscheck and Jon Fitch in consecutive bouts, and that alone should be enough to put him in the driver's seat. 
The only problem is Condit and GSP.  If Condit does in fact wait until GSP returns from injury, then it forces Hendricks to fight the winner of Kampmann vs. Ellenberger.  Not so bad for us fans.  What would make it more enticing is if they put that fight on the same card as the GSP vs. Condit fight and have a ring face off. 
But if they do allow Condit to defend his title, Johny "Bigg Rigg" Hendricks should be the guy to get the shot.