Mayweather vs. Pacquiao: 10 Most Depressing "Never Were's" in Boxing History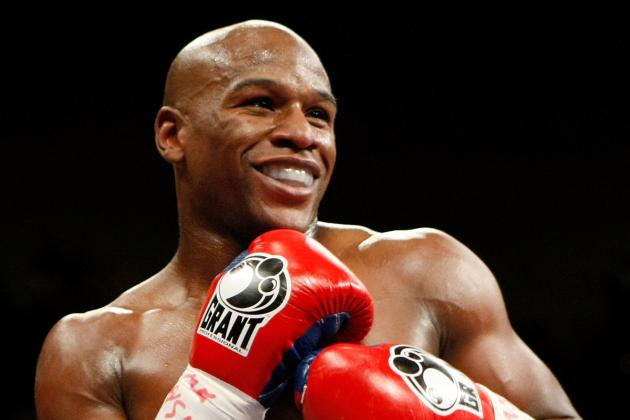 Ethan Miller/Getty Images
Floyd Mayweather
Floyd Mayweather and Manny Pacquiao possibly never fighting is just one of boxing's many "never weres" that have tainted its rich history with sad blemishes of misused promise.
From the earliest years of boxing to the Muhammad Ali Era to now, there have been numerous deathblows to the best fights or best possible outcomes for potentially amazing careers.
These "never weres" usually occur within the disparity between the fans who witness and recognize the potential and how much of that potential was actually never fulfilled.
Here are the 10 most depressing "never weres."
Begin Slideshow

»
Riddick Bowe was an undefeated heavyweight champion coming off the biggest win of his career against an undefeated Evander Holyfield in 1992.
During the post-fight interviews, Bowe called out special guest announcer Lennox Lewis, another undefeated heavyweight. The demand for the two to fight was enormous.
Bowe and Lewis disagreed over money, including a 90-10 deal in Bowe's favor. Their rivalry culminated in a press conference where Bowe would throw his title in the trash, relinquishing it.
Some have suggested Bowe's beating by Lewis when they were amateurs competed in the 1988 Olympic finals encouraged Bowe to dodge the fight when given the opportunity for revenge in the pros.
Lewis would win the vacant title from another fighter and go on to be one of the greatest heavyweights of all time.
Bowe would split fights with Holyfield to be a part of the greatest heavyweight trilogy in the modern era. The heart and intensity Bowe had on display against Holyfield makes his dodging of Lewis even sadder.
Had this fight actually happened, perhaps Bowe would not only be a Hall of Famer, but he'd also be involved in another classic trilogy.
Pancho Villa (born Francisco Guilledo) made an impact in a very short career. From 1919 to 1925, Villa fought over 100 fights.
His greatest accomplishments came in 1923 when he knocked out flyweight world titlist Jimmy Wilde to become the first Filipino world boxing champion.
His growing popularity and domination of the flyweight division would be short lived. An infected tooth would affect Villa. He had it pulled by a dentist, only to discover the infection had spread to his throat.
Villa would fall victim to what's known as Ludwig's angina. He went into a coma and then passed away at the age of 23.
Had Villa lived to reach his peak, he might not have just become the greatest Asian or flyweight boxer of all time, perhaps he could've become the greatest of all time.
Cuba is known as a force at the Olympic games when it comes to certain sports—in particular, boxing. The Cuban amateur boxing program is one of the best in the world.
Unfortunately, Cuba banned its amateur boxers from going pro in 1962. That meant three-time Olympic gold medalist Teofilo Stevenson couldn't accept a million-dollar offer to fight Muhammad Ali in the 1970s.
That also meant three-time Olympic gold medalist Felix Savon couldn't accept an offer to fight Mike Tyson in the 1980s.
This leaves only the bravest of Cubans who are willing to defect from their homeland, leave their families behind and start from the bottom of the American boxing world.
If Cuba would've allowed its Olympic treasures to fight in the pro ranks, boxing would be very different today.
In 1989, two rising stars in boxing were being positioned toward each other.
Mike Tyson was the heavyweight champion, one that brutalized Michael Spinks in the first round and knocked out Larry Holmes.
Holyfield was a former cruiserweight champion who had risen through the heavyweight ranks with wins over the likes of Michael Dokes.
1990 was to be the year Tyson vs. Holyfield happened, but Tyson lost what was supposed to be a throwaway fight against Buster Douglas.
Not only was this one of the most shocking upsets in boxing history, but it denied the public a fight between two great boxers in their prime.
By the time these two would actually fight years later, Holyfield and Tyson were by no means the same.
Ike Ibeabuchi, called "The President," was a force to behold in the heavyweight division in the 1990s. He gave David Tua and Chris Byrd their first losses and seemed on a trajectory to maybe fight Lennox Lewis.
The only problem was his mental issues. He started "seeing demons" and having violent outbursts. He was convicted of attempted sexual assault of a stripper that came to his hotel room on July 1999.
After being denied parole multiple times, a 39-year-old Ibeabuchi is highly unlikely to recapture the magic that made him a promising prospect.
In 2005, Diego Corrales took the WBC lightweight title from Jose Luis Castillo in dramatic fashion by a come-from-behind 10th-round TKO.
The fight is widely considered the best of 2005 and certainly one of the best of the 21st century.
The two had a rematch a few months later. Castillo knocked Corrales out in Round 4 for an exciting bit of revenge.
The two were destined to meet in a third fight, but Castillo came in over the 135-lb limit. The fight was cancelled and Corrales sued for damages.
Corrales and Castillo went their separate ways. Though the sports world desired a third and final fight, tragedy would take that possibility away. Corrales passed away in a motorcycle accident in 2007.
Tony Ayala Jr. was one of the hottest boxing prospects in the early 1980s. He was on the cover of Sports Illustrated and Ali's trainer Angelo Dundee even called him one of the best younger fighters he ever saw.
Unfortunately, Ayala's troubled life caught up with him and he was sentenced to 35 years in prison for rape at age 19.
Ayala had just earned the opportunity to challenge for the middleweight world title against Davey Moore.
Though Ayala would make a comeback in 1999, he would be convicted in 2004 for speeding while in possession of heroin.
Had his career continued like it should have in 1983, he may have fought the likes of Marvin Hagler, Tommy Hearns and Sugar Ray Leonard by the end of the 1980s.
Sam Langford was the most underappreciated fighter of his era. He competed everywhere from the welterweight division to the heavyweight division.
No one gave him a title shot and everyone was afraid of his abilities. The highest-profile opponent Langford could get was Jack Johnson, who won a decision against Langford.
After the fight, Johnson never gave Langford a rematch. He retired in 1926 at age 43, because he was going blind. His status as one of the best could've been elevated had he been given the test.
Roy Jones Jr and Bernard Hopkins fought in 1993 for a vacant IBF middleweight world title, the first title shot for either man. Jones won a dominating decision.
Jones could go on to the supper middleweight division in 1994. Hopkins would come into his own after Jones left the weight division.
Jones and Hopkins would not meet again in a rematch until 2010 in the light heavyweight division.
By then, both men were in their forties everybody knew the fight would be a boring mismatch, as Hopkins kept together well as he aged, whereas Jones was suffering a loss of reflexes.
1999-2001 would've been a great time to have had a classic rematch.
Ingemar Johansson was a Swedish boxer with a thunderous punch and plenty skill in the late 1950s to early 1960s.
He decimated Henry Cooper (who gave Muhammad Ali trouble) and knocked down an undefeated Eddie Machen three times en route to a brutal first-round knockout.
Sonny Liston struggled to win a 12-round decision against Machen.
Johansson's shot at the world heavyweight title came against Floyd Patterson in 1959. Johansson floored Patterson six times in Round 3 before the fight was stopped.
In two rematches, Patterson would get his revenge twice over, but the Patterson-Johansson trilogy remains one of the most brutal and entertaining trilogies of all time.
Johansson fought a bit more until he was knocked down in the final seconds of a fight with journeyman Brian London in 1963.
Johansson would get up to beat the count and win the decision, but the bad press he got from the moment caused him to immediately retire. He was only 30 years old.
There were discussions to try to match him up with Sonny Liston for another shot at the world title. Liston had just stopped Patterson twice to win the world title.
Had Johansson continued, a slugfest between Liston and Johansson would've likely been fight of the decade. Johansson's slightly higher mobility, youth and higher boxing IQ could've picked up the win.
Next stop, likely a young Ali. From there, we'll never know.