San Francisco Giants: Who Giants Need to Dump and Who They Need to Sign in 2013
May 14, 2012

Justin Sullivan/Getty Images
I was doing one of my favorite things today—looking through Cots Contracts—and it occurred to me that the San Francisco Giants will have the opportunity to greatly improve themselves through free agency  in 2013 and beyond. 
I estimate that as much as $46 million will come off the books in 2013. Looking ahead, $13 million more in 2014 with the long-awaited departure of the Giants' greatest deadweight ever, one Mr. Barry Zito, despite his recent success. 
At the end of the 2012 season, here are the contracts that could or will come off the books with their 2012 salaries: 
Aaron Rowand, $12 million
Brian Wilson, $8.5 million
Aubrey Huff, 8 million
Melky Cabrera, $6 million
Freddy Sanchez, $6 million
Jeremy Affeldt, $5 million
Angel Pagan, $4.85 million
Ryan Theriot, $1.25 million
Guillermo Mota, $1 million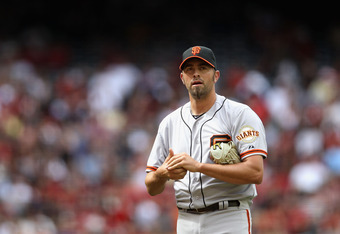 Christian Petersen/Getty Images
Clay Hensley, $750,000
Eli Whiteside, $600,000
So in 2013 the Giants may save as much as $54 million. 
Of course, some of that will go to re-signing current players. But there should be a lot of money to go around. 
While not all of these guys are slam dunks to leave, many are. The Giants may re-sign Wilson, but if Heath Hembree or Santiago Casilla pan out they probably won't. Keep in mind, Sergio Romo could also be used as a closer.
With Wilson's latest TJ surgery, a long-term extension is unlikely. The Giants could extend him or let him walk. My guess is that the beard has thrown his last pitch as a San Francisco Giant.  
Cabrera has been sensational and should get an extension.  
If Pagan works out, he could earn a new contract. But with Gary Brown on the horizon, it's doubtful that Pagan is more then a one-year wonder. And his center field defense leaves a lot to be desired. Plus, there will be better options available in the free-agent market. If the Giants continue to struggle, he'll most certainly be late-season trade bait.  
Freddy Sanchez, who can't stay healthy, and Whiteside won't be re-signed. Theriot is probably as good as gone and may be cut when Freddy Sanchez returns. And if Charlie Culbertson looks good, that will hasten Theriot's departure.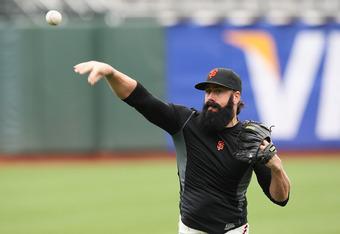 Tony Medina/Getty Images
Affeldt is probably also going to be gone, since he's started out poorly again. 
So regardless, the Giants will have lots of money to spend in 2013 and 2014. 
What will they be able to buy? 
It's no secret the Giants need bats, and they need them badly.  
Star shortstop Stephen Drew will be able to walk from the Arizona Diamondbacks if he rejects the mutual option. If Brandon Crawford doesn't shine at the plate for the Giants this year, Drew is a guy who could make a huge impact, assuming he's healthy after a devastating ankle injury last season that still has him on the shelf. 
Texas Rangers superstar outfielder Josh Hamilton, who is off to a monster start, still hasn't signed an extension with the Texas Rangers. Hamilton leads the majors in virtually every offensive department by a big margin. An OPS of 1321? Are you kidding me? He hit seven homers in three games recently! 
He's a risky signing because of his off-field issues and his injury history, but it's a chance worth taking for one of the most dynamic players in the game today. In fact, when healthy, he might be the best player in the game today, with all due respect given to Matt Kemp of the Los Angeles Dodgers. And because of the above, the dollars and years will be held down a bit.  
Atlanta Braves speedy outfielder Michael Bourne will also be available in free agency. He is a dynamic force at the top of the lineup, a good hitter and a great defender. He leads the National League in hits. If the Giants got Bourne, either Brown or Bourne would have to move to a corner outfield spot, giving the Giants one of the best defensive outfields in baseball, with potentially Cabrera, Bourne and Brown. 
It's not out of the realm of possibility the Giants could get two of these guys in the offseason. 
With the money the Giants will have to spend and the team's offensive starvation, general manager Brian Sabean needs to dive into the free agent market aggressively. You can bet that the Giants' neighbors to the south, the Dodgers, will do just that and be big spenders with their new ownership group. We don't want to see Hamilton in Dodger blue. 
The players the Giants need are out there. Soon it will be time to go get them.