Way Too Early Award Predictions for the Carolina Panthers
May 14, 2012

The Carolina Panthers won't take the field for an official game until Sept. 9. According to my math—which should always be checked—that means we have 118 days until kickoff of the 2012 season.
A lot will happen in those 118 days that might change these predictions, but that's no reason to sit back and not guess about the upcoming Panthers' season.
It's time to hand out superlatives in our first edition of the 'Way Too Early Awards' for the 2012 season.
Most Valuable Player – QB Cam Newton
Call me a cliché or accuse me of taking the easy way out with this pick, but if the Carolina Panthers are going to make a push for the playoffs, quarterback Cam Newton must be the team's MVP.
Newton played wonderfully in 2011, posting 4,051 yards through the air, 21 touchdown passes and 14 rushing scores. But there are areas for Newton to improve and grow—just like in every rookie-turned-sophomore—this season.
I'd like to see Newton's completion percent rise from 60 percent, and his touchdown-to-interception ratio of 1.23 needs to go up as well.
If he can do just those two things while keeping everything else the same, he'll have a great year. If he improves in those two areas and improves everywhere else, too, well then watch out.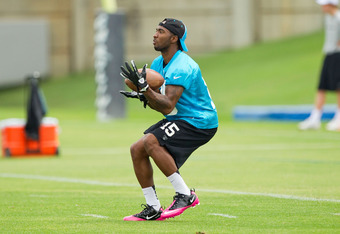 Brian A. Westerholt/Getty Images
Offensive Rookie of the Year – WR Joe Adams
The Panthers grabbed Amini Silatolu in the second round of the draft, but I think he may be a year away from truly being an impact player.
Wide receiver Joe Adams has the opportunity to jump in immediately as Carolina's No. 3 receiver and could actually move up to the No. 2 spot by year's end.
The Panthers need him to be just that kind of receiver who pushes himself onto the depth chart of the base offense. Newton needs another dependable target opposite Steve Smith, and Adams is explosive enough to provide that.
Disclaimer: If the Panthers sign a No. 2 receiver before the season, I reserve the right to alter this prediction.
Defensive Rookie of the Year – LB Luke Kuechly
First-round pick Luke Kuechly is going to start at weakside linebacker for the Panthers this season and do so from Day 1.
When the team selected Kuechly, he was presented as a guy with a high motor who could instantly produce 100 or more tackles per season.
Kuechly is going to have to do just that.
The Boston College product should be around the ball frequently and show his skills in pass coverage enough to make an impact. Kuechly has the wherewithal to make a Cam Newton-ish splash on the team's defense. If he can be "that kind of player" on defense, Carolina will become a deadly team.
But Kuechly doesn't have to be the next Newton or become the quarterback of the defense to win this award; 100 tackles will do just fine.
Comeback Player of the Year – LB Jon Beason
Linebacker Jon Beason had surgery to repair a torn Achilles' tendon on Sept. 16 and missed all but one game of the 2011 season. He's been cleared for light activities and anticipates a return to the field in June.
Beason has been rehabbing like a beast and head coach Ron Rivera thinks it's "just a matter of time" before he's back to 100 percent.
A 100 percent Beason would give the Panthers two 100-plus tackle linebackers in the box. And if Beason doesn't drop off in his ability to get into coverage, getting him back will be like adding another first-round draft pick.