NL Worst of the Night: Frank Francisco Loses Game, Composure; Closer's Job Next?
May 14, 2012

Sarah Glenn/Getty Images
Highlighting a bad performance from the previous night in baseball might seem like a harsh way to start the morning. But look at it this way: If you had a rough night or bad day, here's someone who may have had it worse.
Frank Francisco had a decent run as closer for the New York Mets. He converted three straight saves, not allowing a run in his four appearances. The team felt it needed a veteran ninth-inning stopper to stabilize its bullpen, and Francisco provided just that.
But since then, it's been pretty shaky. 
Francisco flew off the rails this past weekend against the Miami Marlins. He gave up five runs and five hits in two outings, pitching two-thirds of an inning altogether and losing two games for the Mets. He may have lost his closer job, as well.
On Sunday, Francisco also lost his composure. As manager Terry Collins pulled him from the game, Francisco went after home plate umpire Todd Tichenor, complaining about his strike zone. 
"All strikes," Francisco said to ESPN New York's Adam Rubin after the game. "I threw one a little high[er], because he didn't call one at the knees. I threw a straight fastball right there. He didn't call anything. And then I went a little higher to see. And he didn't call the higher one.
"There's nothing you can do about that. It's their call. I feel like I should say something." 
Francisco went on to say that Tichenor didn't respond to questions about the strike zone, making him even angrier.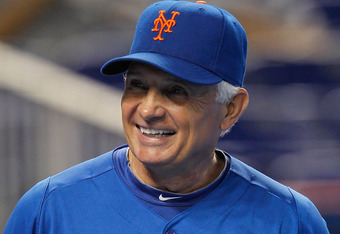 Sarah Glenn/Getty Images
Now, Collins has to decide if the Mets can afford to keep Francisco in the closer role. He rightly didn't make a snap decision after the game—or at least didn't voice one—opting to wait until emotions cooled down. 
But after taking some time to calm down and collect his thoughts, Collins will likely have to make a change. Francisco has an 8.56 ERA. In 13.2 innings, he's allowed 20 hits and seven walks. 
Jon Rauch might not have the same strikeout stuff as Francisco, with only seven to Francisco's 15. But he's not putting as many opposing batters on base, and has a 2.93 ERA. Bobby Parnell didn't perform well as a closer last year, and he's given up 19 hits in 16 innings. But with 16 strikeouts and a 2.25 ERA, he's another option. 
Earlier this month, Francisco looked like he might have gotten back on track. He pitched another four consecutive scoreless appearances, racking up three saves in the process. But he's imploding now and costing the Mets an opportunity to make a push in the NL East race.
Francisco wasn't signed to a two-year, $12 million contract to be a middle reliever. So he'll likely be restored as the closer at some point. But he obviously needs a break from the pressure of the role and needs to pitch some clean innings without the outcome of a game at stake. It will be no surprise if Collins shares that conclusion on Monday. 
Follow @iancass on Twitter