Arizona Football: Return of Fabbians Ebbele and Jourdon Grandon Key for Rich Rod
May 17, 2012

Christian Petersen/Getty Images
Fabbians Ebbele, Jourdon Grandon and all of the Arizona football players arrested in a melee at an off-campus house party—which allegedly involved punching of females—appear to be headed back to the roster without further repercussions, at least from the law.
And that means new Arizona coach Rich Rodriguez will have played out what ESPN dubbed his "first crisis," allowing legal authorities to handle the details. It will also mean possibly re-inserting several starters into the depth chart.
Ebbele's return is vital and, according to The Arizona Daily Star, he is a May 17 court date away from all charges being dropped. Tucson prosecutors have filed a motion to dismiss.
Among the best freshmen left tackles in the country last year, the 6'8", 310-pound Chicago product was named a Freshman All-American by The Sporting News, and he is assigned to protect the man with the season in his hands—redshirt senior quarterback Matt Scott.
Grandon emerged as a turnover creator in gaining heavy experience in nickel pages as a true frosh.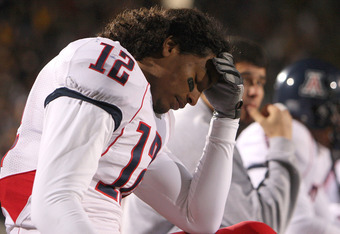 Jed Jacobsohn/Getty Images
With safety Adam Hall out for another season with another torn ACL, Grandon will need to continue to emerge as one of the rotation members at a position that needs a depth of riches in defensive coordinator Jeff Kasteel's 3-3-5 system.
Also charged in that incident were walk-on defensive back Jared Tevis—the younger bro of former Boise State linebacker Aaron Tevis—offensive lineman Eric Bender-Ramsay and defensive lineman Justin Washington.
Tevis, who was cited only for trespassing—the least serious of the charges levied against the five players—returned to the club for spring practice and made enough of an impression to get his name in the mix as a first-team DB.
Bender-Ramsay—who had an assault charge dropped prior to Ebbele and Grandon, but also faced a trespassing charge—played in eight games on the Arizona offensive line last year, and he is among the top options at guard for Rodriguez.
Washington, another charged only with trespassing, was thought to be a budding star as a true freshman, but played poorly in his second season on Arizona's defensive line. Still, he should have another shot at a starting role.
In a season that was already unlikely to see more wins than losses, any time lost from that group would've increased Arizona's growing pains.
And when word was first printed regarding the night of the party, there seemed to be doubts, if the allegations were true, as to whether most of the players would come back.
According to police reports received by The Arizona Daily Star, a violent incident was sparked by a confrontation between former Arizona safety Josh Robbins and a female partygoer.
Along with assault charges, Robbins—a local product from the Tucson suburb of Oro Valley who had to leave the sport as a sophomore due to injuries—also picked up a DUI case that night.
Ebbele's and Grandon's roles in the incident also sounded ugly.
Ebbele (...) began punching everybody he could reach, including the party's host, witnesses told police. Grandon was seen punching both women and men at the party, witnesses told police. Ebbele told police that he was trying to break up the fight, and did not punch anybody. 

Ebbele, Tevis, Bender-Ramsay, Grandon, Robbins and a fifth UA football player, defensive tackle Justin Washington, then drove away in Robbins' 2003 white Lincoln Navigator. Police responding to a nearby burglary noticed the car leaving at a high rate of speed, according to reports, and pulled the car over. Robbins, a Canyon del Oro High School graduate and the son of former UA star Randy Robbins, was booked on suspicion of DUI and assault charges, and released.
The situation seemed disastrous.
But just over two months later, Tucson city prosecutors apparently deemed that there was no reason to continue with the assault cases against Ebbele, Grandon and Bender-Ramsay.
And all is nearly back to normal.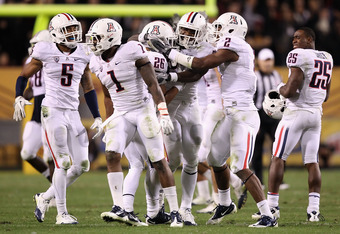 Christian Petersen/Getty Images
Rodriguez positioned himself to make the proper move, based on the facts involved in the case, as told through the legal authorities. There was no sprint to make an unfair statement just for the sake of sounding righteous.
Because of his past involvement with players of questionable character while at West Virginia—including Adam "Pacman" Jones and the late Chris Henry—this was set to be a test case in how Rodriguez's tone of discipline regarding off-field issues has evolved.
Turns out Rodriguez didn't need to break out any tough love in this instance.
When the motions to dismiss are complete, it appears as though the crew involved will be back on the field, which is the right call.
Trespassing and assault are not worthy of equal punishment.
And Rich Rod suspended Grandon and Ebbele for the final 14 practices of the spring for their more serious—and, at the time, unresolved— assault charges.
Those charged with trespassing were allowed to continue practicing in the spring, though—purely speculating—there was likely inter-program justice issued just for the lapse in judgment.
All of the players listed are either starters or have that potential, with substantial amounts of eligibility across the board. They all hold great value in the formative years of Rodriguez's time in Tucson.
Consider Rich Rod's "first crisis" averted.