Why Derek Jeter Will Continue Hot Start in 2012
May 14, 2012

Jim McIsaac/Getty Images
If it wasn't for Josh Hamilton playing like he's Roy Hobbs, Derek Jeter and his hot start would be the talk of the town in the American League. 
Jeter is defying the odds and playing out of his mind as a 37-year-old veteran for the New York Yankees. In recent years, critics keep saying that Jeter can no longer play at an elite level, is not worth the big bucks for the Yankees and should just hang his spikes up. The critics have to realize the last man in baseball that anyone should bet against is Jeter. 
April was a month to remember for Jeter. In the opening month of baseball this season, Jeter had an incredible slash line of .389/.433/.579. To add to that line, Jeter also managed to have a 1.012 OPS in April. What makes this month one to remember is the fact that Jeter had such a terrible April in 2011. In 2011, Jeter posted a surprisingly bad slash line of .256/.313/.278. He has taken a complete 180 degree turn this year in April compared to last year. 
Every day Jeter is passing another all-time great on the all-time hits list. This is just another example of Jeter's consistency throughout his career, which will help him go down as one of the greatest hitters in the history of baseball. In April, Jeter continued his consistency by averaging 1.68 hits per game in 22 games played. 
Jeter's second-half play in 2011 truly rolled over into his play this year. After hitting only .270 in the first half while dealing with an injury bug and the pressures of reaching 3,000 hits, Jeter showed he can still ball in the second half.
After the All-Star break in 2011, Jeter quieted the critics. He hit .327 in the second half and ended up hitting .297 on the year. The momentum from last year's second half has carried over into this season for Jeter, and Mr. Consistency is back in classic form.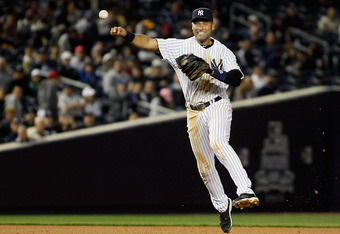 Mike Stobe/Getty Images
What's been a big surprise is Jeter's power. He has averaged 15 home runs per season for his career, so it was quite the surprise that he hit five home runs in April. Jeter's power has gone down a bit, but the fact that he still has power will be huge down the stretch. Power from the Yankee captain will be very nice for the Yankees and Jeter's MVP chances.
Having a stacked lineup around you always helps. Jeter is very lucky to have stars up and down the Yankees' lineup. He will always have someone to knock in or have the chance to be driven in from someone else. The Yankees' nickname of the "Bronx Bombers" seems to fit them year-in and year-out.
The Yankees may be full of stars, but the team still has plenty of questions to answers. The starting pitching is full of injuries and question marks, the AL East might be the best division in baseball and the great Mariano Rivera is out for the season with a torn ACL.
The Yankees need their captain more than ever, and if anyone will step up in the time of need, it's Jeter. Jeter has been clutch his whole career and his hot start will continue when it counts the most.
What will truly keep Jeter's hot start going for the entire season is his swing. Jeter's classic inside-out swing will have him consistently finding hits. He hits the inside of the baseball with the best of them and has great finishes to his swing. His fight to stay inside of the ball will help him drive pitches and find cheap hits. Jeter's swing has consistency written all over it.
Jeter is the epitome of consistency is baseball. The Yankees need their captain to continue his hot start, and he will continue to defy the odds of his age and have a season to remember in 2012.