Michigan Wolverines' Brady Hoke: The Big Ten's Best Football Coach
May 14, 2012

Gregory Shamus/Getty Images
Brady Hoke is the best football coach in the Big Ten. Period.
But the Sporting News doesn't agree.
On May 9, Steve Greenberg and Matt Hayes released a list of the top football coaches in the country, voting Michigan's Hoke as the fourth-best coach in the Big Ten and No. 24 overall.
Ohio State's Urban Meyer, Wisconsin's Bret Bielema and Michigan State's Mark Dantonio all rank higher than Hoke.
But Greenberg and Hayes have that order all wrong.
At every stop in Hoke's career, he's taken bad teams and turned them into winners. Every team he's coached has drastically improved under his tutelage.
Hoke replaced a coach at Michigan that turned the winningest program in college football history into a sub .500 mess that became a joke and an afterthought.
In three years at the helm in Ann Arbor, Rich Rodriguez completely turned Michigan football upside down and tried to reconstruct a 130-year tradition.
His plan flopped to the tune of a 15-21 record, three consecutive losses to hated rivals Michigan State and Ohio State and one of the worst defenses in the country.
Even Michigan school president Mary Sue Coleman recently denounced Rodriguez and said he was the wrong hire for the school, the team and the fanbase (from MLive.com).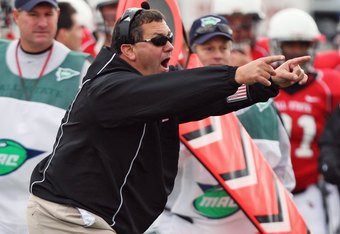 Jamie Sabau/Getty Images
So someone had to clean up the mistake.
Enter Hoke.
Hoke has coached college football for 29 years, starting as a defensive line coach at Grand Valley State in 1983.
He was a defensive assistant at three other schools before becoming an assistant at Michigan in 1995. He spent seven years coaching the defensive line in Ann Arbor under Gary Moeller and Lloyd Carr before earning his first head coaching gig at Ball State in 2003.
Hoke took over a Ball State team that hadn't had a winning season since 1996. He struggled as a rookie head coach—winning 10 games in his first three seasons—but was slowly turning the program around.
In 2007, with a full team of his recruits, Ball State went 7-5 and earned a trip to its first bowl game since '96.
In 2008, Hoke led the Cardinals to an undefeated 12-0 regular season, the most wins in school history and a Top 12 national ranking.
Hoke left for San Diego State in 2009 and inherited a team that went 2-10 the year before his arrival. He went 4-8 his first year with the Aztecs, but in 2010, San Diego State went 9-4 and defeated Navy in the Poinsettia Bowl.
After turning around two mid-major programs, Hoke found his way back to Ann Arbor and was hired as Michigan's head coach in January, 2011.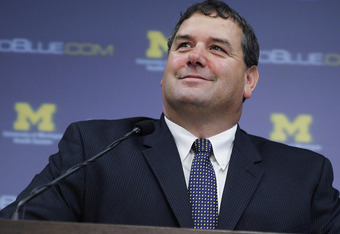 Gregory Shamus/Getty Images
Hoke got it from day one.
He knew Michigan's roots, the expectations in Ann Arbor and what it would take to win. 
From day one, he did perhaps one of the most difficult things: He won the press conference.
And the wheels for a turnaround were in motion.
In Hoke's first season in Ann Arbor, he took a team that went 7-5 and gave up 39.2 points per game in 2010, to an 11-2 season and a Sugar Bowl win—boasting the No. 6 scoring defense in the nation, giving up 17.4 points per game.
While the cupboard wasn't complete bare when Hoke arrived, everything Michigan worked towards the previous three years was completely different than his philosophy.
He played the cards he was dealt, mixing the raw talent and speed that he inherited with the tough, power football concept he grew up with, and he had rousing success.
His coaching staff implemented a hybrid system, blending two completely different approaches to football, and they made it work.
And Hoke was recognized for his effort, being named the 2011 Big Ten coach of the year.
So why was he named the No. 4 coach in the Big Ten?
Meyer takes over at OSU with his two national championship titles, Bielema has won the last two conference championships with Wisconsin and MSU's Dantonio has defeated Michigan four consecutive seasons.
Their resumes may be more impressive than Hoke's now, but he has barely scratched the surface.
After his first year on the recruiting trail for the Maize and Blue, Hoke garnered 2012's No. 7 recruiting class in the country, boasting four ESPN Top 150 prospects and 25 total commits.
Along with the heralded group of newcomers, Michigan boasts Heisman Trophy candidate Denard Robinson, a group of talented young receivers and—despite several starters who've moved on—one of the most improved defenses in the country.
Michigan is expected to finish in the hunt for a Big Ten championship this season, but Hoke will tell you anything less than a Big Ten title will be a disappointment.
And the best may be yet to come.
According to Scout.com, Michigan has the best 2013 recruiting class in the country.
Scout's No. 3 quarterback in the '13 class—Shane Morris—is the Wolverine's headliner and will be protected by five of the best offensive lineman prospects in the nation.
Michigan has 18 commits for 2013, with an average ranking of 4.06 stars on Scout.com.
With an impressive start and a promising future, the Wolverines will eventually get back to the top.
And Hoke will prove he's the best coach in the Big Ten.