New York Yankees: Andy Pettitte Takes Loss in Debut, Shows Promise for 2012
May 14, 2012

Jim McIsaac/Getty Images
The game on Sunday between the New York Yankees and Seattle Mariners was one a lot of fans had major interest in.
It was the 2012 debut of Andy Pettitte, who was coming out of retirement and had just finished pitching in extended spring training down in the minors.
The 39-year-old came out and did as well as any pitcher could given the fact that the last time he threw a baseball in a meaningful game was 573 days ago in Game 3 of the 2010 ALCS against the Texas Rangers.
Pettitte got off to a strong start to the game, coasting in the first 3.2 innings. He walked a couple of batters here and there, but he didn't give up his first hit until the fourth inning, which was a two-run home run by Justin Smoak that made it 2-0 Seattle.
Despite giving up the home run, Pettitte continued to battle the Seattle hitters and was aggressive in his pitch selection.
The Yankees tried to cut into the lead against opposing pitcher Kevin Millwood and made it 2-1 when Millwood walked in a run, but New York couldn't make Millwood pay for putting runners on.
The only other mistake Pettitte made in the game was another two-run home run by Casper Wells that hit off the right-field pole, which made it 4-1.
Pettitte was able to get into the seventh inning, pitching 6.1 innings, allowed seven hits, four runs, walked three and struck out two. No. 46 threw 94 pitches in the game, 60 of which were for strikes, and was reaching the 88-89 range on his fastball.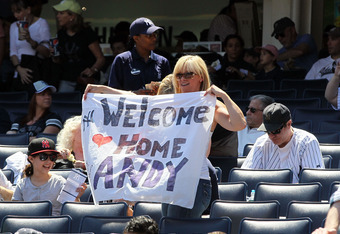 Jim McIsaac/Getty Images
"It came back really quick," Pettitte said. "It was exactly how I thought it would be. Maybe the first batter, I was a little nervous, just the anxiety, I guess, but it felt great. It felt like I never left."
"I just cannot believe how comfortable this is for me," he said. "I don't know how to explain it. I guess it's strange to think I was coaching baseball, throwing batting practice to kids…and now I'm doing this."
The fact that Pettitte's velocity is in the area that it was two seasons ago when he was still actively pitching was definitely an encouraging sign. He didn't drop off into the 80-81 range; 88-89 is where Pettitte has been since he returned to the Yankees back in '07.
Sunday afternoon's game wasn't the greatest of starts, and unfortunately for Yankee fans, he took the loss in his 2012 debut, as Seattle prevailed 6-2 after tacking on two more runs in the ninth.
But there was a lot of promise in Pettitte's debut, as reflected by Yankees manager Joe Girardi after the game.
"Everything looked pretty similar to when he left. I think that's a good sign," Girardi said of the outing.
He got into the seventh inning and his pitch count was where it should have been with 94 pitches through six-plus innings. He didn't throw 100 pitches and get run out by the fourth or fifth inning. Instead, Pettitte effectively hung into the game and ate up some innings for the Yanks. If Pettitte can do this in all of his starts, that will save New York's bullpen from getting overused.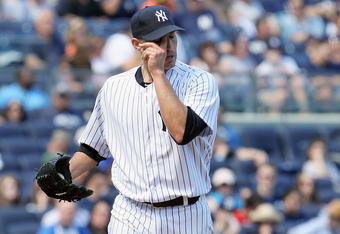 Jim McIsaac/Getty Images
He didn't get whacked around and he wasn't wild. He wasn't walking a ton of batters and he wasn't giving up a ton of extra-base hits. If you really look at it, he made two mistakes on the afternoon—one to Smoak and one to Wells with the home runs. Take those away and Seattle doesn't get any runs off Pettitte.
Plus, Pettitte got barely any run support from his offense. Back in the top of the fifth, the Yankees had Millwood rattled and were poised for a breakout inning. But, a Derek Jeter double play killed the rally and ended the Yankees scoring threat.
And, like I said before, what could you have expected from a 39-year-old who hasn't pitched in a meaningful game in 19 months? Hopefully, if Pettitte can stay healthy for the 2012 season, this was just one of 22 to 24 more starts that the lefty can make and provide the Yankees solid production.
Pettitte's next scheduled start will be on Friday night, which will be at Yankee Stadium against the Cincinnati Reds.
Hopefully in his next start Pettitte can put across a W in the win column for the Yanks, and the offense can give Andy the run support he needs going forward.
Stay tuned, Yankees Universe.