Players Championship 2012 Results: Tiger Woods and Biggest Busts at Sawgrass
May 13, 2012

Andrew Redington/Getty Images
Tiger Woods' performance at the 2012 Players Championship was a big bust, but he's not the only golfer whose results were underwhelming at Sawgrass this year.
I'm not a Tiger hater or anything. I actually prefer watching golf when Tiger is playing well. Unfortunately, these days he's just not at the top of his game, and watching him struggle to hit the ball in fairways and onto greens isn't must-see TV.
The only thing Woods is doing well right now is that he's hitting the ball long off the tee. According to PGATour.com, he finished second in the tournament in driving distance—averaging just under 302 yards off the tee.
The only problem is that Woods isn't hitting fairways and greens very consistently, tying for 37th in driving accuracy and tying for 29th in greens in regulation—not a good recipe for success.
Then, to top it all off, Woods' putting stroke was letting him down once again this week. He finished the tournament tied for 32nd in putts per round.
His game isn't on point, and as a result his performance at the Players Championship was far from stellar. He did manage to come back at the end of the final round to salvage something positive, claiming birdies at No. 16 and No. 17, but in the end he failed to live up to his own standard of excellence.
Here are the rest of the golfers who disappointed the most at this year's Players Championship.
Rory McIlroy, Missed Cut (+4)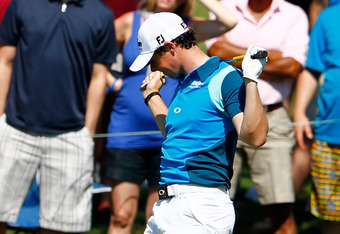 Mike Ehrmann/Getty Images
McIlroy must be developing quite a hatred for TPC Sawgrass. He's never made it to the weekend of this tournament, and despite his ever-evolving game he failed to do so again in 2012.
McIlroy is one of the world's hottest golfers, having won a tournament already this year as well as having two second-place finishes. That being said, he admits that he still hasn't figured this course out, via ESPN.com: 
I just need to try and get the hang of this golf course somehow. I just find it pretty difficult. Off the tee I find [it] pretty difficult around here. You have really got to position your ball in the fairway and to give yourself at least a chance to get to some of these pins. I just didn't do that over the last couple of days.
I have no doubt about McIlroy's ability to overcome this golf course at some point during his career. So far, though, it's Sawgrass over McIlroy 3-0.
Lee Westwood, Tied for 61st place (+4)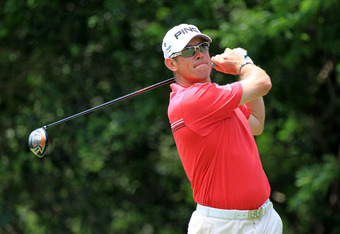 Sam Greenwood/Getty Images
Westwood was the No. 3 ranked player in the world before the Players Championship, according to the Official World Golf Rankings.
He hung around for the first three rounds, shooting two rounds under par and one round over for a total of minus-one heading into Sunday. Unfortunately for him he completely fell apart during the final round, shooting plus-five.
He did manage to scrape together four birdies throughout the day, but he was cursed with two double-bogeys to go along with five bogeys, sinking any chances he had at coming away with a respectable finish.
Westwood is clearly one of the best golfers in the world from week to week, but I'm sure he'd rather forget about his performance at the 2012 Players Championship.