5 Reasons the 49ers Could Field an All-Time Great Defense in 2012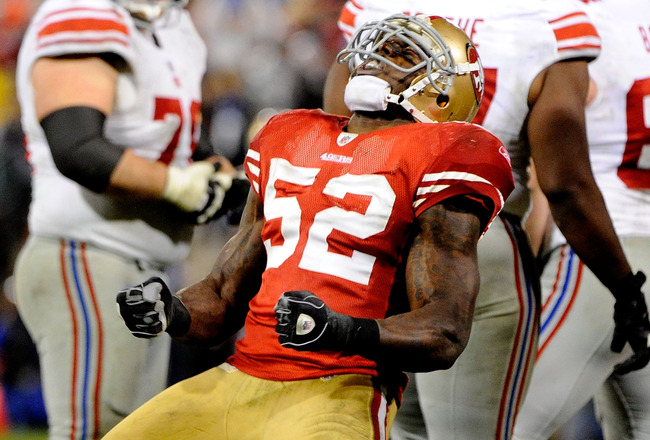 Thearon W. Henderson/Getty Images
Consider the best defenses in the recent history of the NFL, teams like the 1976 Steelers (28 points allowed over their last nine games), the '85 Bears (10 points allowed in three playoff games, including two shutouts) and the 1990 Giants (13 points allowed vs. a schedule that included seven playoff teams).
The Steelers mauled their opponents, as did the '85 Bears with their innovative "46" scheme. The '90 Giants played as physical as any team in the league. With that as a foundation, here are five reasons why in 2012, the Niners could turn into one of the NFL's all-time best defenses.
LBs Are It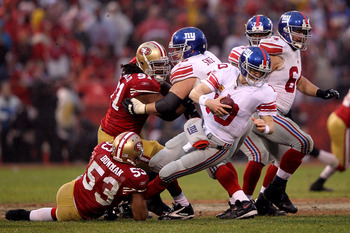 Jamie Squire/Getty Images
Drill down a little deeper and you'll see that all three outstanding defensive teams, as well as other top teams like the 2000 Ravens and the '62 Packers, had great linebackers, from Ray Nitschke, to Jack Ham, to Mike Singletary, to Lawrence Taylor, to Ray Lewis.
But they had more than one: Nitschke had David Robinson; Ham had Jack Lambert; Taylor had Harry Carson; Singletary had Wilber Marshall; and Lewis had Peter Boulware and Jamie Sharper.
Linebackers stand as the middle line of a team's defense, at times rushing the passer, other times defending the pass. Most of the time, they are the attackers, responding to the offensive play.
Defensive linemen must stunt and hold lanes; theirs is a more disciplined approach, sometimes meant to obstruct more than tackle. The secondary thinks pass first, and thus they hold and react.
Linebackers are on a constant search-and-destroy mission.
The 49ers have the best score of linebackers in the game, which is why they are the foundation of five reasons why the 2012 49er team could turn into one of the NFL's all-time best.
Speed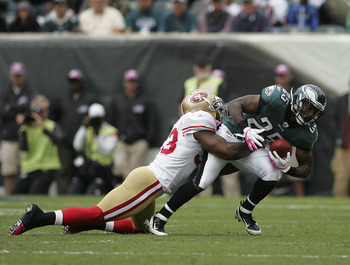 Rich Schultz/Getty Images
The fact that Patrick Willis, widely considered the best middle linebacker in the game, found himself constantly covering key tight ends in key games is a testament to the All-Pro's speed and tenacity. Overlooked in the key 25-20 win over Detroit was Willis' play against Lions tight end Brandon Pettigrew.
In the playoffs, Willis did well to contain the Saints' Jimmy Graham until the very late moments. But Willis' speed in pass coverage is just the best sign of his versatility.
Along with fellow ILB NaVorro Bowman, the 49ers feature two fast, aggressive, smart hunters in the middle of the field. Defensive coordinators always stress that making offenses veer outside and away from the middle makes it easier to defend. Willis and Bowman do that. But along with Aldon Smith, Parys Haralson and Ahmad Brooks, the Niners have five first-rate linebackers who perform at a high level in what is expected of them.
Disciplined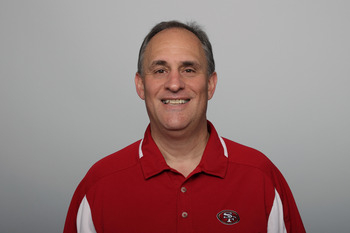 Handout/Getty Images
It helps that both Brooks and Haralson are also very good at their positions. Often, their main job is to "set the edge," meaning that they keep their outside shoulder free when engaging a blocker, which forces a running back to the inside, where Willis and Bowman await.
On top of that, last year's rookie sensation, Aldon Smith, has great speed for a man of his size to go along with an exceptional reach. Smith became a pass-rush threat late in the season, and many teams found him uncontainable. But Smith wouldn't have a lot of one-on-ones without the help of defensive tackles like Justin Smith and Ray McDonald, who preoccupy middle blockers, preventing double-teams.
For that, credit the defensive schemes of defensive coordinator Vic Fangio (pictured) for keeping it basic and simple.
Depth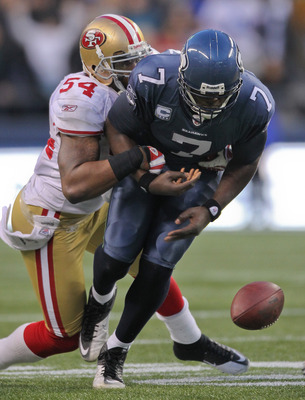 Otto Greule Jr/Getty Images
Willis missed three games last year, and yet the Niner defense hardly missed a beat with Larry Grant (54) filling in. And the coaching staff has always raved about Tavares Gooden. Now the team has added two more fast, aggressive players in draftees Darius Fleming and Cam Johnson.
This is a team rich in speed and aggression. Having as many good players as the Niners have means they have a greater chance of overcoming injuries, adapting to the threats of an opposition's offense and presenting a greater variety of fronts. That makes an offense do way too much homework prior to game day.
Overall Versatility and Talent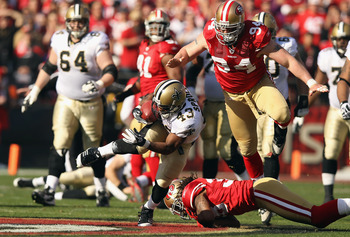 Ezra Shaw/Getty Images
In the end, the Niners have a defense that does the basics very well. They aren't scheme-based in their effectiveness as much as they are execution-based. They are widely considered to be the best tackling team in the league.
The Niners gave up an average of 2.4 points per game in the first quarter, ranking second behind Atlanta at 2.3. More telling is that at home, the Niners gave up .6 ppg in the opening quarter.
Better yet, the Niners gave up an average of 2.0 points in the third quarter, including an outstanding 2.0 points on the road. Those two stats strongly suggest that the Niner coaching staff is very good at preparing the team as well as adjusting as the game develops.
Now that the team will have a full offseason as well as a complete training camp, look for this level of excellence to continue. Moreover, the Niners might add more variety to their schemes to go along with their excellent talent and their disciplined style of play.
It adds up to a potent formula for becoming one of the league's all-time best.
Keep Reading

San Francisco 49ers: Like this team?