Brandon Knight and the 5 Pistons Who Will Bring Detroit Hope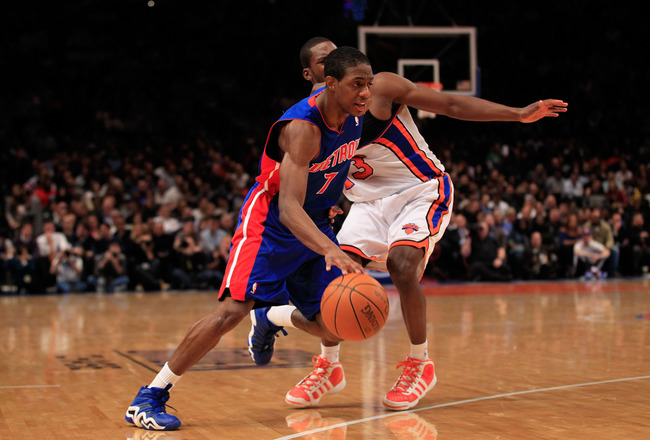 Chris Trotman/Getty Images
The Detroit Pistons' future is looking as bright as ever since the 2004 championship days. It wasn't too long ago since the Pistons were flooded with a roster of players that didn't fit together as a team. But after some successful offseasons by Joe Dumars, the Pistons seem to back on track to success.
The Pistons still have some years of development and a lack of talent throughout the roster. However, Dumars has finally combined another great core who can grow together and continue to learn how to win games.
In due time, the Pistons will compete with the Chicago Bulls again for the Central division crown. They will only go as far as their foundation players carry them. Here are five pieces of the Pistons will bring basketball hope back to the Motor City.
1. Greg Monroe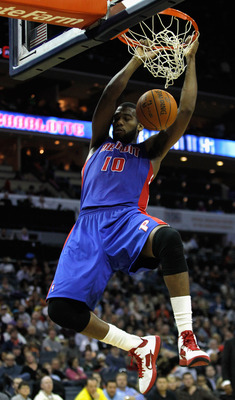 Streeter Lecka/Getty Images
The Detroit Pistons have lacked a true low-post offensive threat for many years. In the 2010 draft, DeMarcus Cousins was the highest rated center, and was the favorite target among Piston fans. After Sacramento drafted Cousins, Greg Monroe has been more than just a backup plan. Monroe has turned himself into a star in the making, and one of the best centers in the NBA.
Monroe exploded on the scene in the second-half stretch of his rookie season and picked up where he left off in his sophomore campaign as the Pistons' center. Monroe was one of the most efficient centers in the league averaging 15.4 points a game, along with 9.7 rebounds and shooting 52.1 percent.
Opponents took Monroe into account as a serious threat as double teams became very frequent late in the season. The Pistons need a consistent power forward who can contribute inside, and take away the double teams and extra attention from Monroe.
This season's draft class is loaded with high quality big men. Dumars must strike gold again this summer with his selection.
2. Brandon Knight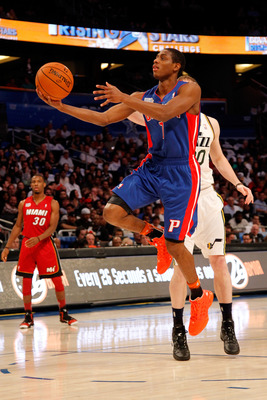 Mike Ehrmann/Getty Images
Ever since trading Chauncey Billups to Denver for Allen Iverson, the Pistons have been lacking a true floor general and a leader at point guard. Brandon Knight fell down to Detroit with the No. 8 pick in the 2011 draft, and the Pistons might have finally found that missing puzzle piece.
Knight earned his stripes fighting through early-season turnover issues plus adjusting to the professional level. After some beginning growing pains, Knight began to catch stride as the leader of the Detroit offense.
Knight didn't post eye-popping numbers with 12.8 points a game plus 3.8 assists, but there were plenty of flashes to be hopeful on the new Pistons guard. Plenty of moments during the season portrayed Knight's star potential, especially against fellow rookie rival Kyrie Irving.
There's a noticeable competitive nature in Knight's game, plus no fear to rise in big occasions. Knight's development is the most important role in the Piston's road to improvement. With a year of experience under his belt, a growing comfort level with coach Lawrence Frank and a talent upgrade on the roster through the draft, there should be noticeable sense of progression in Knight's game next season.
3. Jonas Jerebko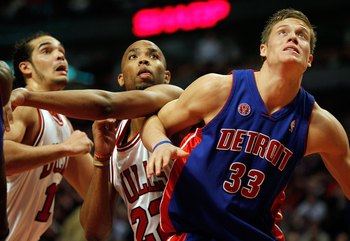 Jonathan Daniel/Getty Images
Nothing about Jonas Jerebko's game spells "superstar," but he's the perfect kind of player needed to make a championship.
After starting Jerebko most of his rookie and third season, Lawrence Frank moved him to the bench to boost the energy and production of the reserves. Jerebko's intensity, scrappy play around the rim and efficient offensive game is the exact type of role player that will help build a franchise.
Jerebko's value to the Pistons is similar to Udonis Haslem of the Miami Heat. Haslem isn't a star in the league, but does all the dirty work necessary to give the second unit a boost. Due to the absence of a true power forward in the lineup, Jerebko's bench production only made up for the lack of it in the starting lineup.
The "going to work" label might be gone for the Pistons, but Jerebko is that blue-collar hard worker this team needs. He was barely known when drafted in the second round in 2009, but Jerebko has emerged as one of the gems of that draft class.
4. Rodney Stuckey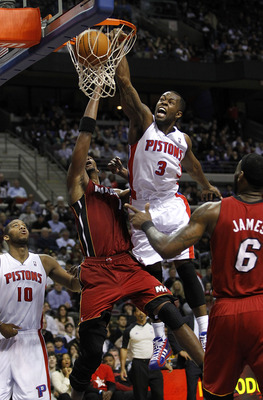 Gregory Shamus/Getty Images
This past offseason, Rodney Stuckey was the center of attention with contract disputes. Stuckey reportedly turned down offers from the Pistons' front office, requesting more money than he deserved. After a shallow market for Stuckey, both sides agreed to a three-year, $25 million deal, a win-win contract for both sides.
Luckily for the addition of Brandon Knight, Stuckey can slide over to the 2-guard and embrace his natural game as a scorer. Since he was a rookie, coaches tried turning Stuckey into a point guard, which has been continued to fail.
Lawrence Frank said he wants Stuckey to "live in the paint," and he has that opportunity to do just that as the Pistons' new shooting guard. If Knight continues to grow as the Pistons' point and Stuckey flourishes as a scoring guard, this backcourt could become one of the most dangerous tandems in the East.
5. Lawrence Frank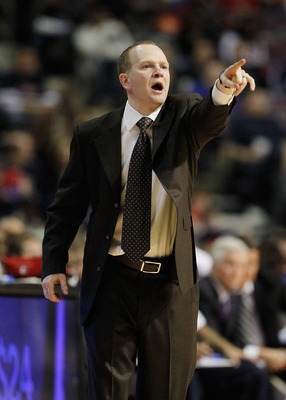 Gregory Shamus/Getty Images
The head coaching position has been the Pistons' biggest issue of concern since Larry Brown left. Flip Saunders never took the Pistons over the hump, Michael Curry accomplished very little after one season, and John Keuster had no control of his team.
After missing on Mike Woodson in the offseason, Joe Dumars hired Lawrence Frank to lead the Pistons back to their successful roots.
Even though his 25-41 record might not seem positive, Frank has helped carry the Pistons to progression. Frank brought his team more in sync game by game, and helped spark a competitive attitude which had been missing for years.
A young point guard's most important relationship is with his head coach, and vice versa. With Frank and Brandon Knight each finishing their first year together, it's vital they stay on the same page and continue to learn from one another. These two carry the most important roles of the team and must develop as foundation pieces of this franchise.
Keep Reading

Detroit Pistons: Like this team?