Players Championship 2012 Leaderboard: Most Surprising Finishes at Sawgrass
May 13, 2012

Mike Ehrmann/Getty Images
The 2012 Players Championship at TPC Sawgrass produced some surprising finishes as some of the players we expected to be at the top failed to do so while others we didn't expect to finish well ended up with impressive results.
Designer Pete Dye is known for producing visually intimidating golf courses, and Sawgrass is surely that. Combined with the unpredictable wind that bothered players throughout the tournament, it was a true test of precision golf and grace under pressure.
The players who performed well under these conditions showed an ability to overcome both the golf course and their tight nerves as they conquered one of the toughest tests.
Here are players who had the most surprising finishes this year at Sawgrass.
Matt Kuchar, 1st Place
Nobody except maybe Kuchar and his caddy expected him to win this year's Players Championship. After all, he had only won on the PGA Tour three times previously—his last coming at the 2010 Barclays.
Shooting rounds of 68, 68, 69 and 70, Kuchar was one of the most consistent golfers on the course, and he finished at minus-13—two shots ahead of his closest contestants. 
The craziest thing to me about Kuchar's performance was that he actually shot nine bogeys (t-56 in the tournament) throughout the four rounds. Not bad considering he shot 22 birdies throughout the tournament, tied for third in that department.
Kudos to Kuchar for holding it down in the final round. He deserved the win, and perhaps this will mark the start of something beautiful.
Kevin Na, T-7th Place
David Cannon/Getty Images
Na started the final round at the top of the leaderboard at minus-12. Unfortunately for him, he suffered a case of bad nerves on Sunday and shot a plus-four—the worst score out of anyone in the top 10 after three rounds.
His waggle was too much to overcome. Na has been struggling mightily against himself lately, needing up to eight waggles per shot before he feels comfortable enough to actually pull the trigger.
I had predicted him to overcome his struggles and win, but in the end his demons got the better of him. His final round of 76 included a stretch of six bogeys in nine holes. 
ESPN.com reports that Na had to deal with taunts from the crowd during his final round, but Na's response to those taunts shows some serious class:
It is what it is. I do need to work on what I need to. I do need to work on my pre-shot routine. I do need to play faster. But the average golfer has no clue how much pressure we're playing under and how tough it is and how much of a fight it is mentally. I honestly think with all that going on, I did pretty well fighting. I had a good fight. I hung in there, so you know what, I just take the positives from it.
I, for one, am rooting for Na to overcome his frustrating swing challenges. 
David Toms, T-10th Place
Toms started out the day at even par, 12 shots behind the leaders and seemingly out of the competition altogether. Things didn't look that promising after four holes, either, as he bogeyed No. 3 and No. 4 after starting out the round with a birdie at No. 1.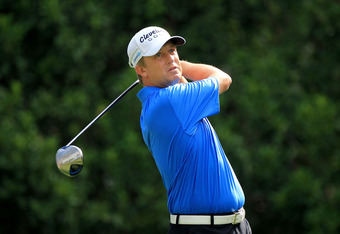 Sam Greenwood/Getty Images
Toms proceeded to go on an absolute tear—shooting eight-under par the rest of the way to finish the tournament with a minus-seven and a tie for 10th place.
What makes Toms' finish all the more impressive is the fact that he hadn't finished in the top 10 in a tournament since January at the Humana Challenge in partnership with the Clinton Foundation. He was not one of the men anyone expected to be on the top of the leaderboard.
Well done and congratulations to him and his family.