St. Louis Cardinals: What Went Wrong against Atlanta Braves?
May 13, 2012

Dilip Vishwanat/Getty Images
Carlos Beltran had an outstanding weekend for the St. Louis Cardinals, going 5-for-12 with three home runs and five RBI.
His teammates, however, struggled mightily against the Atlanta Braves, and the Redbirds lost all three games of the series.
Now, they must regroup and get ready to play a two-game series against their arch rival, the Chicago Cubs.
They'll need to fix a few things to stop this current slide. So, let's take a look at what went wrong this past weekend.
Yadier Molina's Hand 
Molina had a ball hit his hand on Tuesday in Arizona, and he still isn't quite at 100 percent because of it.
It's affected his defense behind the plate, since he committed an uncharacteristic amount of passed balls in the series.
He also struggled at the plate, amassing just two hits this weekend.
His struggles led to a day off on Sunday; hopefully, he'll be ready to go this week against the Cubs.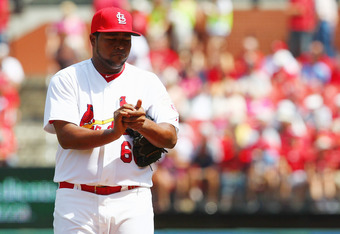 Dilip Vishwanat/Getty Images
Bullpen Struggles
The bullpen couldn't come through and keep the Cardinals in the game on Friday night, allowing an extra-inning home run to Jason Heyward.
They once struggled again on Sunday, with Victor Marte allowing three devastating runs in the seventh inning.
If Marte didn't allow those runs, Allen Craig's three-run bomb in the bottom of the ninth would have tied the game.
Kyle McClellan also allowed a run on Sunday to complete a very rough weekend.
Lack of Clutch Hitting
In Sunday's game, Matt Holliday came to the plate as a pinch hitter with a chance to tie the game. He ended up having a terrible at-bat and struck out.
Tyler Greene came to the plate as a pinch hitter later in the inning and also struck out, flailing at a pitch that was a foot out of the strike zone for strike three.
The Cardinals were only 5-for-22 with runners in scoring position and left 26 runners on base for the series.
Both of those numbers will have to change this week for this team to get back to its winning ways.