Bayern Munich vs. Chelsea: Can Manuel Neuer Become the World's Best Goalkeeper?
May 18, 2012

Martin Rose/Getty Images
Manuel Neuer has become known as one of the best young goalkeepers in all of World Football.
His time with Schalke 04 saw him rise to within reach of true greatness, but since joining FC Bayern Munich Neuer has only gotten better.
Now entrenched as the No. 1 option on both his club and German national team, Neuer is in search of glory and greatness this coming weekend against Chelsea in the UEFA Champions League final.
Neuer blocked two penalties for Bayern against Real Madrid to help secure his club home field for the Champions League final.
Last season Neuer was named the German Bundesliga player of the year as he helped lead Schalke 04 to the 2010-11 DFB-Pokal title.
This year he joined Germany's flagship club, FC Bayern Munich, and earned 17 clear sheets in the Bundesliga.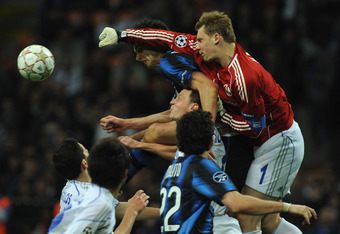 Valerio Pennicino/Getty Images
With only 34 league games a year, that means Neuer shut out his opponents more than half the time.
Can Neuer can become the world's best goalkeeper? The answer is a resounding yes.
However, a victory in the UEFA Champions League is not going to make him the world's best in a one-off appearance.
The chance to test himself against two world-class strikers in Didier Drogba and Fernando Torres is enough to make any keeper wary of what he could see coming his way.
Neuer himself commented that he was wary of Chelsea's tactics and the threat of Drogba (as quoted by Mid-Day):
Chelsea are tactically very well schooled and they showed that in both games against Barcelona.

I don't think they are going to be as defensive against us as they were against Barcelona.

Drogba is a very good striker and has a strong physical presence and he knows how to put himself about.

We have seen this season in the Champions League how dangerous he is.
The final will be a massive challenge for the German international but as Neuer continues to grow, his knowledge of the game only gets better and better.
His athleticism is rarely matched for a goalkeeper, allowing him to be extremely mobile. He has many first saves from beyond the 18-yard line only to rush back and make another save inside the six-yard box.
By the time he is 30 years old, there will no longer be a question as to whether he can become the world's best, as he will be regarded as just that and will possibly be even more respected than he is now.
A victory over Chelsea and lifting the UEFA Champions League trophy in front of his home fans could be massively beneficial to Neuer.
The level of confidence that the keeper could take away from a victory could be just the catalyst that Neuer needs to truly take his game to the next level and become the next great German keeper in the footsteps of Oliver Kahn and Jens Lehmann.