Chicago White Sox: Contenders Don't Drop Home Series to the Royals
May 13, 2012

David Banks/Getty Images
The Chicago White Sox are still trying to figure out the perplexing Kansas City Royals.
The 13-20 Kansas City Royals.
In the first meeting of the season between the two teams, Chicago dropped two out the three games this weekend. A 5-0 shutout of the Royals got things off to a promising start Friday night. The White Sox were outscored 14-1 over the rest of the weekend.
Saturday, Chris Sale fell behind early as Kansas City blanked the White Sox 5-0. On Sunday, a solid pitching performance by Phil Humber went for naught as the Royals spanked Chicago's bullpen on the way to a 9-1 win.
The White Sox dropped to 6-11 at U.S. Cellular Field and remain 2.5 games behind Cleveland in the AL Central. In a decidedly mediocre division, Chicago has been floating along in the quagmire.
Detroit has failed to take control, but at 16-19, the White Sox aren't scaring a lot of teams in spite of Jim Leyland's warnings.
The starting pitching hasn't been bad. Humber deserved better, throwing six innings of scoreless baseball before Matt Thornton, Nate Jones and Addison Reed were touched for all nine Royals runs.
Paul Konerko is once again having a strong start to the season. Adam Dunn and Alex Rios are contributing with the bat, as is A.J. Pierzynski.
Unfortunately, four Chicago starters are having abysmal seasons at the plate.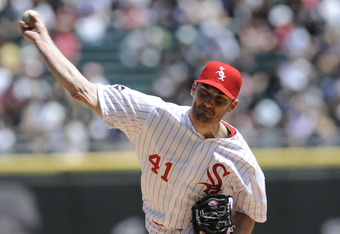 David Banks/Getty Images
Dayan Viciedo's average dropped to a paltry .196 over the weekend. The White Sox have three everyday players hitting under .200. Alexei Ramirez (.199) and Brent Morel (.182) join Viciedo in the sub-Mendoza club. Gordon Beckham is currently sitting at .208.
The sad thing is that not one of Chicago's reserves is hitting any better than Morel. So much for better options for skipper Robin Ventura.
The White Sox have to hope for more production at the bottom of the order heading into Monday night, when the Tigers come to town for two games. John Danks is coming off a solid start and will face Drew Smyly. Jake Peavy is on the mound Tuesday against Max Scherzer.
Chicago is just two games behind the second-place Tigers. Of course, how much of a contender can the White Sox be after dropping a home series against the Royals?