NBA Draft 2012: Predicting How the Lottery Will Play out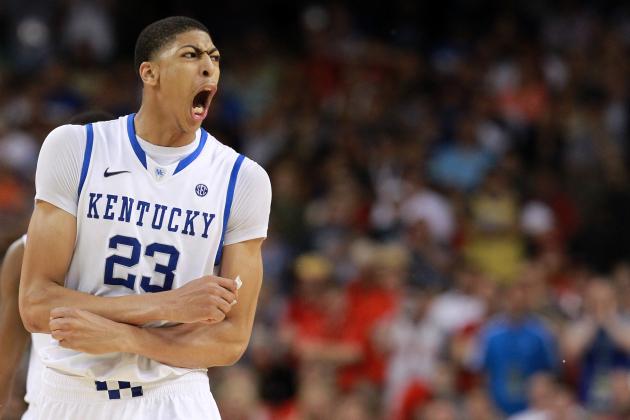 Ronald Martinez/Getty Images

Mere days after the end of the NBA Finals, basketball's offseason starts off with a bang thanks to the 2012 NBA Draft on June 28.
Because of the playoffs—as well as the official NBA Draft Lottery on May 30—very few draft positions are set in stone so far. However, that doesn't mean that the speculation can't begin in earnest.
So with about six weeks until the NBA Draft, and assuming that the current draft order holds to form, let's take a look at how each of the 14 lottery picks could potentially play out.
Begin Slideshow

»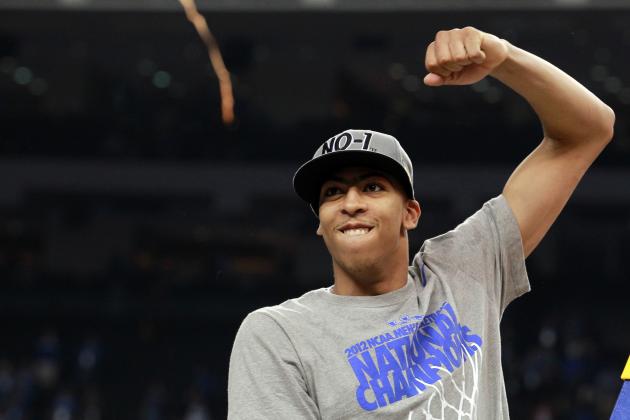 Ronald Martinez/Getty Images

Michael Jordan's wardrobe choices can often be called into question, but there will be no second-guessing this pick. Anthony Davis is one of the more dominant players we've seen in college basketball in recent memory, and his selection with the No. 1 overall pick is a no-brainer. A Kemba Walker/Anthony Davis tandem should give Bobcats fans a faint glimmer of hope for a bright future.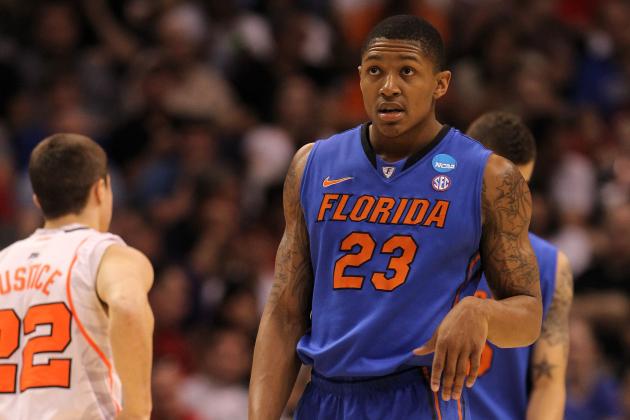 Jamie Squire/Getty Images

University of Florida shooting guard Bradley Beal is either a rich man's Eric Gordon or a poor man's Ray Allen. Either way, pairing him with John Wall should solidify the Washington Wizards' backcourt for the next decade.
After spending two top-18 picks on small forwards in last season's draft (Jan Vesely and Chris Singleton), it's doubtful that Washington will go with Kentucky's Michael Kidd-Gilchrist with this pick, even though Kidd-Gilchrist grades out a tad higher than Beal. However, the fact that current Wizards' shooting guard Jordan Crawford is below average at the skill most vital to his position—shooting—clearly forces Washington's hand with this pick.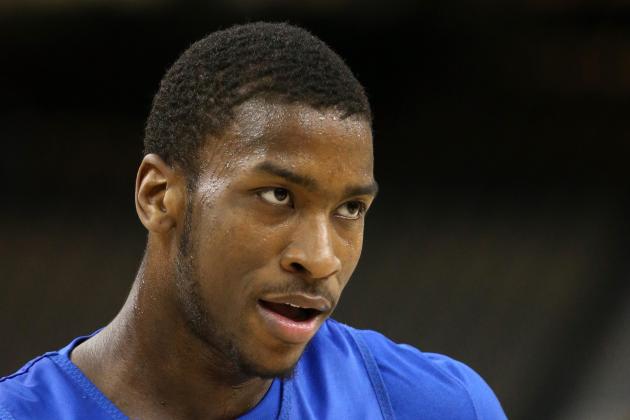 Ronald Martinez/Getty Images

Anthony Davis got most of the publicity, but the versatile Michael Kidd-Gilchrist might have been Kentucky's most valuable player during its title run this season. If Washington passes on Kidd-Gilchrist at No. 2, the Cavaliers get a perfect complement to point guard Kyrie Irving and power forward Tristan Thompson. Don't be surprised if MKG captures the Rookie of the Year award next season.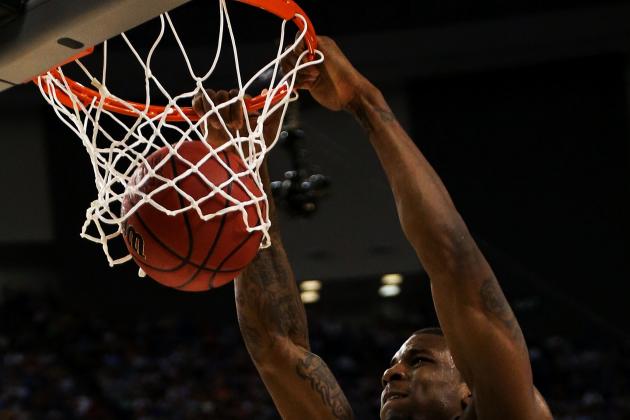 Ronald Martinez/Getty Images

Having to "settle" for Kansas power forward Thomas Robinson is the best sort of consolation prize for the New Orleans Hornets at No. 4. Robinson should be able to start in the Big Easy on Day 1, and if the Hornets can keep Eric Gordon, the team should have a decent nucleus to build around (and a fair amount of cap room with which to do so).
Jim McIsaac/Getty Images

Drafts are all about potential, and in selecting UConn's Andre Drummond to play alongside DeMarcus Cousins, the Sacramento Kings could potentially have one of the league's better frontcourt pairings.
Drummond has all of the makings of a fabulous pro center, but failed to dominate during his one season in the Big East. His ceiling will be too much for the Kings to pass up, however, so expect them to roll the dice and hope that this pick doesn't come up snake eyes.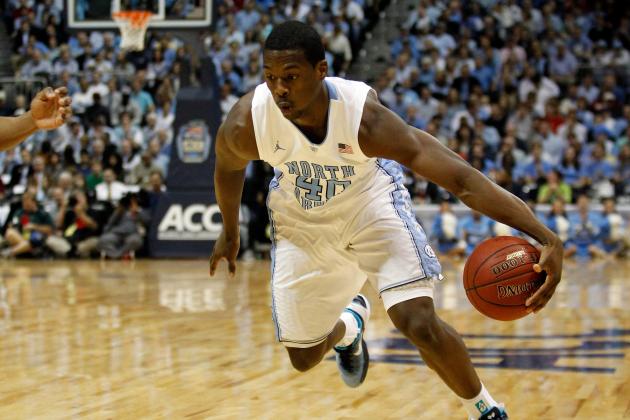 Streeter Lecka/Getty Images

Harrison Barnes was exposed somewhat during this past season as a player who struggled to put the ball on the deck and create for himself. Even still, he's a better shooter than most wing players in the NBA today, and he'd be a perfect fit for the Portland Trail Blazers.
The inside-out game between LaMarcus Aldridge and Barnes should be fun to watch, and Barnes should get ample time to work on his game in a situation where he doesn't have to be "The Man." Barnes should blossom into one of the better No. 6 picks in recent NBA draft history.
Streeter Lecka/Getty Images

As strange as it may sound, the Golden State Warriors are pretty much set at four positions (Stephen Curry, Klay Thompson, David Lee and Andrew Bogut) and only need a small forward to round out their starting five.
Enter Perry Jones.
The 6'11" forward is going to create some matchup problems once he puts on an NBA uniform, and he has the potential to be one of the best players in this entire class. If Warriors' head man Mark Jackson can coach Jones up, Golden State could very well be a legit contender in a couple of years.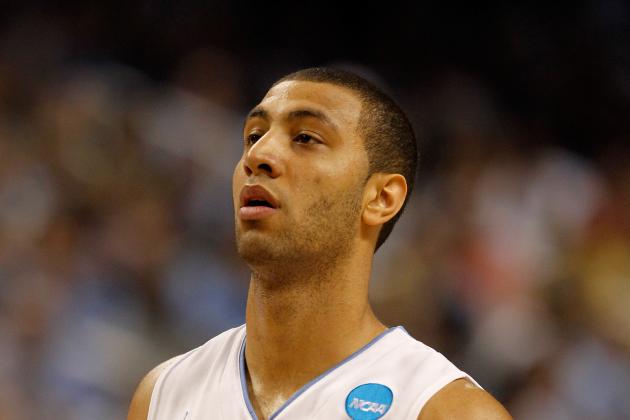 Streeter Lecka/Getty Images

The Toronto Raptors badly need a point guard, so it makes sense to go with North Carolina's Kendall Marshall here. Marshall is no better than an average shooter, but he has some elements of Rajon Rondo in his game.
The 6'4" Marshall may not have a consistent jumper, but he's the type of playmaker that makes everyone around him better. Need proof? Just look back at what happened to North Carolina after Marshall broke his wrist in the NCAA Tournament this year.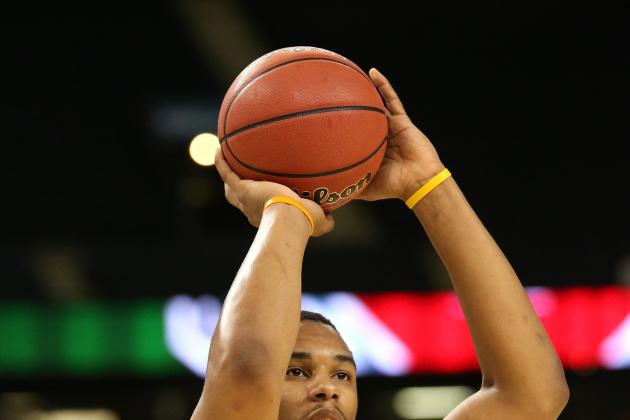 Ronald Martinez/Getty Images

"Undersized" is one of the tag words that will follow Jared Sullinger for most of his professional career. But he's also a "smart" and "productive" player who should be more than able to hold his own in the NBA.
The Detroit Pistons need a fair amount of help in the frontcourt, and a duo of Sullinger and Pistons' center Greg Monroe should make opposing teams think twice before attacking the basket. Sullinger may not be overly athletic, but at the worst, he should have a solid, productive NBA career.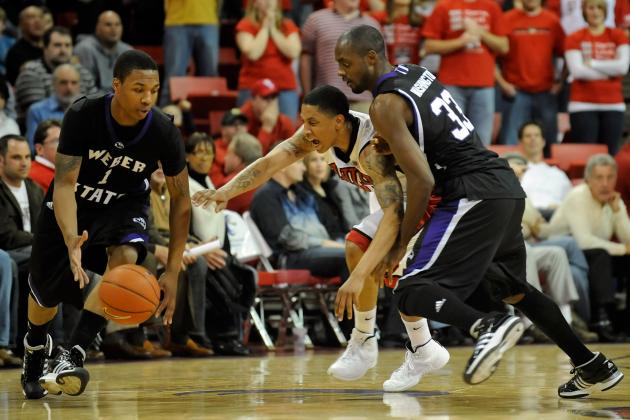 Ethan Miller/Getty Images

After shoring up the low post earlier with the Thomas Robinson pick, the New Orleans Hornets will use their second selection on Damian Lillard of Weber State.
The 6'2" Lillard is thought by many to be the best point guard in the college game last year. Keep in mind, however, that Lillard never averaged more than four assists per game during his time at Weber St. and is in the shoot-first, pass-second mold on offense.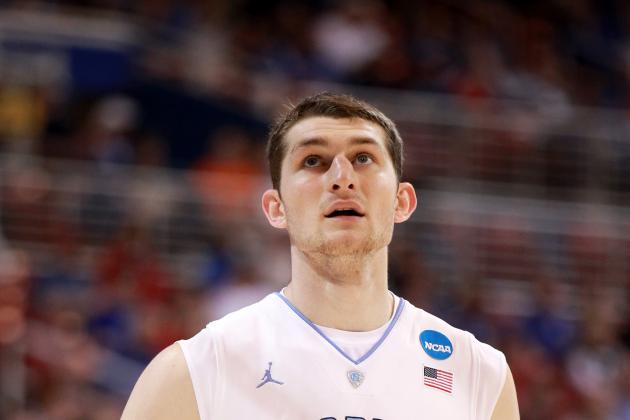 Andy Lyons/Getty Images

Look for a reunion of sorts as former North Carolina Tar Heels Harrison Barnes and Tyler Zeller are reunited in Portland on draft night.
Zeller is an agile, mobile big who can exhibit a mean streak when needed. He doesn't appear to project to star status, but he's a young, willing post player who should flourish next to LaMarcus Aldridge.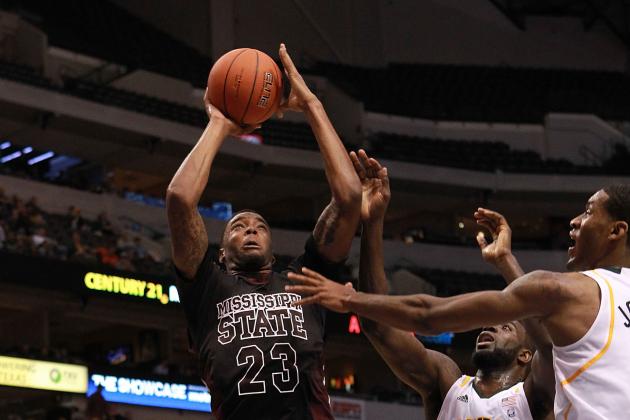 Ronald Martinez/Getty Images

Arnett Moultrie had a fantastic season down in Starkville, Miss., this year (16.4 PPG, 10.5 RPG) and is quickly flying up the draft boards. Not much is known about him other than the fact that he's super quick and incredibly explosive.
What's also known is that he'd fit in well next Ersan Ilyasova if the Bucks are fortunate enough to retain his services. If Moultrie is still on the board at this pick, Milwaukee could come out of the draft smelling like a rose.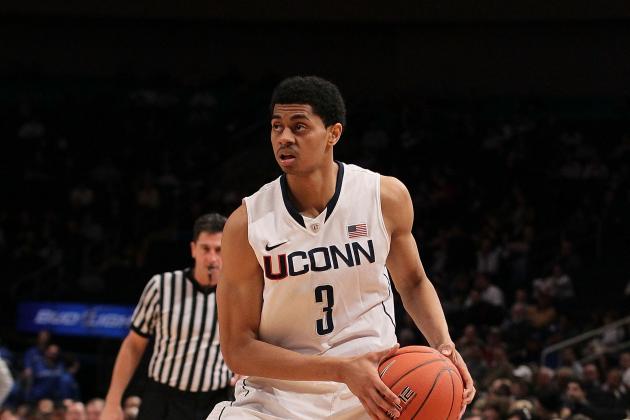 Jim McIsaac/Getty Images

UConn's Jeremy Lamb and Duke's Austin Rivers make the most sense here, but the Suns may go with the more NBA-ready talent in Lamb.
The 6'5" Lamb has ideal size, and should thrive in Phoenix, even if Steve Nash leaves the team. Rivers isn't yet the shooter that Lamb is, but does have an NBA pedigree, and could sell a boatload of tickets for a team that lacks anything remotely resembling a superstar.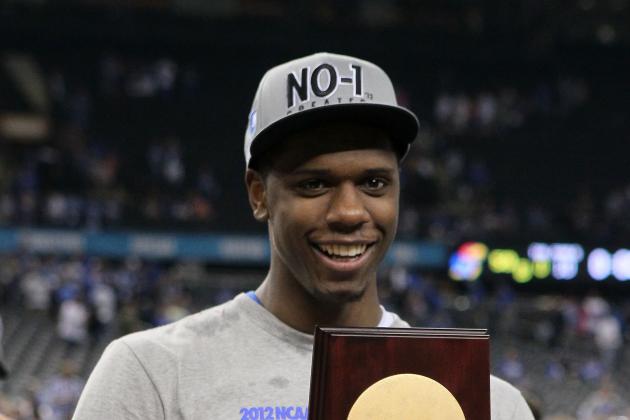 Jeff Gross/Getty Images

There are times when Terrence Jones looks like a sure-fire top-five pick. And then there are other times when he coasts through games to the point where you forget that he's out on the court.
Jones has too much talent to fall out of the lottery, so the Houston Rockets could potentially get a steal here with the No. 14 pick. Rarely do players at the back end of the lottery come with this high of a ceiling, and with the talent that the Rockets already have, Houston may be just the place where Jones can shine.