UFC on Fuel TV: Korean Zombie vs. Poirier Bleacher Report MMA Staff Predictions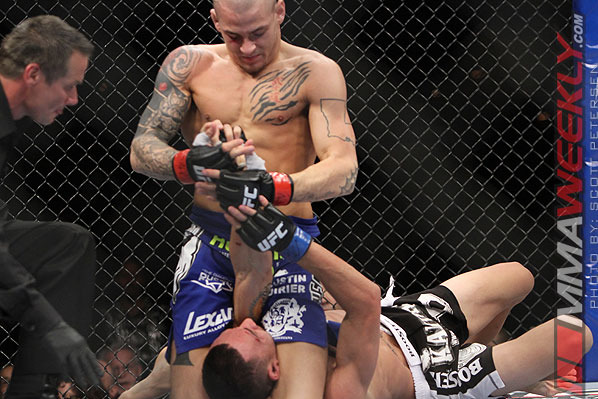 Photo Courtesy of MMA Weekly
The UFC presents its third annual event on FUEL TV this Tuesday, headlined by an intriguing title eliminator bout for the featherweight division.
Dustin "The Diamond" Poirier and "The Korean Zombie" Chan Sung Jung square off in the evening's main event to determine who earns a title fight with current 145-pound champion Jose Aldo.
The main card kicks off when grizzled veteran Jason MacDonald takes on the always entertaining Tom "The Filthy Mauler" Lawlor in a middleweight scrap.
Next up, in a light heavyweight affair, Igor Pokrajac will go toe-to-toe with the always game Fabio Maldonado.
At 135 pounds, Yves Jabouin looks to make it three wins in a row after dropping down from the featherweight division when he meets a talented grappler in Jeff Hougland.
In a bout that has "show stealer" written all over it, Jeremy Stephens takes on Donald "Cowboy" Cerrone in a match up that promises fireworks.
Right before the feature bout, former "The Ultimate Fighter" winner Amir Sadollah takes on Jorge Lopez in a fight that all but promises a ton of action on the feet.
Bleacher Report MMA Featured Columnists Scott Harris, Dwight Wakabayashi, Matt Juul, and myself, John Heinis, are making the predictions this time around.
Take a look inside for the in-depth analysis.
Begin Slideshow

»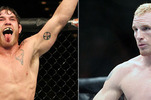 Photo Courtesy of MMA Mania
John Heinis: While "The Filthy Mauler" is a tremendous fan favorite, he will likely receive his walking papers from the UFC if he can't pull out a win here.
Lawlor has lost three of his past four, but he has a very winnable fight in front of him here against Jason MacDonald.
MacDonald is a classic journeyman—his fight will be his 41st—who consistently beats middle-of-the-back fighters but is dominated when he sees a step up in competition.
A big reason for this is that the BJJ black belt has never made a sincere effort to round out his game, and he will likely not have any answers for his opponent's aggressive, wrestling-based attack.
Tom Lawlor via unanimous decision
Scott Harris: Lawlor needs to knock the veteran out, and I think that's what he'll do.
MacDonald has had a nice career, but he's probably looking ahead to that final fight he wants to have in front of his Canadian fans.
Tom Lawlor via Round 1 TKO
Dwight Wakabayashi: In a solid matchup between two aging and fading veterans, I think the mauling and wrestling control of Lawlor take the day in this one.
I wish I could go with my heart on this one and take the Canadian Jason MacDonald, but his last performance left much to be desired, and his mind may be racing forward to another fight when he steps in the cage on Tuesday night.
MacDonald is still very dangerous with his submissions and can pull one out from any position, but that is all he really has, and Lawlor should be prepared for that aspect of MacDonald's game.
It's no secret that JMac wants to get on the UFC 149 Calgary card for a retirement fight in July. His mind may be preoccupied with that, and that is never a good thing.
Lawlor is as advertised—"filthy" when it comes to his wrestling and pressure style—and I think that wins the day in a very ugly fight.
Tom Lawlor via unanimous decision
Matt Juul: A crafty veteran with great jiu-jitsu skills, Jason MacDonald is a crafty veteran with great jiu-jitsu skills that will make the difference against Tom Lawlor.

Lawlor has great wrestling and can hold his own standing, but was easily submitted by Chris Weidman at UFC 139.

Once Lawlor gets complacent inside MacDonald's guard, expect an early finish.

Jason MacDonald via round 1 submission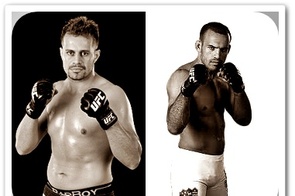 Photo Courtesy of Pro MMA Now
John Heinis: Despite a pretty respectable 24-8 professional record, Igor "The Duke" Pokrajac is just 3-3 in the UFC.
A win over Fabio Maldonado could possibly give Pokrajac an opponent with a name in his next fight, while a loss would basically assure that he is never going to get a relevant fight in the Octagon.
Maldonado is no slouch, though. Prior to a controversial unanimous decision loss to Kyle Kingsbury in June, the Brazilian rattled off a rarely seen 11 wins in a row.
Pokrajac's path to victory involves utilizing his wrestling advantage in this fight, while Maldonado would prefer to pick his opponent apart standing.
However, even if the fight does hit the ground for an extended period of time, Maldonado's brown belt in Brazilian Jiu-Jitsu should keep this fight in his favor.
Fabio Maldonado via unanimous decision
Scott Harris: Pokrajac's gonna waste him. End of prediction.
Igor Pokrajac via Round 1 KO
Dwight Wakabayashi: This is another fight with aging fighters looking to be relevant and stay employed in the UFC, and it could turn out to be a nice slugfest.
Pokrajac is coming off a solid knockout of Krzysztof Soszynski in December where he displayed some nice power and a killer instinct.
He hurt Soszynski with a big shot and then went in for the kill, but I'm not sure he will want to stand and trade with the boxer Maldonado in this one.
Pokrajac is definitely the more well-rounded of the two, and he should be able to use that when needed to get points and secure a solid win. Maldonado has a better chance the more this fight stays standing.
Igor Pokrajac via unanimous decision
Matt Juul: After delivering two brutal beat downs in his last two outings, surging light-heavyweight Igor Pokrajac will look to lay down some leather opposite Fabio Maldonado.

While a slugfest will be entertaining for the fans, Pokrajac should stick to his wrestling base as Maldonado's more refined striking will pick his Croatian opponent apart.

Pokrajac's best bet will be to close the gap and work from the inside, but Maldonado's slight reach advantage coupled with his boxing will ultimately be Pokrajac's undoing.

Fabio Maldonado via round 2 TKO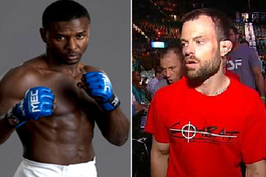 Photo Courtesy of MMA Mania
John Heinis: Jabouin was soundly defeating Pablo Garza at UFC 129 before getting hit with the almost never seen flying triangle choke.
He decided to drop down to 135 pounds after the loss and has won two entertaining scraps since then. Jabouin will be tested by another very competent submission specialist here in Jeff Hougland.
After starting off his MMA career just 1-4, Hougland has bounced back with nine wins in a row, including a successful Octagon debut at UFC 132 last summer.
Jabouin will test Hougland's chin, but "Hellbound's" BJJ black belt and far superior wrestling will allow him to grind out a tough decision.
Jeff Hougland via unanimous decision
Scott Harris: Jabouin is too quick and too cagey to let Hougland inside.
He doesn't have the power to finish, but I wouldn't be surprised if Hougland's face was a little rare by the end of the third round.
Yves Jabouin via unanimous decision
Dwight Wakabayashi: Although their styles are very different, these two fighters are very evenly matched.
When all is said and done, it will come down to desire and experience, and I haven't seen enough of Hougland to really know what he is made of.
On the other hand, Jabouin brings a wealth of experience and has fought tougher opponents in his career.
He is coming off a nice win over lengthy Walel Watson in which he had to dig deep and get crafty with his game.
Hougland made his debut in the UFC last year and got a solid win with activity and submission attempts. I do see Jabouin being a bit more well-rounded, but I think Hougland may be a bit stronger at his game.
Jeff Hougland via unanimous decision
Matt Juul: BJJ black belt Jeff Hougland impressed fans in his UFC debut at UFC 132 and looks to take a step up in competition against Yves Jabouin.

With six of his eight straight victories coming via submission, Hougland is a definite threat on the ground, but he may not be able to get the fight there against the veteran Jabouin.

A solid 3-3 under the Zuffa banner, Jabouin has a wealth of experience to draw from and is an avid striker. With his powerful and explosive strikes, expect Jabouin to overwhelm Hougland.

Yves Jabouin via round 3 TKO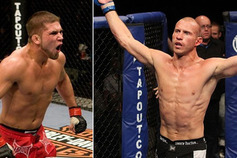 Photo Courtesy of MMA Mania
John Heinis: Both of this exciting lightweight fighters look to rebound after losing decisions to two of the division's top title contenders.
Cerrone looked to surely be the next man to challenge for the UFC lightweight title after winning six in a row, but accepting five fights in one calender year proved to be a costly mistake, as he was picked apart by Nate Diaz at UFC 141.
Meanwhile, Stephens is a guy who can hang with just about anyone at 155 pounds but is still looking for a signature win to take him to the next level.
His loss to former WEC lightweight champion Anthony Pettis at UFC 136 is the type of fight fans are used to seeing when Stephens gets slightly edged by a top contender.
Stephens will have the edge in punching power, but Cerrone has the edge everywhere else.
Cowboy has more precise striking and a far superior submission game, so I don't see Stephens having anything more than a puncher's chance here.
Donald Cerrone via Round 2 submission (rear naked choke)
Scott Harris: The most interesting fight on the card in my opinion. It would be nice to see Cerrone get back to taking care of business in the cage before he started calling for rematches he's not going to get.
That leads this armchair psychologist to wonder if Nate Diaz is still in Cerrone's head.
In the cage, this is a matchup of toolboxes. Cerrone has a lot of different tools in his box. Stephens only has one: that big black hammer he attaches to his right hand before he heads down the aisle.
Cerrone's style is to engage, but he'll also have to move effectively, and he will probably want to get the fight horizontal at some point.
In short, if it's vintage Cerrone, Cerrone wins. If there's a Diaz hangover lingering, he could easily get caught.
Donald Cerrone via unanimous decision
Dwight Wakabayashi: Cerrone will be looking for a bounce back in this matchup against the always game and tough Stephens.
Cerrone was oringinally supposed to fight Yves Edwards in this one, and I see Stephens as a tougher matchup for him.
The power edge has to go to Stephens, and he has a chance to catch and hurt Cerrone. Stephens throws wildly at times, and look for Cerrone to be the more technically sound, straight up the middle puncher.
That brings us to Cerrone's dreaded leg kicks, the only weapon he used to any real success in his loss against Nate Diaz.
Cerrone should be able to mix up his kicks with his hands to keep Stephens guessing and on his heels all night, and that will set up a takedown and submission at some point.
Donald Cerrone via round 3 submission
Matt Juul: While 2011 may have ended on a sour note with his UFC 141 loss to Nate Diaz, Donald Cerrone will look to get his 2012 off on the right foot against Jeremy Stephens.

Cerrone has the edge over Stephens in the stand-up department and will likely frustrate "Lil' Heathen" with his hard hitting Muay Thai.

Stephens should press with take downs if he can't contend standing, but Cerrone's slick submissions will keep Stephens on the defensive.

In the end, Cerrone has the better overall tools and will finish Stephens as soon as he makes a mistake.

Donald Cerrone via round 1 submission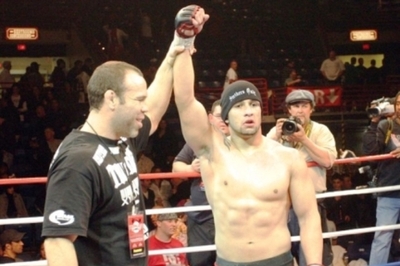 Jorge Lopez/Photo Courtesy of Tapology.com
John Heinis: Amir Sadollah, the season 7 winner of "The Ultimate Fighter," has had all eight of his fights take place in the Octagon. However, he has looked mediocre on most of these occasions.
Sadollah lost a decision to Duane Ludwig in his last outing at UFC Live: Hardy vs. Lytle in August and just doesn't seem to have the elite skills to hang with any recognizable opponents at 170 pounds.
However, he does have an interesting matchup here against Wanderlei Silva protege Jorge Lopez.
This fight will undoubtedly have more than its fair share of exchanges on the feet and should be entertaining. Whether or not that action is technically sound is anybody's guess.
Lopez won an impressive 10 in a row before losing in his Octagon debut against Justin Edwards this past September.
While this fight was booked to keep Sadollah under UFC contract, I smell an upset brewing here.
Jorge Lopez via unanimous decision
Scott Harris: Whether he's winning or not, Sadollah epitomizes calm in the cage.
Lopez doesn't, at least not at this stage of his UFC career. Sadollah keeps his head, fights the smart fight and outpoints the Wanderlei Silva product.
Amir Sadollah via unanimous decision
Dwight Wakabayashi: This fight is a re-scheduled matchup and one that Sadollah can't afford to lose.
Lopez lost in his debut last September, but he is a new, young and fresh face in the promotion and has time to grow into his game in the coming years.
Sadollah is a been-there-done-that fighter on every level except the elite, and he has failed to make that next jump in his career.
The injury-prone and older Sadollah must use his experience and legs to take the lead and advantage all night.
Lopez has knockout power in his hands, but that's really all he has up to this point. Sadollah should be able to pick him apart with his Muay Thai and make Lopez uncomfortable all night.
Amir Sadollah via unanimous decision
Matt Juul: With both men coming off of tough decision losses, this bout is a must-win for both fighters.
Amir Sadollah risks relegating himself to gatekeeper status with a defeat as the Ultimate Fighter season 7 winner has yet to beat a top tier welterweight.

Still a threat with his pinpoint striking skills, expect Sadollah to look to keep the fight standing against the young Jorge Lopez.

Lopez can't wait to get back on track since losing to Justin Edwards in his UFC debut.
The loss, which snapped his 10-fight unbeaten streak, did showcase Lopez as a promising prospect, but a fighter who'd be better suited for the lightweight division.

A highly touted product of the Wand Fight Team, expect Lopez to turn things around in his second UFC fight as his athleticism and better overall game should make the difference.

Jorge Lopez via split decision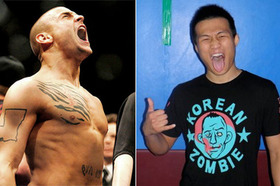 Photo Courtesy of MMA Mania
John Heinis: "The Korean Zombie" turned a lot of heads when he became the first man in UFC history to successfully execute a twister in March of last year and entered the title discussion at 145 pounds when he knocked out former title challenger Mark Hominick in just seven seconds at UFC 140.
His opponent, Dustin "The Diamond" Poirier, is a perfect 4-0 since dropping down to featherweight last year and has shown to have some heavy hands and a great submission game in his own right.
As a matter of fact, Poirier is coming off an impressive submission win over Max Holloway when he locked up a picture-perfect mounted triangle armbar.
Chan Sung Jung's chin will be tested both on the feet and on the ground, and any action on the mat will likely end in a stalemate between these two talented grapplers.
Expect a bloody war between two very game opponents, but Poirier's undeniable strength and striking advantage will lead him to a tight decision win.
Dustin Poirier via split decision
Scott Harris: Awesome matchup here. Both guys are aggressive, but neither is reckless.
This will start as a brawl but will hit the ground sooner or later. Once there, Jung won't have the stuff to stand up to "The Diamond's" unflagging ground assault.
Poirier tenderizes him, Jung eventually weakens and Poirier locks on a choke.
Dustin Poirier via Round 3 submission, third round
Dwight Wakabayashi: Dustin Poirier has a lot of heat behind him right now. Sure, he has accomplished some things in his young mixed martial arts career, but he shouldn't be getting the hype that he has gotten until he beats a guy like Jung.
Jung has a lot of hype and heat too, but his was earned via a beautiful twister submission of Leonard Garcia, followed by a flash knockout of Mark Hominick.
Jung is for real and has a well-rounded, elite-level game on the feet and on the ground. Poirier has some serious skills as well, and I think he is the stronger of the two men in this one.
It is a step up for Poirier and should be a good indication of where his skill really stands in the division.
In the end, I believe Poirier will use his strength, youth and aggressive style to stay tight on Jung all night and win a back-and-forth war that will deliver to the fans' delight.
Dustin Poirier via unanimous decision
Matt Juul: Coming off a stellar seven second knockout of former No. 1 contender Mark Hominick, Chan-Sung Jung will look stake his claim in the upper echelon of the division if he can get past a young and hungry Dustin Poirier.

Possessing both a tenacious striking game and stellar grappling skills, "the Korean Zombie" is an all-around threat that has polished his technique since his Fight of the Year performance against Leonard Garcia in their first go around in 2010.

The 23-year-old Poirier will be another tough match-up for Jung as "the Diamond" has blown through the competition since coming over from the WEC and looks to continue his meteoric rise.
An impressive 4-0 in the UFC, Poirier has deadly power strikes with a surprisingly diverse submission arsenal.

While Jung is a solid contender, I just don't see him stopping the surging Poirier, especially if the fight hits the mats.

Dustin Poirier via second round submission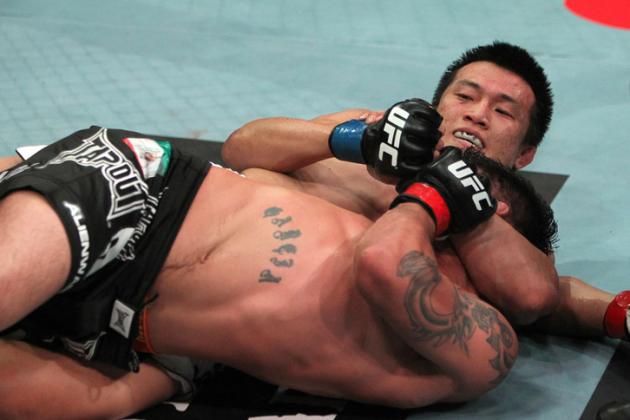 Photo Courtesy of UFC.com
John Heinis: Knockout of the Night - Rafael dos Anos
Submission of the Night - Donald Cerrone
Fight of the Night - Chan Sung Jung vs. Dustin Poirier
Scott Harris: Knockout of the Night - Igor Pokrajac
Submission of the Night - TJ Grant
Fight of the Night - Jeremy Stephens vs. Donald Cerrone
Dwight Wakabayashi: Knockout of the Night - TJ Grant
Submission of the Night - Donald Cerrone
Fight of the Night - Chan Sung Jung vs. Dustin Poirier