Arnett Moultrie: Highlights, Analysis and Pro Projections
June 8, 2012

Patrick McDermott/Getty Images
Arnett Moultrie could make a huge leap up draft boards come June 28. The 6'11" power forward was a part of an underachieving Mississippi State squad in 2011-12, but he shined individually.
Moultrie originally attended UTEP for his freshman and sophomore seasons, but he made an impact this past season for the Bulldogs. He didn't play in 2010-11 due to the transfer, so he could have returned for one more season, but he made himself eligible for the draft on March 28.
He averaged a double-double with 16.4 points and 10.5 rebounds per game in the 2011-12 season. 
Players with his size and skill set will be very popular on draft day. He only has one year of college production, so pre-draft workouts will tell the final story for him.
ESPN's Chad Ford has him listed as the seventh best power forward in the draft, but I think he's better than that. He has the ability to be one of the top three big men in the draft. 
Here is a scouting report on Moultrie that highlights his strengths and weaknesses.
(Height, weight and stats per statsheet.com)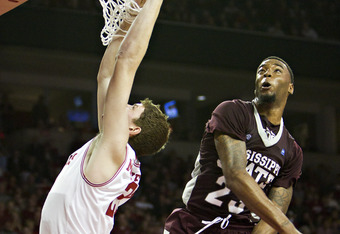 Wesley Hitt/Getty Images
Profile:
Height: 6'11" 
Weight: 249 pounds 
School: Mississippi State
Date of Birth: November 18, 1990
Best NBA Position: Power Forward
College Stats: (Key Stats Underlined) 16.4 PPG, 35.8 MPG, 54.9 FG%, 44.4 3FG%, 78 FT%, 1.2 APG, 10.5 RPG, 0.8 BPG, 0.8 SPG
Skill Grades:
Athleticism: A
Size: A
Intangibles: C
Rebounding: A
Ball Handling: B
Defense: C
Shooting: A
Passing: B-
Post Game: A
Basketball IQ: B-
Upside: A-
Strengths: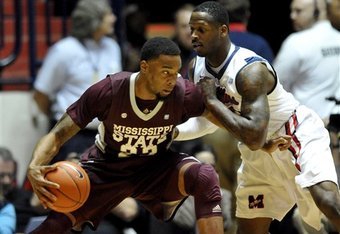 Moultrie has great footwork and a scorer's mentality. He has the touch to score from mid-range, and the athleticism to put the ball on the floor and go to the basket. He could be an 18 point-per-game scorer in the NBA, his offensive skills are that good.
He is 6'11" with long arms, so he will have no problem finishing near the basket. He rebounds well and he is especially active on the offensive glass. Last year he grabbed 3.7 offensive rebounds per game. This will get him on the floor early in the NBA.
He has even stepped out to the three-point line to knock down shots. He only took 18 of them last season, but he made eight. He makes 78 percent of his free throws and that can be huge for a big man with an assortment of post weapons.
Moultrie may very well be the fastest riser on draft boards through June.
Check out this highlight reel from Moultrie. It shows his athleticism and scoring ability:
Weaknesses:
Moultrie has the physical skill set to be very good on defense, a la Taj Gibson, but he hasn't shown the commitment on that end. For a player with his physical attributes to average less than a block per game is unacceptable. 
He doesn't show the same fire on that end of the floor. It's not an issue that can't be fixed, but his first NBA coach must make it a priority from day one.
Moultrie needs to add strength, but his biggest challenge is to get serious about his attention to the defensive aspects of his game. He is caught out of position far too often. If this young man matures to become a complete player he could be one of the top 10 power forwards in the NBA in a few years. 
NBA Player Comparison: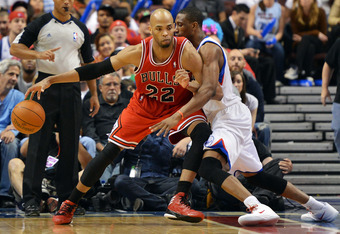 Drew Hallowell/Getty Images
Offensive Minded Taj Gibson
This is a loose comparison, but their dexterity and physical attributes are so similar I couldn't resist. If Moultrie commits to the defensive end a little more, this will be more accurate.
Gibson uses his length and athleticism to wreak havoc on the defensive end, and his offense is secondary. Moultrie is the opposite, but I believe it's possible for him to find a little more balance. The tools are there for him to become a complete player.
Draft Projection:
From No. 7 to No. 15 
Follow Brian Mazique and Franchiseplay.net for reactions, analysis and news from the world of sports and sports Video Games