Arsenal Transfer News: M'Vila, Remy and More Stars Linked to Gunners
May 13, 2012

Mike Hewitt/Getty Images
Arsenal secured Champions League football for next season with a third-place finish in the Premier League this year, but will need to bolster the club in the summer transfer window if they want to make it past the quarterfinals of the competition for the first time since 2009.
After several years of winning no major trophies, the Gunners need to make a splash in the transfer market and add some world-class talent to their roster.
Let's look at three stars Arsenal have recently been linked with.
Yann M'Vila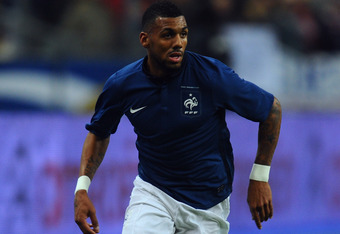 Mike Hewitt/Getty Images
The defensive midfielder was reportedly set for a move to the Emirates, but club manager Arsene Wenger denied the reports that a deal for the Rennes star was imminent.
Per Soccernet:
''It is not true,'' the Gunners boss said on Thursday. ''There is not any interest at the moment.

''We have not been in touch with anybody, we have not made any offer to anybody and we are nowhere near to buying anybody at the moment. We are focused on our final game of the season.''
M'Vila would be a fantastic buy for Arsenal because he is the same type of player that Gunners legend Patrick Vieira was.
He excels defensively but can also set up scoring chances with his exceptional passing skills if needed. After several strong seasons in Ligue 1 and after becoming an integral part of the French national team, it's likely that M'Vila will make a move away from France this summer.
Loic Remy
The Marseille striker is a goal scoring talent that would compliment the Premier League's leading goal scorer Robin Van Persie quite well.
According to Yahoo!, Remy is one of the players Wenger is looking at in the transfer window.
Remy's pace causes major problems for defenders because if a player loses a step on him, it's very difficult for them to recover.
Arsenal's London rivals, Tottenham, are reportedly interested in signing the French star, so it's crucial that the Gunners make a strong bid and keep him away from White Hart Lane.
Olivier Giroud
If Arsenal cannot purchase Remy from Marseille, then they should look at French striker Olivier Giroud of Ligue 1 side Montpellier.
Wenger is reportedly interested in the 25-year-old striker, and he would be a great fit in the Emirates because of his impressive size.
At 6'3", he is a big target in front of the goal and is a player who would really benefit from playing with world class players on a regular basis.