Tampa Bay Buccaneers: Predictions for the Final 53-Man Roster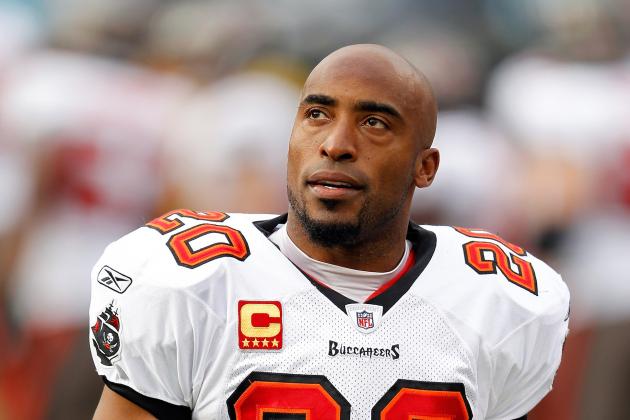 Streeter Lecka/Getty Images

The Tampa Bay Buccaneers are a team on the rise because of bold free-agency moves and decisive draft-day selections.
New head coach Greg Schiano is building this team around players who genuinely love the game of football. Unsurprisingly, seven of his former Rutgers students fit this criteria.
But has Schiano found 53 men who fit the part?
Let's take a look.
Begin Slideshow

»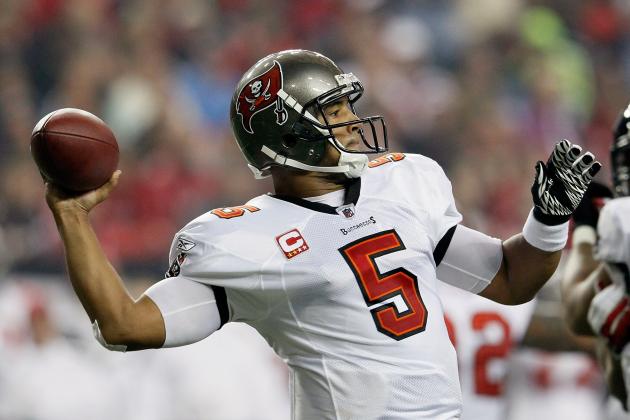 Kevin C. Cox/Getty Images

1. Josh Freeman
2. Dan Orlovsky
As of May 13th, 2012, the official Buccaneers website reports that the only three quarterbacks currently on the roster are Josh Freeman, Dan Orlovsky and Brett Ratliff.
LSU undrafted rookie Jordan Jefferson was waived on the 10th, with other undrafted rookie Zach Collaros of Cincinnati being waived three days earlier.
Josh Freeman had his struggles in 2011, but that should not demote him to backup status. He still has elite potential, and with proper coaching and tools around him, he should go on to have a marvelous 2012.
Free-agent signee Dan Orlovsky was an unheralded move, but nonetheless a great one. The Bucs acquired a backup quarterback with starting experience, at a low cost. With Dan Orlovsky, the team has no need need for a No. 3 QB, so I predict that Brett Ratliff will not make the final 53-man roster.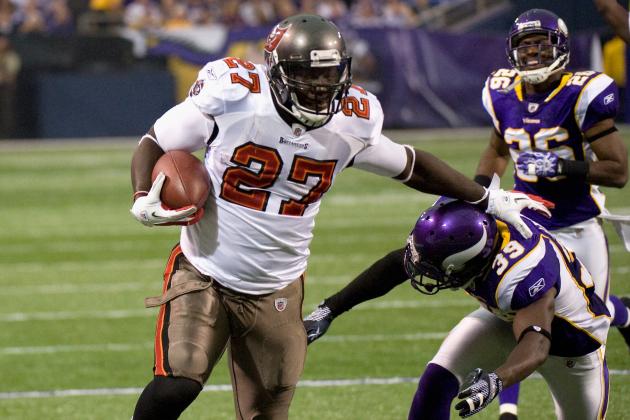 Hannah Foslien/Getty Images

1. Doug Martin
2. LeGarrette Blount
3. Michael Smith
4. Mossis Madu
After careful reflection, I came to the conclusion that Doug Martin will start Week 1 over veteran LeGarrette Blount. Martin has superior speed, explosiveness and does not have an unpleasant 2011 hanging over his head like Blount.
Schiano wants a bell-cow running back who will not fumble the ball, and unfortunately for Blount, he has had a career-long problem with keeping the ball off of the grass.
In 2010, he fumbled four times, and in 2011, five times. He also scored only five touchdowns last season. For a running back, having as many fumbles as touchdowns is even worse than being a quarterback who threw more interceptions than touchdowns.
Below Blount, I project that rookie Michael Smith and veteran Mossis Madu will make the roster.
Smith, from Utah State, was a Day 3 sleeper prospect, while Mossis Madu brings something to the table neither Martin nor Smith have; pro experience. Madu has sat on the bench for a while to develop his skills, and I predict it will be well worth it.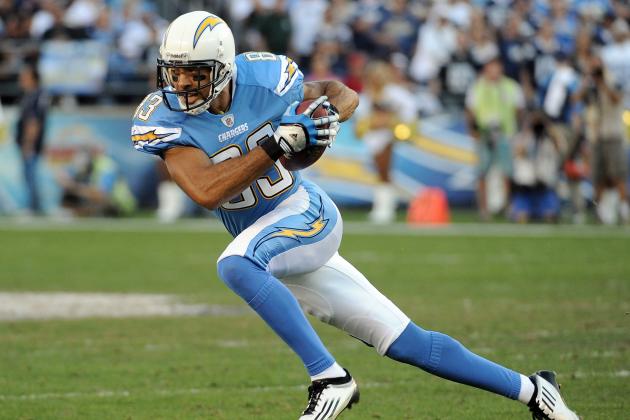 Harry How/Getty Images

1. Vincent Jackson
2. Mike Williams
3. Arrelious Benn
4. Preston Parker
5. Dezmon Briscoe
6. Tiquan Underwood
When the Bucs went all out and gave Vincent Jackson a contract that would make Bill Gates blush, they made it clear that they were committed to improving the pass offense. So it's a no-brainer that Jackson would be on the roster come September.
Mike Williams had the most receiving yards out of any Buccaneer in 2011, but only accumulated three touchdowns. In order to realize his full potential, Williams has to get into the end zone more often, as football games are won by scoring the most, not by dropping the largest number of easy passes.
Arrelious Benn had a down 2011 as well, however, that should not keep him out of the slot. He and Kellen Winslow could provide fearsome targets for Freeman underneath now that Tampa has a true No. 1 wideout to stretch the field.
To close out the wide receiver stable, we have Preston Parker, Dezmon Briscoe and Tiquan Underwood.
Parker and Briscoe both were on the Bucs last year. Underwood was waived by the Patriots a short while ago, and signed by Schiano, his former coach at Rutgers. The connection between receiver and coach should keep Underwood on the roster.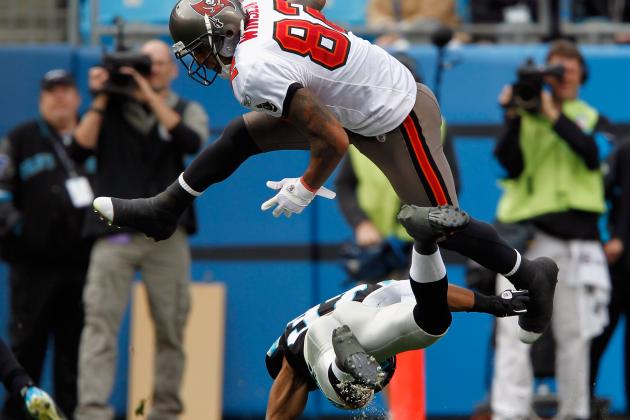 Streeter Lecka/Getty Images

1. Kellen Winslow
2. Luke Stocker
3. Drake Dunsmore
Perhaps Tampa's biggest hole is experience. The Buccaneers are the youngest team in the NFL, with only two players over the age of 30. One of the 30-plus players is Ronde Barber, the other is little-known Gary Gibson.
The ancient Kellen Winslow (28), has been a fixture on the offense for some time, and will continue to be for at least another few years.
Behind him, Luke Stocker and rookie Drake Dunsmore will compete for playing time. Dunsmore also played fullback in college, and could see some snaps there.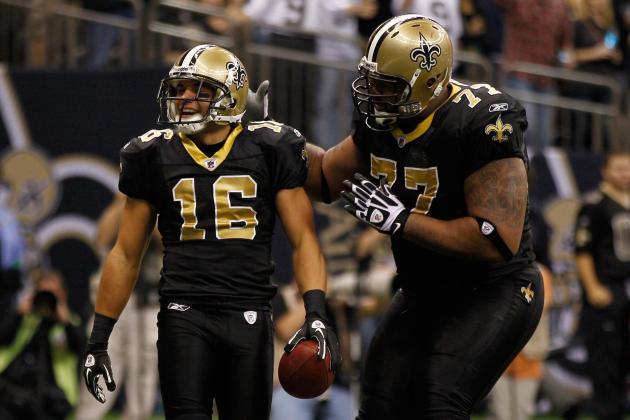 Chris Graythen/Getty Images

Tackles
1. Donald Penn
2. Jeremy Trueblood
3. Demar Dotson
4. Desmond Wynn
Interior
1. Carl Nicks
2. Davin Joseph
3. Jeremy Zuttah
4. Michael VanDerMeulen
5. Ted Larsen
After signing Carl Nicks and cutting Jeff Faine, the Bucs found themselves with one of football's best offensive lines. The interior O-line, composed of Nicks, Davin Joseph and Jeremy Zuttah, has two Pro Bowlers, and a man who was robbed of one in 2011. There is little depth on the interior line, but the starters have premier talent.
Donald Penn has been a fine left tackle for years, but Jeremy Trueblood is the obvious weak spot on the line. Many expected Mark Dominik to draft a late-round tackle to replace him on the right side, yet no such thing happened.
Given Trueblood's massive contract, I would not be surprised if he is cut by September. Then, with the cap room, the Bucs could add a quality free agent, or even (gasp) make a trade.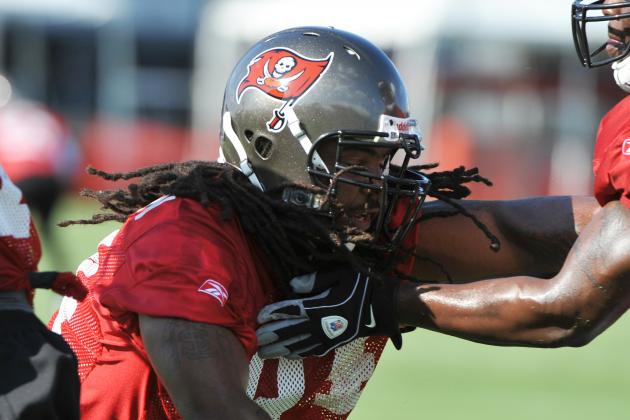 Al Messerschmidt/Getty Images

Defensive Ends
1. Adrian Clayborn
2. Michael Bennett
3. Da'Quan Bowers
Defensive Tackles
1. Gerald McCoy
2. Amobi Okoye
3. Roy Miller
4. Brian Price
5. Frank Okam
BONUS: Eric LeGrand
If they can stay healthy, the Buccaneers defensive linemen might rank among the league's best squads. Unfortunately, they often don't, as Gerald McCoy spent most of 2011 injured, and most recently, Da'Quan Bowers went under the knife to repair a torn ACL.
Gerald McCoy, 2010's third overall draft pick, should make staying healthy his priority. When he was injured, the run defense was the worst in the NFL. His replacements, Roy Miller and Brian Price, tried to fill the gap admirably, but to no avail.
With its first two picks in the 2011 draft, Tampa Bay selected two defensive ends, Adrian Clayborn and Da'Quan Bowers. While Clayborn had a magnificent 7.5-sack season, Bowers played little, possibly due to injuries, although none were reported. Michael Bennett emerged as the Buccaneers' breakout star for 2011, and probably will start in 2012.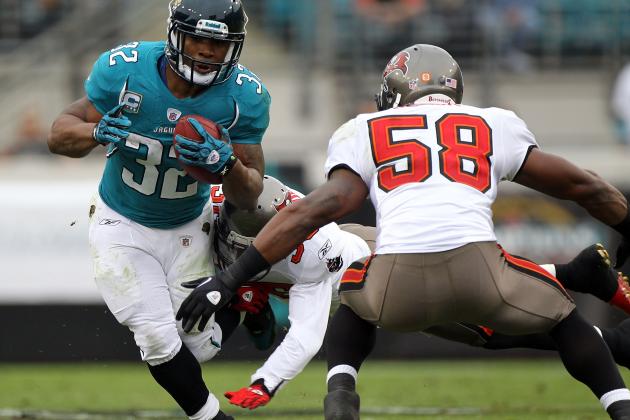 Sam Greenwood/Getty Images

1. Mason Foster
2. Quincy Black
3. Lavonte David
4. Adam Hayward
5. Najee Goode
6. Dekoda Watson
7. Jacob Cutera
8. Rennie Curan
Though the franchise struck gold when it drafted Mason Foster in the third round, linebackers were a big problem for Tampa Bay in 2011.
Geno Hayes was benched by Week 10, while Quincy Black and Foster did all they could to keep the defense from falling apart—which it did. Foster may be moved to the outside in 2012, as he seemed uncomfortable calling plays and reading the offense before the snap.
Rookies Lavonte David and Najee Goode should make a very early impact. The athleticism David brings to the table will probably let him start Week 1, and Goode will see time as a backup virtually every game. As a second-round pick, expectations are high for David, especially since the Bucs traded up to get him.
As for the rest of the linebackers, they will provide necessary depth. Adam Hayward is a fringe-starter, as he was the man who replaced Hayes. I predict a good season for Dekoda Watson, who will look to improve upon 23 total tackles.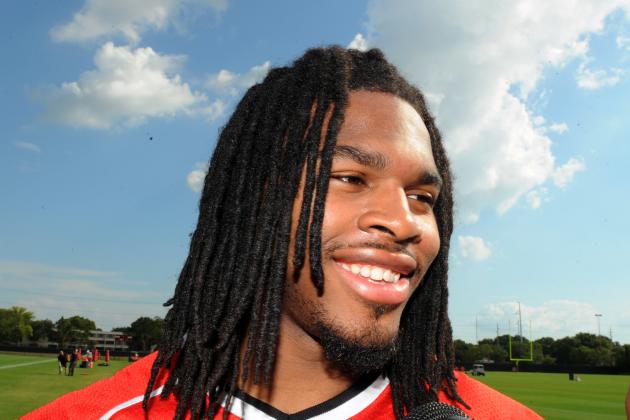 Al Messerschmidt/Getty Images

1. Ronde Barber
2. Mark Barron
3. Eric Wright
4. Aqib Talib (assuming he's not suspended or jailed)
5. E.J. Biggers
6. Keith Tandy
7. Cody Grimm
8. Anthony Gaitor
9. Myron Lewis
10. Leonard Johnson
Ronde Barber may be as old as time itself, but that won't stop him from doing what he does best: kicking butt on the football field. For years he has been the leader of the Buccaneers, and that won't stop in 2012. Whether at safety or at corner, Barber will find a way to contribute.
Selecting Mark Barron seventh overall gave Tampa Bay a guaranteed starter at safety, where the team had absolutely no depth following the release of Tanard Jackson. At Alabama, Barron was a force every time he stepped onto the field. He most likely will be just as good in Tampa.
Aqib Talib's legal troubles may keep him from playing, so the Bucs signed former Lion Eric Wright in March. Even if Talib is free to play in 2012, Wright will still challenge him for playing time, and could very possibly start over him.
Beyond Keith Tandy and Cody Grimm, the depth chart really falls apart. Many of the defensive backs are unknowns, and could go either way.
It is probable that the secondary will be in rebuild-mode throughout 2013. At the very least, there needs to be more depth.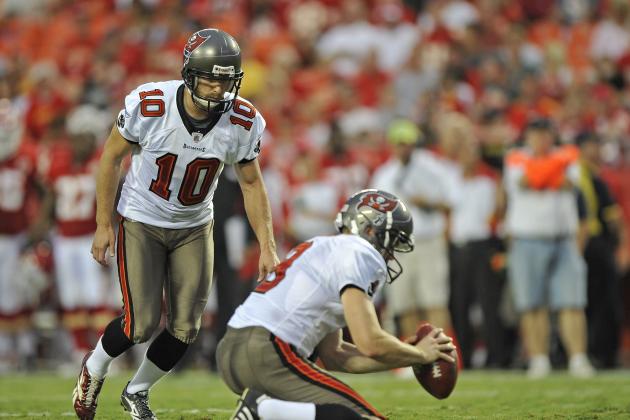 Peter Aiken/Getty Images

Long Snapper
Andrew Economos
Kicker

Connor Barth
Punter
Michael Koenen
The Buccaneers really should have taken a punter in the first round. Michael Koenen is nothing short of awful, as he pinned opponents inside their 20-yard line only seven more times than the league average, as opposed to a disgraceful three touchbacks.
In case you couldn't tell, I was being sarcastic.
Connor Barth is a great kicker, and deserves more than a franchise tag. Hopefully, he will get a long-term contract.
Nobody ever seems to notice long snapper Andrew Economos, and that's a good thing.