2013 MLB Free Agency: Every Team's Top Soon-to-Be FA They Won't Re-Sign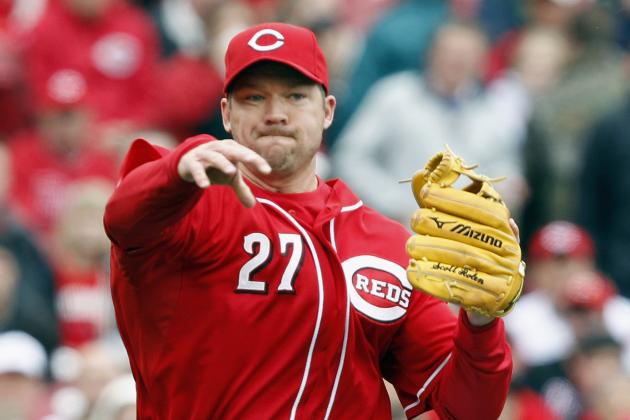 Matt Sullivan/Getty Images

In Major League Baseball, free agency is the ultimate art of speculation.
They should really refer to GMs as practicing general managers, because much like attorneys and physicians, they are constantly practicing at their craft in order to succeed.
In many cases, free-agent signings can make or break a GM—just ask Jim Hendry how his practice of signing FAs worked out for him in Chicago.
As the 2012 MLB season marches on, GMs across the league already have 2013 on their radar, and in many cases, they will be tasked to make decisions regarding their own free agents, and whether or not to extend them or to let them walk.
Here is every MLB team's upcoming free agent that likely will not be signed at the end of the season.
Begin Slideshow

»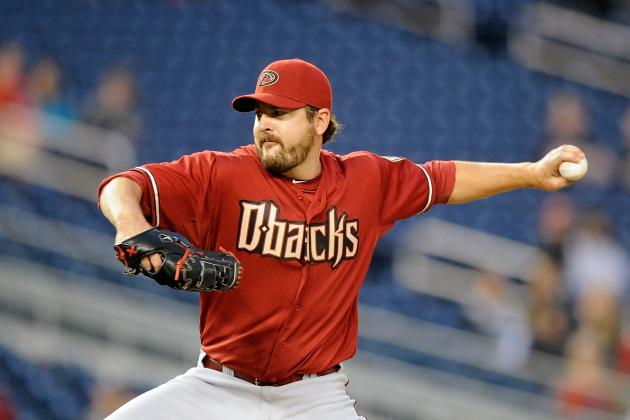 Greg Fiume/Getty Images

Southpaw pitcher Joe Saunders has earned his keep with the Arizona Diamondbacks.
Saunders posted a 12-13 record last season with a 3.69 ERA in 33 starts, and is off to a 2-2 start and 2.50 ERA this season in his first six starts.
However, Saunders was brought back this year on a one-year, $6 million deal just to bridge gap for the stable of young D-Backs pitchers in their system who will likely be ready for prime time next season.
Trevor Bauer, Tyler Skaggs and Archie Bradley are all waiting in the wings, with Wade Miley and Patrick Corbin already getting their chance due to an injury to Daniel Hudson and the ineffectiveness of Josh Collmenter.
Through no fault of Saunders in any way, he will be looking for work somewhere else in 2013.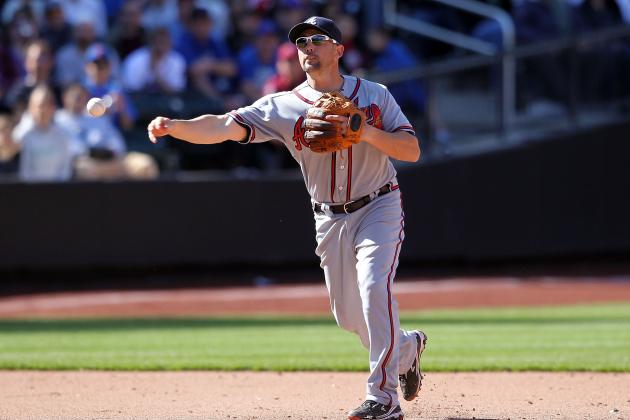 Nick Laham/Getty Images

The Atlanta Braves made virtually no moves this past offseason, re-signing some of their own free agents and letting shortstop Alex Gonzalez walk after his contract expired.
That left 22-year-old Tyler Pastornicky, who the Braves were counting on to step up and become the Braves' shortstop of the future, and 34-year-old veteran Jack Wilson to act as Pastornicky's backup and mentor.
Pastornicky is hitting .268 thus far heading into action on Sunday, committing just two errors in 27 games at short. In addition, the Braves have 22-year-old prospect Andrelton Simmons waiting in the wings as well, currently hitting .308 at Double-A Mississippi with a terrific .988 fielding percentage.
Wilson had better enjoy his time in Atlanta this season, because he will likely be looking to hook on somewhere else this offseason.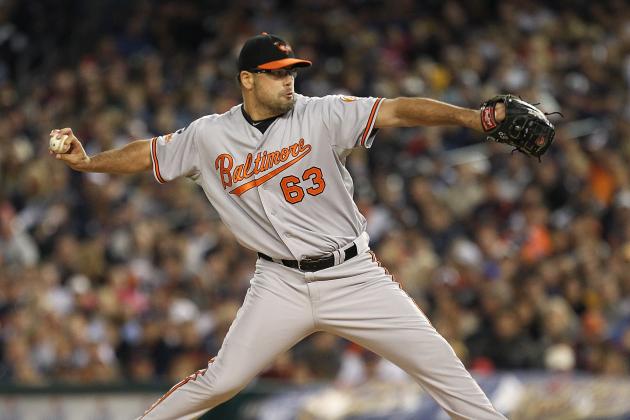 Dave Reginek/Getty Images

When the Baltimore Orioles inked closer Kevin Gregg to a two-year, $10 million contract prior to the 2011 season, it was thought that Gregg would help stabilize the back end of the bullpen for the O's.
It didn't quite work out that way. Gregg blew seven of 29 save chances last year and lost his role this season to Jim Johnson, who has been lights out thus far with 11 saves and a 0.57 ERA.
Paying $5.8 million to a former closer now used in mop-up situations is not an optimum way to utilize payroll. While the O's would love to part with Gregg as soon as possible, there is no doubt whatsoever that his 2013 option will be declined.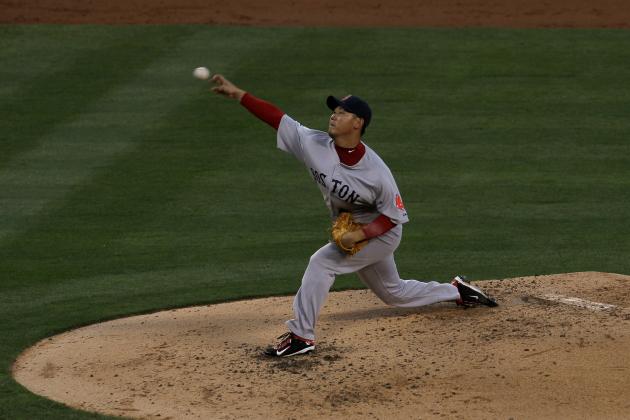 Stephen Dunn/Getty Images

When the Boston Red Sox spent $103 million, including a record $51 million posting fee, to acquire the services of Japanese pitcher Daisuke Matsuzaka, they certainly thought that Dice-K Mania would take over in Beantown and would justify their nine-figure expense.
After two seasons and a stellar 18-3 campaign in 2008, it seemed like their investment had paid off. However, just 16 wins and a host of injuries over the following three seasons quickly squashed that premise.
Now, Matsuzaka is expected back in Boston sometime in the next two weeks after undergoing Tommy John surgery last June, and while he could provide a lift for a beleaguered starting rotation, it's a pretty safe bet that Sox management won't be banging down his door at season's end.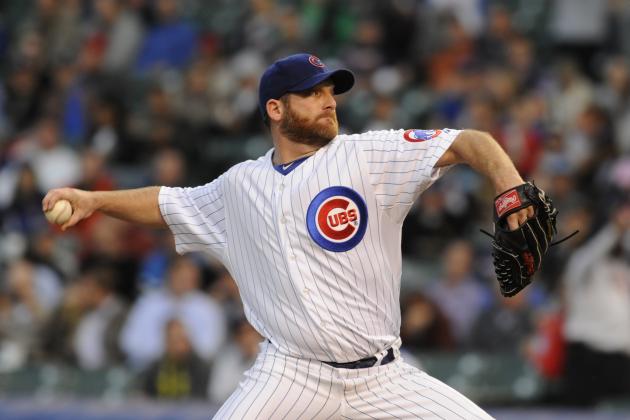 David Banks/Getty Images

It's very difficult to put Ryan Dempster on this list, considering his hot start to the 2012 season and his loyalty to the Chicago Cubs over the past eight-plus seasons.
Dempster leads the National League with a stellar 1.02 ERA through his first five starts, although his 0-1 record indicates a complete lack of run support thus far.
Still, Dempster's $14 million salary at age 35 makes him the most likely candidate to be on this list. Unless he agrees to a significant pay cut, Dempster will be moving on.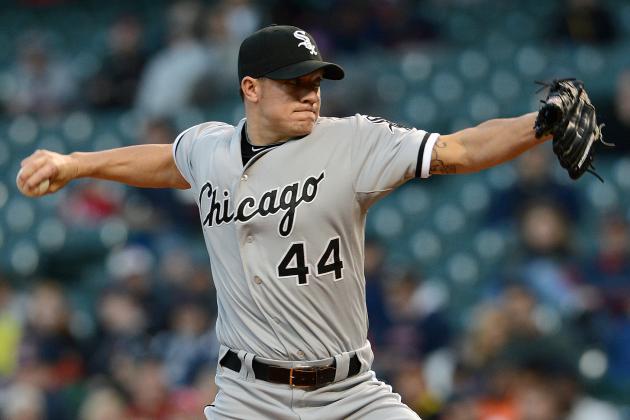 Jason Miller/Getty Images

Much like in the case of Ryan Dempster earlier on this list, Chicago White Sox starting pitcher Jake Peavy is off to a roaring start thus far in 2012.
Peavy will earn $17 million this season, with the White Sox holding a $22 million option for 2013. Even if Peavy were to contend for American League Cy Young Award honors, it's hard to imagine that the Sox would exercise the 2013 option, unless the two sides can agree on a new deal.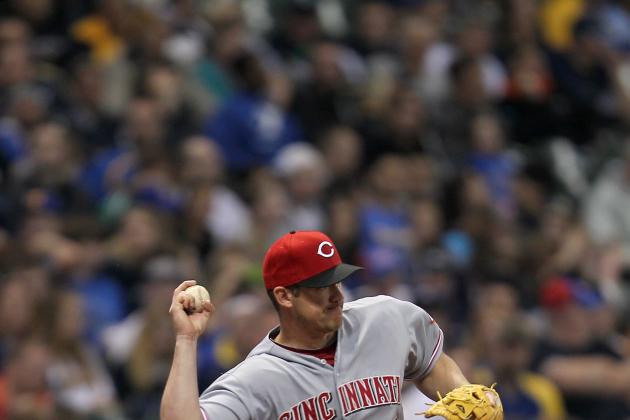 Mike McGinnis/Getty Images

Since the start of the 2007 season, the Cincinnati Reds third baseman has suffered through a host of injuries, registering only season in which he played more than 130 games (2010).
This year, Rolen has been healthy, but is off to a very slow start, hitting just .174 with two HR heading into Sunday's game with the Washington Nationals.
At 37 years of age and making $6.5 million, it would be a safe bet to assume that Rolen will not return to the Reds next season.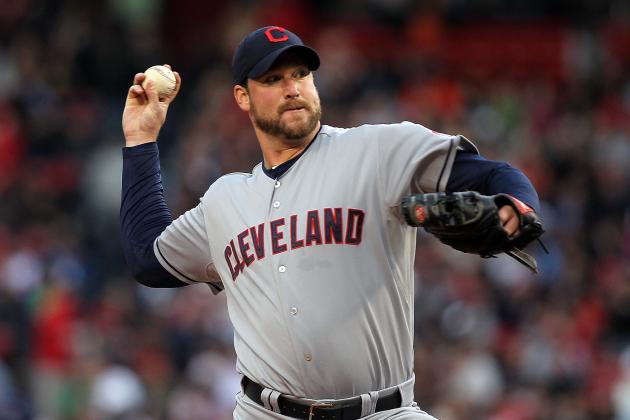 Jim Rogash/Getty Images

When the Atlanta Braves shipped starting pitcher Derek Lowe off to the Cleveland Indians last Oct. 31, they also included a boatload of cash to help pay for Lowe's $15 million salary in 2012.
While off to a nice start in 2012 (5-1, 2.47 ERA), Lowe would have to take a significant pay cut in 2013 if he hopes to stay with the mid-market Tribe.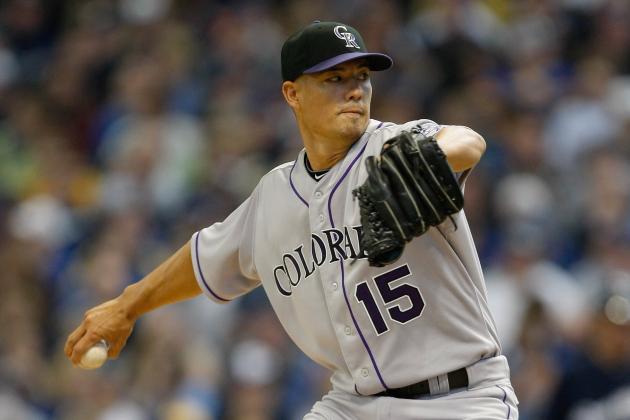 Scott Boehm/Getty Images

This past offseason, the Colorado Rockies general manager acquired a bevy of starting pitchers, just hoping some of them would stick—much like tossing spaghetti against the side of a refrigerator.
One of those starters—free-agent acquisition Jeremy Guthrie—is out to turn his season around already, suffering through four starts in which he walked twice as many batters as he struck out and posting a 5.92 ERA.
Add to that his biking accident in which he injured the AC joint in his right shoulder, and it's certainly not what was envisioned by O'Dowd at the time of his signing.
At $8.2 million, Guthrie will have to do more than just impress if he has any hope of staying in the Mile High City for longer than one season.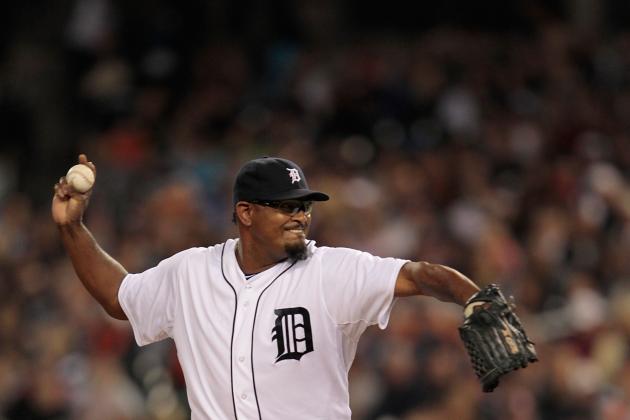 Leon Halip/Getty Images

At the end of last season, the Detroit Tigers happily picked up the option on closer Jose Valverde's contract, paying him $9 million for the upcoming 2012 season.
The move seemed like a no-brainer at the time, considering that Valverde converted all 49 of his save opportunities, leading the majors in that category, and posting a stellar 2.24 ERA.
The 2012 season has been a different story thus far. Valverde has two blown saves thus far and has walked 11 batters in just 14.1 innings entering Sunday's game with the Oakland A's.
Valverde still has plenty of time to turn things around, but considering the money thrown at Prince Fielder this past offseason combined with commitments to other players, it's hard to imagine Valverde returning to Motown.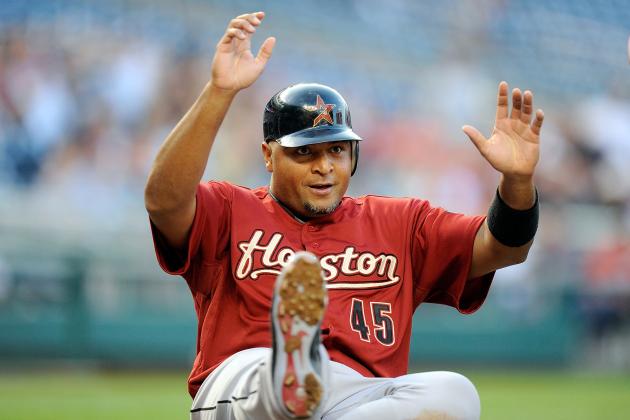 Greg Fiume/Getty Images

With a salary of $18.5 million, Houston Astros first baseman Carlos Lee represents approximately 30 percent of the payroll in 2012, a situation that GM Jeff Luhnow would no doubt like to change.
Lee, in the final season of a six-year, $100 million contract, has seen declining production each year since 2007, and has just two HR and 14 RBI in 30 games thus far in 2012. Luhnow has gone on record as saying he will listen to any trade offers regarding his veterans, but the Astros will almost certainly have to pay a significant portion of the money remaining on Lee's deal in order to facilitate any deal.
Either way, Lee will not be returning next season. That is a bet safer than any.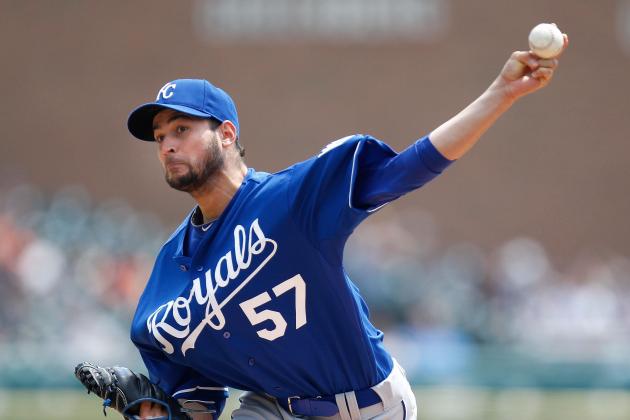 Gregory Shamus/Getty Images

When Kansas City Royals GM Dayton Moore acquired starting pitcher Jonathan Sanchez from the San Francisco Giants for center fielder Melky Cabrera, he envisioned that Sanchez would be a solid anchor for a young starting corps.
Like I said in the introduction slide, speculation can be a tricky thing.
Sanchez is 1-2 with a 6.75 ERA in his first six starts, and has failed to even earn a quality start, thus far not lasting beyond five innings. With 22 walks in 25.1 innings, Sanchez is clearly having an issue establishing any command whatsoever.
Forget about next season, Sanchez could well be gone by late July.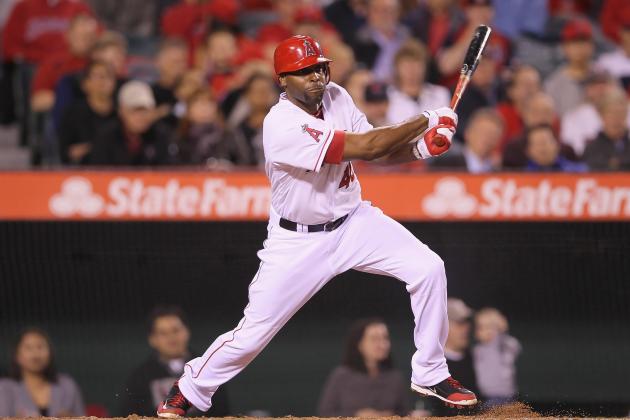 Jeff Gross/Getty Images

At 36 years of age, Los Angeles Angels right fielder Torii Hunter can absolutely still produce. With 23 HR and 82 RBI last season, Hunter was one of the lone bright spots in an Angels' offense last season that produced just 667 runs, fifth-worst in the American League.
However, at a salary of $18 million, Hunter himself knows that this is likely his final season in Anaheim.
In a conversation with Bill Plunkett of the Orange County Register last month, Hunter was more than realistic about his options.
"It'd be nice (to get an extension offer) but if not, I understand," Hunter said. "There's no rush. They have other guys like (Erick) Aybar they need to lock up. Plus they've got (Mike) Trout lying in the weeds."
Hunter has stated his desire to play for a contender next season, however, whether that contender is the Angels will largely depend on Hunter's willingness to accept a much smaller deal.
Hunter is as solid a guy as any in baseball when it comes to clubhouse presence and leadership, so his loss, should it come to that, would be huge for the Angels.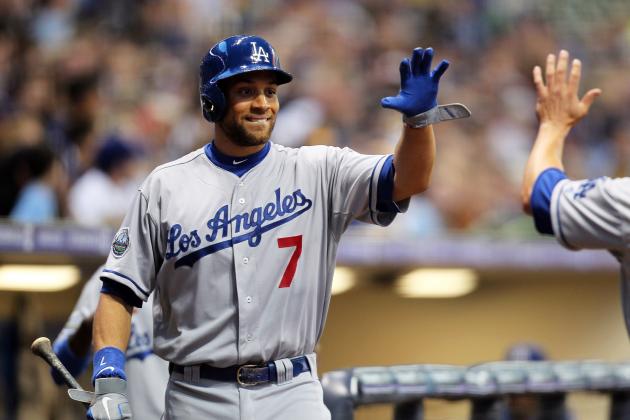 Mike McGinnis/Getty Images

With new ownership now in place for the Los Angeles Dodgers, the management team headed by new president Stan Kasten will likely look to achieve two important goals.
First, singing reigning Cy Young Award winner Clayton Kershaw to a long-term contract beyond the 2013 season. Second, working out a long-term agreement with right fielder Andre Ethier.
As for first baseman James Loney, his lack of production relative to other first basemen around the league really hurts his chances of staying in LA. A .286 batting average is certainly nice, but 12 HR and 65 RBI over 158 games in 2011 does not bode well for Loney's chances of joining Kershaw and Ethier in obtaining a long-term deal with the Dodgers.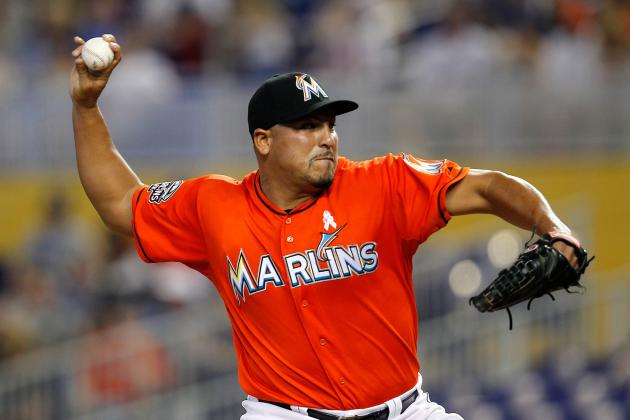 Sarah Glenn/Getty Images

Oft-troubled right-handed pitcher Carlos Zambrano is off to a nice start in his new home with the Miami Marlins, posting a nifty 1.989 ERA and 1.024 WHIP with a complete-game shutout in his first six starts.
Zambrano only cost the Marlins $2.55 million this year, with the Chicago Cubs picking up the rest of Zambrano's $18.5 million price tag for the 2012 season. In addition, Zambrano waived his 2013 option and no-trade clause to facilitate the deal.
Zambrano may have found a home in Miami based on the way he's started thus far as well, and according to catcher John Buck, Zambrano has embraced his new team.
Buck said Zambrano has "been nothing but awesome every way you can think of," and has quickly become "kind of a favorite" in the Marlins clubhouse.
However, what becomes of Zambrano if the Marlins fail to make the postseason? He may have found a home and has embraced faith and a new attitude, but will he take a drastic pay cut to continue in South Beach?
The other option could be fellow starter Anibal Sanchez. Getting paid $8 million as a fifth starter, it's unlikely that Sanchez would be invited back next year as well.
But, who knows. After their completely unforeseen spending spree this offseason, what else can owner Jeffrey Loria come up with?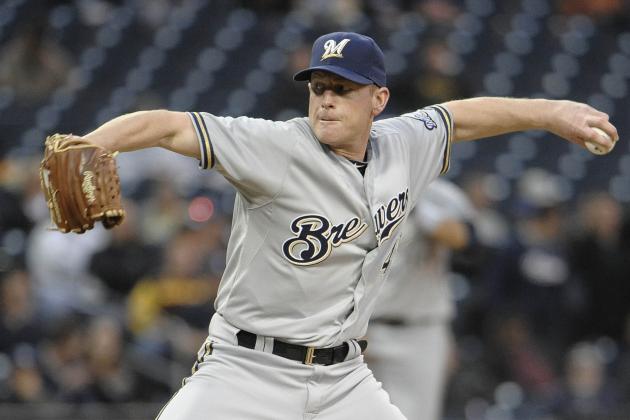 Denis Poroy/Getty Images

For the past two-plus seasons, starting pitcher Randy Wolf has been a solid performer for the Milwaukee Brewers, providing double-digit wins each year and never missing a start.
However, Wolf, who earns $9.5 million this season, is off to a 2-3 start and 6.75 ERA to start the 2012 season. With GM Doug Melvin facing decisions on long-term contracts for both Zack Greinke and Shawn Marcum, Wolf would likely be the odd man out.
Wolf could be trade bait if the Brewers are out of contention by late July as well.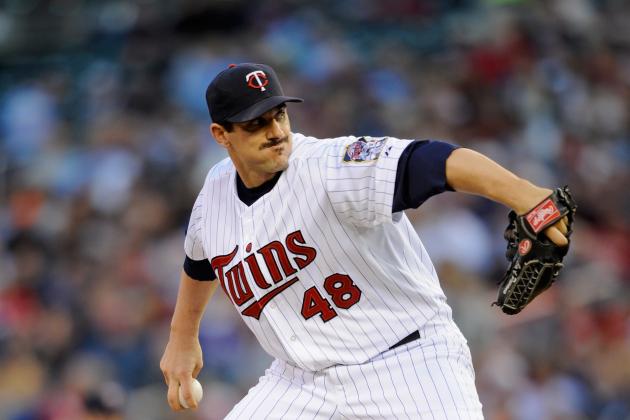 Hannah Foslien/Getty Images

With the Minnesota Twins off to a horrendous 9-24 start, they are well on their way to one of the worst regular season records in baseball history.
If there is anyone that doesn't believe the Twins will be sellers at the trade deadline, they should probably consider watching something other than sports.
The first person likely gone in Minnesota is starting pitcher Carl Pavano. Pavano is 2-3 with a 5.07 ERA in his first seven starts, and at a salary of $8.5 million is likely seeing his last year in the Twin Cities area, if he survives the purge that is sure to come in Minnesota within the coming months.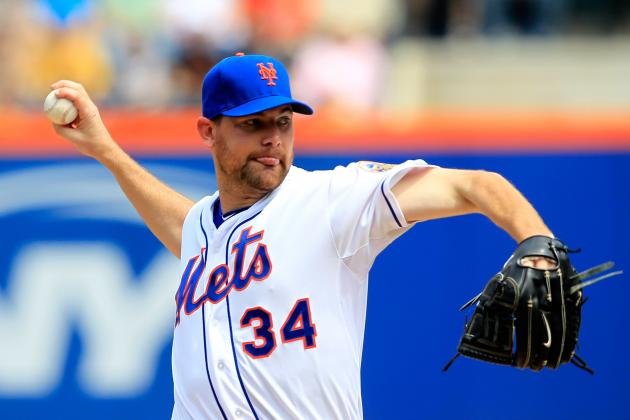 Chris Trotman/Getty Images

There are no doubts that many believe that third baseman David Wright would be the pick for this particular list, however, Wright has stated his desire to stay in New York, and with ownership reaching a favorable settlement in the pending lawsuit connected to their business dealings with one Bernie Madoff, Wright's pending departure may not come to pass.
However, in the case of starting pitcher Mike Pelfrey, that's a highly likely scenario.
Paid $5.68 million this season to return to New York, Pelfrey's season ended in late April after suffering a partial tear of his ulnar collateral ligament in his right elbow.
Pelfrey is well aware his career with the Mets could be over, but he has more important things on his mind.
"It's a possibility that this could be it here," Pelfrey said. "But I think my main focus is getting back healthy."
It's likely that Pelfrey's return to baseball won't happen until at least May of next year, and it will likely be in another uniform.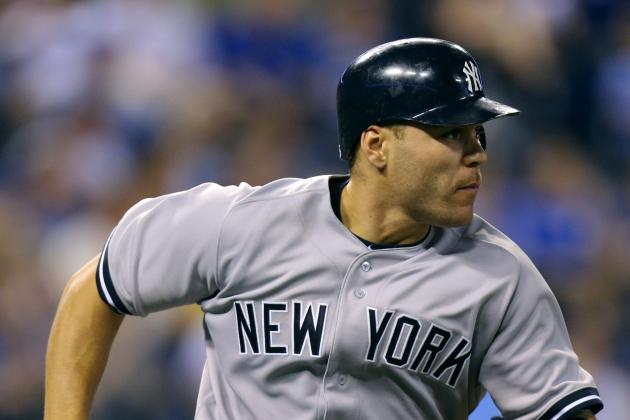 Ed Zurga/Getty Images

With their Opening Day payroll topping $200 million for the sixth time in the last eight seasons, the New York Yankees always appear to be the free-wheeling, spend-whatever-is-necessary team. However, managing general partner Hal Steinbrenner stated his desire to lower payroll to $189 million by the 2014 season.
With a number of contracts already in place long-term (CC Sabathia, Alex Rodriguez, Mark Teixeira), and decisions to make concerning both Robinson Cano and Curtis Granderson, others may be left flailing in the wind. At the top of that list could be catcher Russell Martin.
Martin was a nice surprise in 2011, hitting 18 HR with 65 RBI and earning his first All-Star selection. The Yankees rewarded Martin with a one-year, $7.5 million deal for 2012 for his efforts.
However, Martin is off to a sluggish start in 2012, hitting just .182 with three HR and nine RBI. Combined with the fact that the Yankees have several solid catching prospects in their system, Martin will likely be part of the fallout that comes with cutting payroll for the future.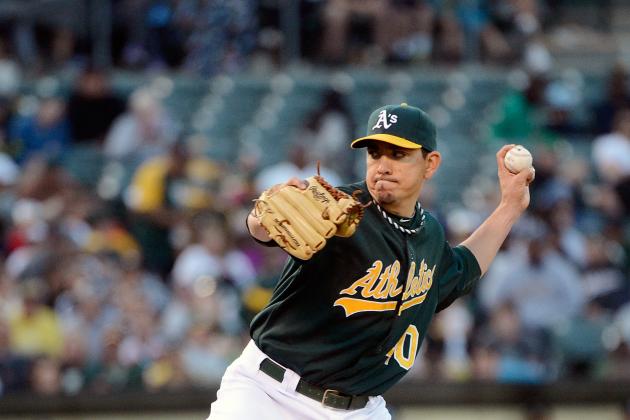 Thearon W. Henderson/Getty Images

The Oakland Athletics were left without a closer after trading Andrew Bailey to the Boston Red Sox for outfielder Josh Reddick over the offseason. After Grant Balfour spit the bit, the job was given to former closer Brian Fuentes.
However, Fuentes is in the final season of a two-year, $10.5 million contract, with the A's holding an option for $6.5 million for the 2013 season.
Given the current state of financial affairs for the A's and the uncertainty of their stadium situation, it's more than likely that owner Lew Wolff will continue running his franchise at the bare-bones level, and Fuentes' time in Oakland will come to an end.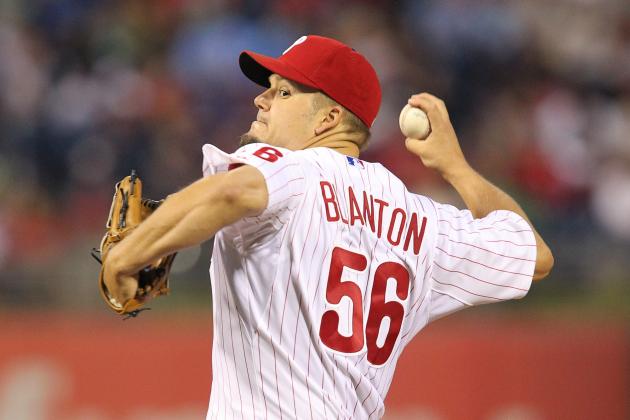 Hunter Martin/Getty Images

The Philadelphia Phillies are certainly gifted with a starting rotation that is formidable. All of their top three starters finished in the top five in Cy Young Award balloting last year, and the third member of that trio, southpaw Cole Hamels, is eligible for free agency at the end of the season.
Hamels has stated his desire to remain in Philly on more than one occasion, and GM Ruben Amaro Jr. has also stated his desire to get a long-term deal done as well.
While the deal Matt Cain signed with the San Francisco Giants may have upped the ante for the Phillies, I still see a deal happening. Which leaves us with starting pitcher Joe Blanton.
Blanton is in the final season of a three-year, $24 million contract and coming off an injury-plagued 2011 season. While he has been a pleasant surprise to start the 2012 season (3-3, 3.24 ERA, one complete-game shutout), he could be the fall guy in the Hamels sweepstakes.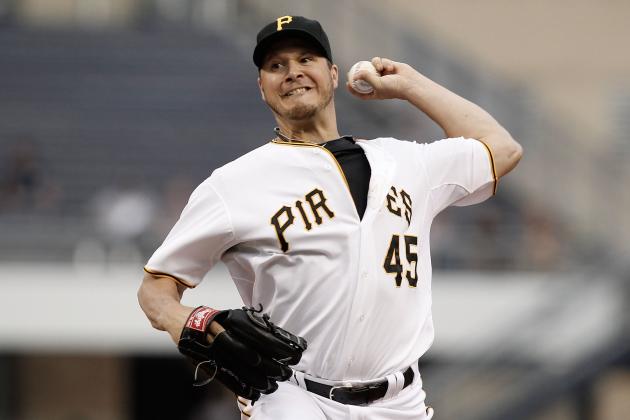 Jared Wickerham/Getty Images

Thus far in the 2012, starting pitcher Erik Bedard has stayed healthy. That in itself is a huge plus.
Signed to a $4.5 million contract by the Pittsburgh Pirates, Bedard has shown signs of his former self, posting a 2.57 ERA and 37 strikeouts in 35 innings.
If Bedard continues on his encouraging path, the Pirates simply won't be able to afford him next season. He may not even survive the full season this year if the Bucs are out of contention in late July.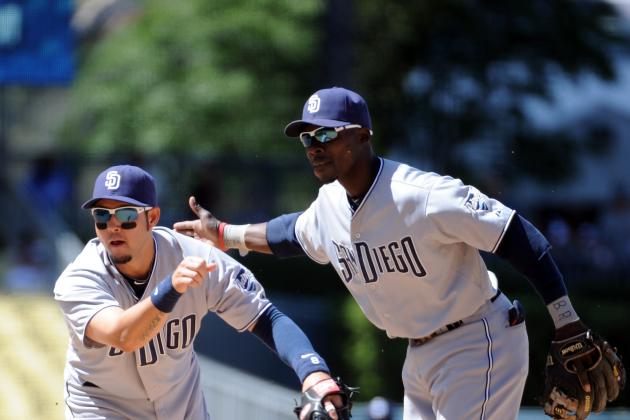 Harry How/Getty Images

The San Diego Padres are the only team on this list that are worthy of having two players included.
And for good reason. The overwhelming consensus is that neither shortstop Jason Bartlett or second baseman Orlando Hudson will be invited back next season, and if new GM Josh Byrnes has his way, both will be gone long before then.
Both Bartlett and Hudson are each making $5.5 million this season, and the Padres hold options for the 2013 for both as well. However, both are also hitting .200 or lower (Bartlett at .141, Hudson at the Mendoza line).
Byrnes would do well just to get something better than a bag of bones for either one of them before the year is out.
Ezra Shaw/Getty Images

If there is anyone on this list who is almost a sure thing as far as not being re-signed by their current team at the end of the season, it would be San Francisco Giants first baseman/outfielder Aubrey Huff.
Signed to a two-year, $22 million to return to the city by the bay after his efforts helped lead to a World Series victory in 2010, Huff has been simply abysmal since signing the deal.
Huff followed up a solid campaign in 2010 (.290 avg., 26 HR, 86 RBI) by hitting just .246 last season with 12 HR and 59 RBI. The 2012 season didn't start out much better, with Huff hitting just .194 with one HR and four RBI before hitting the disabled list with an anxiety disorder.
Huff is back, however manager Bruce Bochy is "easing" Huff back into regular duty. The Giants have been more than supportive in their handling of Huff's condition, however, when it comes time to renew Huff's 2013 option at the end of the season, that support will have ended.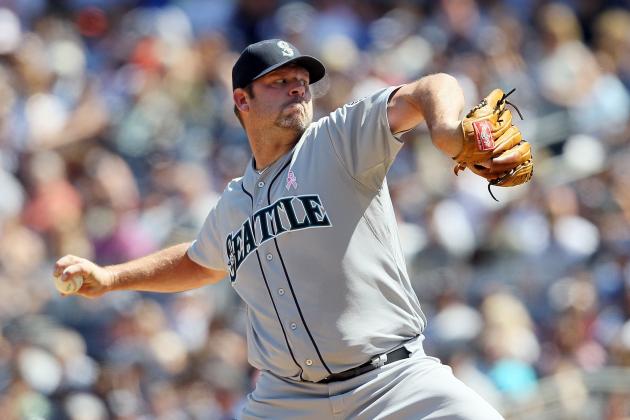 Jim McIsaac/Getty Images

It might be easy to put right fielder Ichiro Suzuki on this list for the Seattle Mariners, considering he is in the final year of a contract paying him $17 million at the age of 38.
However, I believe the Mariners and Suzuki will come to an agreement that keeps him in Seattle until the end of his career. The rest of the team is in a state of rebuilding, and veteran Kevin Millwood is literally biding his time in the Northwest.
Although just making $1 million this year, Millwood is 0-4 with a 5.88 ERA in six starts, and will likely be gone as soon as one of the talented youngsters in Seattle's farm system is ready.
With Danny Hultzen, Taijuan Walker and James Paxton waiting in the wings, Millwood's time in Seattle is indeed limited.
Andy Lyons/Getty Images

St. Louis Cardinals first baseman Lance Berkman was activated off the 15-day disabled list on Sunday, hitting fifth in the lineup against the Atlanta Braves. Berkman was 1-for-5 with three strikeouts in his return.
Berkman played in just seven games in April, and while his return will enhance the Cardinals' lineup, his $12 million price tag may be unpalatable to GM John Mozeliak beyond this season.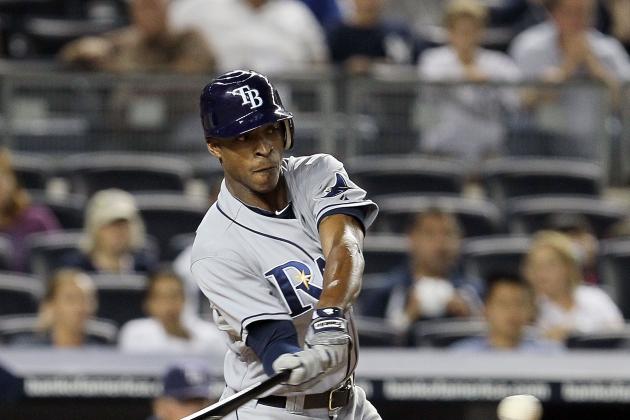 Jim McIsaac/Getty Images

Last year, Tampa Bay Rays center fielder B.J. Upton rebounded from two straight mediocre years to post 23 HR and 81 RBI, close to his career highs set in 2007.
At just 27 years of age, Upton is seemingly in the prime of his career, however, he has not shown steady improvement during his eight years with Tampa Bay.
Set to become a free agent for the first time in 2013, Upton will likely be looking for employment elsewhere. With Desmond Jennings set to take over in center, the Rays will be well-covered.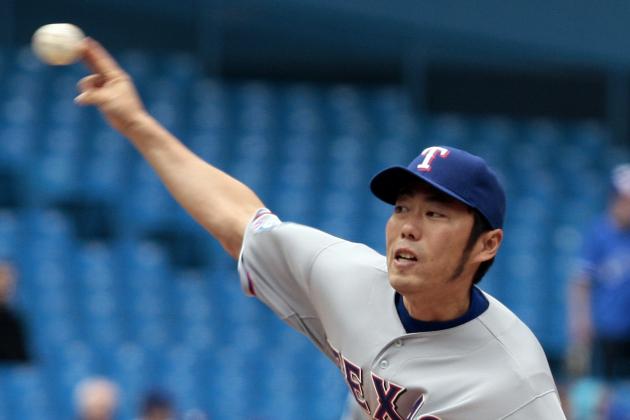 Abelimages/Getty Images

The Texas Rangers certainly have some high-profile players ready to hit free agency at the end of the season, namely Josh Hamilton and Mike Napoli, among others.
However, reliever Koji Uehara will likely be the one man not invited back at the end of the season. While Uehara isn't eligible for free agency until 2015, he likely won't be tendered, especially considering he's making $4 million already as a middle reliever.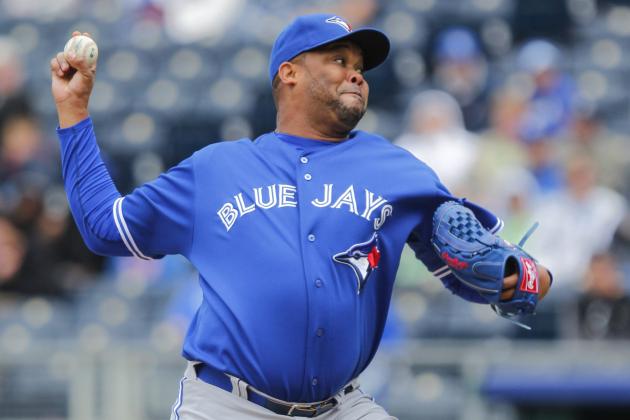 Kyle Rivas/Getty Images

Toronto Blue Jays closer Sergio Santos, sidelined since mid-April with an inflamed shoulder, is hoping to be back by the end of this month, which is good news for Toronto, considering their options thus far have been a complete bust.
Francisco Cordero, who took a $7.5 million pay cut to join the Blue Jays this offseason, blew two saves during Santos' absence thus far, and has posted a miserable 8.76 ERA.
Cordero could be looking at another pay cut next season if he continues stinking up the joint, and likely with another team.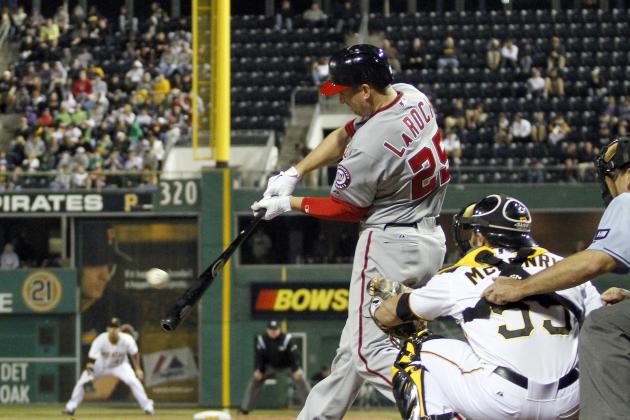 Justin K. Aller/Getty Images

The Washington Nationals have a whole lot of money committed to several players for the foreseeable future, including Ryan Zimmerman, Jayson Werth, Gio Gonzalez and Michael Morse.
Their first baseman, Adam LaRoche, is in the final season of a two-year, $16 million contract, with a team option for $10 million for the 2013 season.
While the Nats have been on top of the NL East for most of the young season already and LaRoche putting up solid numbers, with the commitments they currently have on the board, I'm not convinced they'll honor LaRoche's option year no matter where they end up or how well he produces throughout the year.

Doug Mead is a featured columnist with Bleacher Report. His work has been featured on the Seattle Post-Intelligencer, SF Gate, CBS Sports, the Los Angeles Times and the Houston Chronicle. Follow Doug on Twitter, @Sports_A_Holic.