Philadelphia Phillies: If the Season Ended Today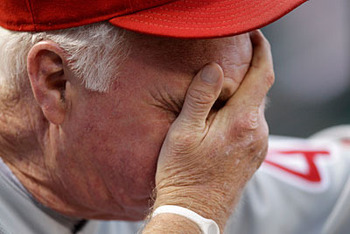 The Phillies have owned the NL East since the 2007 season and there is still plenty of time for them to turn things around this season. Typically, GMs and ownership use the 40-game mark to evaluate the team.
Well, Ruben Amaro Jr. rumors of kicking the tires on possibly dealing stars such as Cole Hamels and Shane Victorino surfaced this week and if the Phillies do not have plans to sign them after this season, Amaro should deal them. I'm not saying I want that to happen, but it's better than losing them for nothing.
So while Phillies fans hope Ryan Howard and Chase Utley return and spark the offense and pray the team can improve on its 3-9 record when aces Roy Halladay and Cliff Lee start, let's see how the season would look if it ended today around the NL and AL.
NL Wild Card: No. 5 Seed NY Mets @ No. 4 Seed Atlanta Braves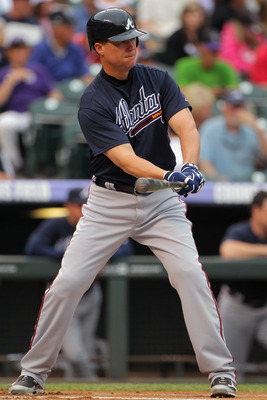 Doug Pensinger/Getty Images
The Mets have to be the surprise of the NL East, thanks primarily to their 5-1 record vs the Phillies. The team plays hard and is never out of it.
The Braves got off to a hot start in 2011 and faded down the stretch. We'll see if manager Fredi Gonzalez can resist burning out his bullpen this season, which led to their collapse in 2011.
AL Wild Card: No. 5 Seed NY Yankees @ No. 4 Seed Tampa Bay Rays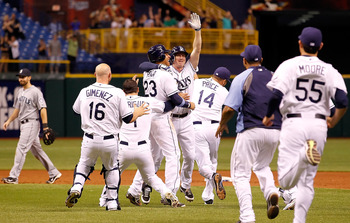 J. Meric/Getty Images
Just like the NL, the two wild-card teams in the AL would come from the Eastern Division. It would feature a matchup of the 2008 and 2009 AL Pennant winners.
The Yankees better have CC Sabathia ready for the one-game playoff in Tampa, for any other starter would be considered an underdog verse the strong rotation of the Rays.
NLDS: No. 3 Seed St. Louis Cardinals vs. No. 2 Seed Washington Nationals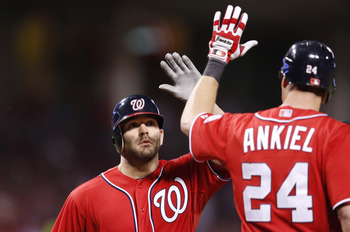 Joe Robbins/Getty Images
The Nats are off to a terrific start thanks to their pitching. They have lost Mike Morse, Jayson Werth and Ryan Zimmerman to injuries but have been able to win 10 one-run games thanks to a strong bullpen.
The defending World Champs have replaced slugger Albert Pujols just fine with Carlos Beltran and they have overcome an injury to slugger Lance Berkman.
NLDS: Winner of NYM/Atl vs. No. 1 Seed Los Angeles Dodgers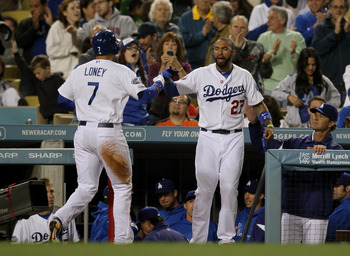 Stephen Dunn/Getty Images
Matt Kemp for MVP? Absolutely!
Andre Ethier has rebounded from a subpar season in 2011 as well and Ted Lilly is 4-0 with a 1.41 ERA. They have named Kenley Jansen closer and hope that works out.
If the veterans can stay healthy, the Dodgers have a good shot at holding off the rest of the division which is entirely below .500 at the moment.
ALDS: No. 3 Seed Cleveland Indians vs. No. 2 Seed Baltimore Orioles
Mitchell Layton/Getty Images
ALDS: NYY/TB Winner vs. No. 1 Seed Texas Rangers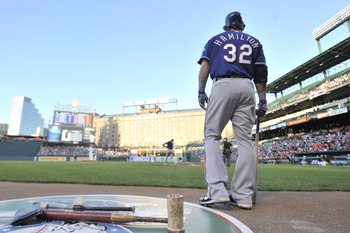 Mitchell Layton/Getty Images
The Rangers reward for the No. 1 seed would be to either go to Yankee Stadium for Games 1 and 2 or to Tropicana Field in Tampa? Doesn't seem like much of a reward, but the short five-game divisional series this year have the lower seed at home for the first two games and the higher seed at home for the remaining three games.
It doesn't seem fair for the most complete team in baseball.
Where Are the Phillies?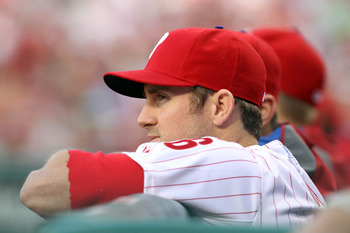 Hunter Martin/Getty Images
The Phillies are on the outside looking in. As a matter of fact, if the season ended today, they would possess the eighth pick in the draft. That's not where this team should be.
Forget about the injuries to Howard and Utley. Other teams have been able to overcome free agents departing and their own injuries just fine.
The 2012 version of the Philadelphia Phillies is underachieving beyond belief. Yes, they have time to turn it around, but if they don't, look out for Ruben Amaro Jr. to blow this thing up.
Keep Reading

Philadelphia Phillies: Like this team?