With the WWE cancelling the 2012 draft the night it was scheduled, many fans thought the end of brand split was upon us. Not so fast.
Is a brand split good for business?
Intercontinental Champion
Cody Rhodes
spilled the beans
during an interview that he may be moving to
RAW
during this year's draft. For the fans that hate the idea of splitting up the stars into two shows, this is not good news.
It's great for WWE, though.
As much as the company likes having all of their stars on both shows, they need to keep some exclusiveness from one to the other in order to get fans to pay attention to both. Why would someone watch SmackDown if they could see all the same action on RAW?
PWTorch (link via WrestleZone) is reporting about Rhodes and his move to RAW and the inclination that a draft will happen at some point this year:
According to PWTorch, Intercontinental Champion Cody Rhodes recently hinted that he may be moving to back to Monday Night Raw during the upcoming annual WWE Draft. This comes as a surprise to many, as the Draft even taking place this year was in question, due to the brand split being effectively over (ei: Chris Jericho in the World Title match, and Daniel Bryan being in the WWE Title match at Over the Limit). If this shift does take place, it will be interesting to see if the WWE has plans to keep the belt on Cody, and what they will do with the United States Championship in the process
With fans forced to choose sides, it makes the people watching invest even more time and emotion into the product. The more the WWE Universe cares, the more willing they will be to pull out their hard-earned cash and lay it down for a Vince McMahon product.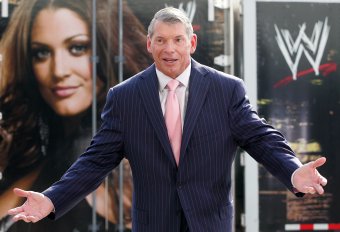 Mark A. Wallenfang/Getty Images
There is no reason to believe that the way the company has it right now won't be exactly how it is in a few months, with just a few minor stars and a major star or two going after the opposite title they are accustomed to.
WWE needs competition, so whether they create it themselves or find it in another company, they have to make the fans choose sides.
As we have seen, if the moves don't work out or the company feels there is a better solution, they can just change anything they want whenever they want. It's the power of the WWE!
Check back for more on the World Wrestling Entertainment as it comes, and visit Bleacher Report's Wrestling Page to get your fill of WWE/TNA. For more wrestling talk, listen to Ring Rust Radio for all of the hot topics you just can't miss (some language NSFW).