NBA Playoffs 2012: A Laker Fan's Perspective of the Playoffs Thus Far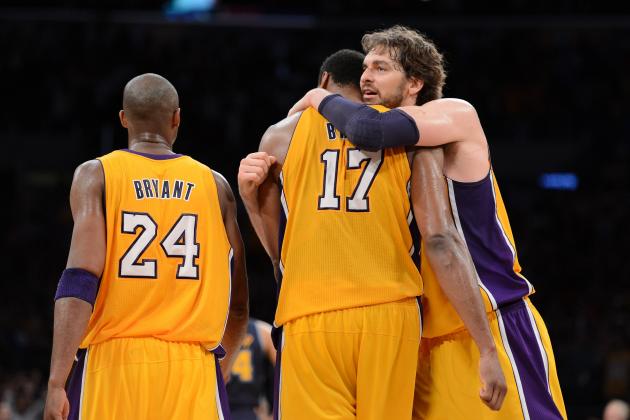 Harry How/Getty Images

Whew! What a series! After an unnecessarily long series, the Los Angeles Lakers finally knocked out the feisty Denver Nuggets to advance to Round 2 and a date with the Oklahoma City Thunder.
To be honest, I doubted at first that the Lakers even had the capability of beating the Thunder. Even at their best, I doubted the Lakers had a shot.
Game 7 changed that.
In this article I will break down the kind of series each major contributor on the Lakers had against the Nuggets, and what they must do to defeat the Thunder.
Begin Slideshow

»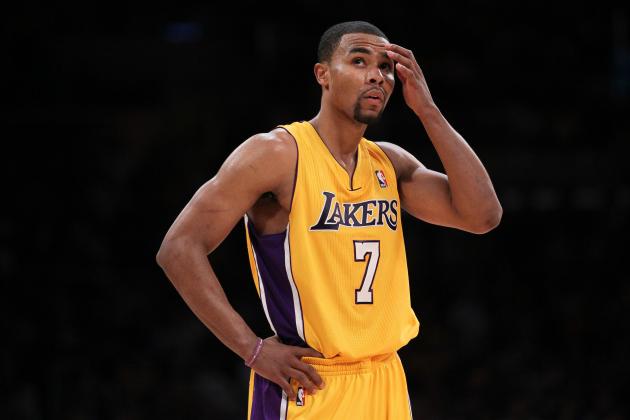 Jeff Gross/Getty Images

Ramon Sessions had a solid, yet quiet series against the Nuggets.
He attacked the basket when he could, limited mistakes and played decent-yet-underwhelming defense against Ty Lawson.
Ramon's problem, I believe, is that he is being used wrong. And that blame must be shouldered by Laker coach Mike Brown.
The Lakers are all about slowing the pace down to a grind-it-out style. So, can someone please tell me why the Lakers NEVER run pick-and-roll with him? Especially with a team as undersized as the Nuggets?
A screen-roll with Kobe would leave Ty Lawson matched up on the perimeter with the Black Mamba, which is a recipe for disaster for the Nuggets. Gasol would have more license to attack the hoop, and Bynum would surely benefit from more alley-oops.
Not to mention that Sessions getting into the lane almost always means an easy shot for either him or a big man.
On defense, Sessions did a decent job against Ty Lawson in the half court (more on why Lawson exploded later), though he struggled mightily in transition stopping the ball.
One of basketball's most fundamental skills is to stop the ball-carrier on a fast break behind the three-point line, and Sessions all too often let Lawson get to the free-throw line. By then it was too late, and it would mean an easy layup.
What does this mean for next series?
Well, Mike Brown must be smarter with how he uses Ramon Sessions. He should be the beneficiary of more screen-rolls. On defense, he must stop ball. He absolutely must, because as bad as he was stopping Ty Lawson, Russell Westbrook will be that much harder.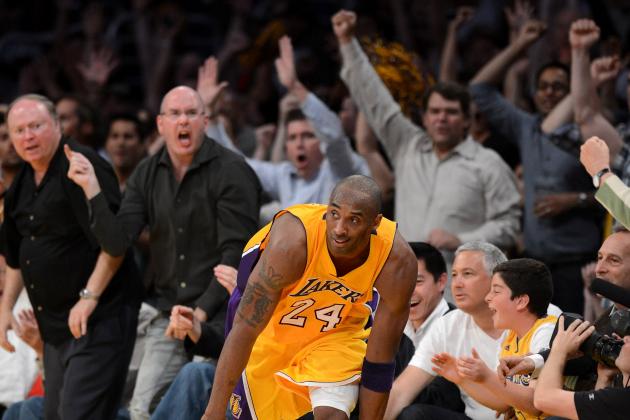 Harry How/Getty Images

Just when you think nothing Kobe does could surprise you, he goes and has a series like this.
Kobe Bryant just had arguably his best playoff series in years.
And don't even start throwing stats at me, though his stats are good, because what Kobe has done is transform before our very eyes into the teammate we all hoped he could become.
Only those who truly watched the games could see what I mean.
Kobe was very smart about his shots this series, something I never thought I'd be saying about a man who is notorious for playing hero ball.
And while he did play hero ball, it was always at the right time, when nobody else on the team was stepping up and making plays.
But more importantly than that, I was shocked by just how good Kobe played team ball.
Metta World Peace and Steve Blake can attribute most of their offensive success in Game 7 directly to Kobe Bryant, who repeatedly drew double-teams and trusted his teammates to make the Nuggets pay for it.
He did an amazing job moving without the ball to get good looks. He was a good facilitator throughout most of the series, and an amazing one in Game 7.
In fact, Game 7 was without a doubt Kobe's most complete effort of the year.
And when Mike Brown smartened up and put Kobe on Ty Lawson in the fourth quarter of Game 7, the killer point guard completely vanished. I knew Kobe was still a capable defender, but I didn't realize he was still an elite on-ball defender.
What does all this mean for his matchup with the Thunder?
Well, he will be matched up with a poor man's Aaron Afflalo next series in Thabo Sefolosha, another long, lanky perimeter defender with a worse offensive game than Afflalo.
Kobe must continue his unselfishness on the offensive side of the court, controlling the pace of the game with his passing and timely scoring.
On defense, Kobe will need to check Russell Westbrook for 10-15 minutes a game, as he has routinely done in games against Oklahoma City.
Kobe has shown incredible growth as a teammate this series. He must build on that for the Lakers to upset the Thunder.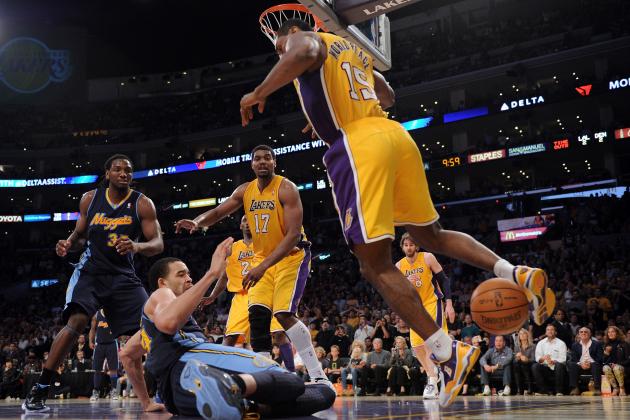 Harry How/Getty Images

I knew from the start that Metta would have a good Game 7.
What I didn't know was how thoroughly dominant he would be. In fact, his play has opened my eyes to the fact that Metta represents exactly how the Lakers will beat the Thunder.
He was extremely active. He was tough. He was physical. He was imposing. And he was confident.
Metta hit some timely threes today, and he seems to be very confident in his shot, something the Lakers will need in the half court against Oklahoma City.
But Metta's defense in Game 7 was nothing short of phenomenal. It was textbook defense at its finest. Danilo Gallinari and Andre Miller were Metta's two victims today, and both had abysmal offensive games.
Danilo Gallinari shot 1-of-9 for three points, and Andre Miller shot 1-of-10, also for three points. These were two of the Nuggets' biggest offensive threats throughout the series, and Metta rendered them completely useless.
His played some of the best defense I've ever seen, denying his man the ball in good position, refusing to allow his man to drive past him and making timely steals. In short, Metta was the unsung hero for the Lakers in Game 7.
Metta will have his hands full next series, facing the league's best pure scorer in Kevin Durant. However, Metta World Peace always makes life miserable for Durant, who will score yet have to work for every point against World Peace's tenacious defense.
If Metta can make life tough for Durant and continue to hit his shots, the Lakers have a great shot to steal this series.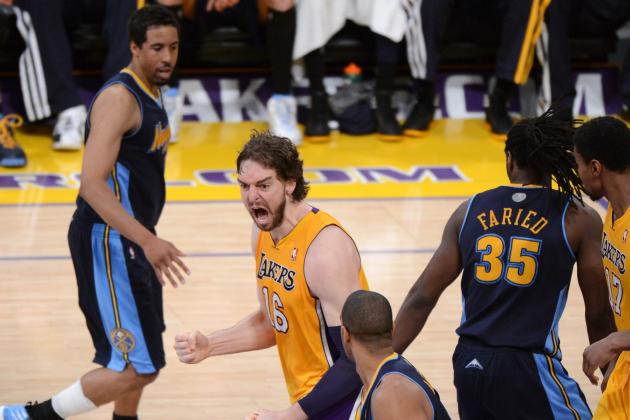 Kevork Djansezian/Getty Images

Pau Gasol frustrated me throughout the entire first round.
On one hand, he was an incredible distributor for the Lakers from the high post, helping the offense run. I can say for sure that while he did disappear for two games, a large part of that is Mike Brown's dumb idea of leaving him around the three-point line.
That's right, the most talented post player in the league is being relegated to the perimeter. Anyone have a decent explanation for this?
I didn't think so.
Pau Gasol's offense doesn't concern me, as long as Mike Brown uses him like he did in Game 7.
No, it's his defense that's worrying me. You see, Gasol's defense is the most consistent part of his game.
Consistently HORRIBLE, I might add.
Pau Gasol has two major flaws on defense that nearly doomed the Lakers this series.
First, Pau Gasol still does not know how to hedge. He either hedges on the wrong side of the screen, or hedges too high. This allowed Ty Lawson to consistently penetrate into the lane for easy buckets. This is a giant flaw that will manifest itself even more against the merciless penetration of Russell Westbrook.
His second flaw is that he is extremely lazy at boxing out. Kenneth Faried absolutely dominated Gasol because he constantly out-hustled him to the ball. In fact, he made Faried look like an All-Star out there!
Serge Ibaka must be drooling right now...
Gasol must learn how to hedge properly on screen-rolls. Either that, or Mike Brown needs to adjust and use Thabo Sefolosha's man to plug the screen from the wing. Otherwise, Westbrook will torment us like he usually does.
Also, Mike Brown needs to allow Gasol to operate more on the low block, where he can use his height and skill advantage against Ibaka.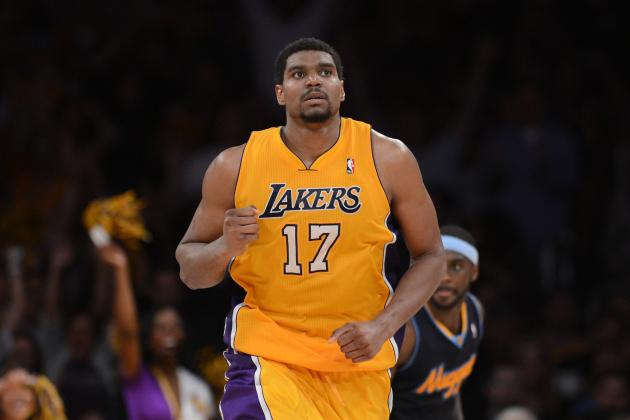 Harry How/Getty Images

Andrew Bynum, to me, looks like the polar opposite of Pau Gasol right now.
On offense, Andrew Bynum gets frustrated with how few touches he gets. He often loses interest because he isn't involved early and often.
Here's a little tip for you, Drew. When you draw double-teams as consistently as you do, and you clearly are one of the worst post passers in the league, there's not much incentive to pound the ball down low to you.
The Denver Nuggets exposed Andrew Bynum's biggest offensive flaw, taking him out of the game by doubling him from the top of the key. Until Bynum learns how to pass out of the double-team, he will never be a focal point in this offense.
On defense, Drew is going through a transformation right now.
He is beginning to realize that he is the most dominant when he is active on defense, and he doesn't need to score to dominate. Once he fully grasps that concept, he will be that much more dangerous.
Bynum, minus two games, had an incredible defensive series against Denver, including that impressive triple-double in Game 1. His help defense is going to be vital in this next series. And he will have more chances to freelance in the paint and block shots.
After all, Kendrick Perkins doesn't exactly strike fear into defenses.
For the Lakers to succeed in the second round, Bynum will need to be extremely active on defense, and he will need to learn how to handle double-teams on offense.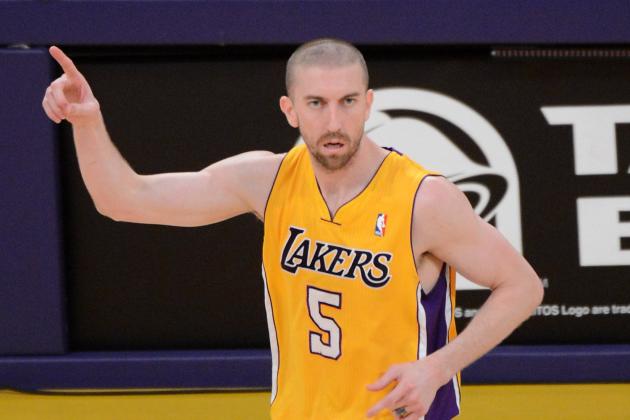 Kevork Djansezian/Getty Images

Steve Blake just might be the X-Factor of the Lakers' bench.
While he was inconsistent, shooting at a 36-percent clip for the series, Blake had three awesome games this series, culminating in an awesome Game 7 performance off the bench, scoring 19 points on 7-of-11 shooting.
But his offense wasn't the whole story.
Blake's hustle on defense in Game 7 was truly special. Blake busted through multiple screens, chasing his man all over the court, demonstrating the kind of toughness and hustle that will allow the Lakers to defeat the Thunder.
Back to his shooting, though—Blake seems to have finally got his confidence back. He made 5-of-6 threes and got a couple nice mid-range shots off of brilliant pump-fakes.
If Blake can continue to shoot well off the bench, the Lakers' chances go through the roof.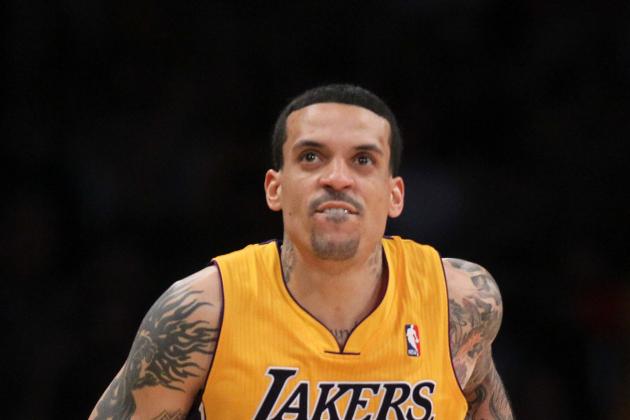 Jeff Gross/Getty Images

To be frank, Barnes had an abysmal series against the Nuggets.
His shot was off, his defense was erratic and he just seemed out of place a lot of the time.
To his credit though, none of these problems were due to a lack of effort. Barnes gives it his all whenever he steps out on the court.
His defense was solid, yet occasionally sloppy in the first round. He reached much more than usual and didn't box out as well as he usually does. Corey Brewer had way more success than he should have, and Barnes is going to have to step up his game next series.
You see, Barnes' primary defensive assignment is going to be James Harden, the most explosive sixth man in the NBA.
And for the Lakers to have any shot at winning, Barnes is going to have to at least slow down Harden. That means he'll have to play that tough, hard-nosed defense that made Kobe pursue Barnes in the first place.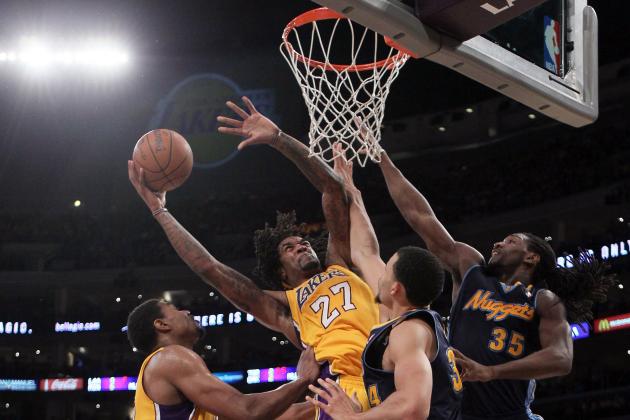 Jeff Gross/Getty Images

To me, Jordan Hill is exactly what the Lakers need off the bench.
He may not be the most offensively skilled player in the league, but he's everything that Andrew Bynum and Pau Gasol are not.
He's a high-energy, pedal-to-the-metal big man who isn't afraid to bang down low for rebounds and put-backs.
Jordan Hill's hustle and energy have bought him more and more playing time, and he is now a solid and reliable rotation player for the Lakers.
Next round, Hill will be primarily going up against a front line of Nazr Mohammed and Nick Collison, both of whom I'd take Hill over any day. In fact, the only Thunder big man I'd expect to match Hill's effort and intensity is Serge Ibaka.
If Hill can consistently chase down offensive rebounds, play good defense and hustle, he will go a long way toward helping the Lakers conquer their bench woes against a solid and deep Thunder team.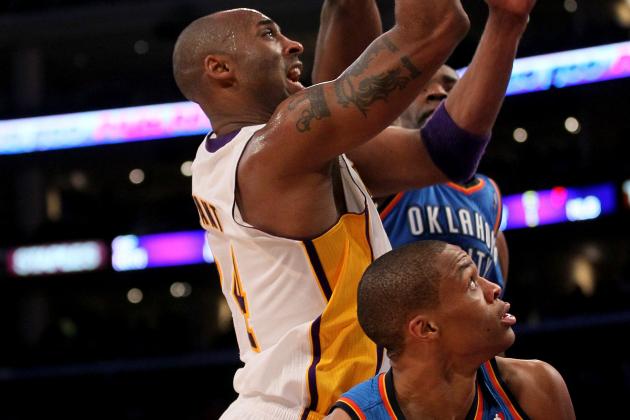 Stephen Dunn/Getty Images

All this said, the Lakers are facing the toughest series they will experience this year. No team in the league matches up with the Lakers as well as the Oklahoma City Thunder do.
This is a team that is skilled, athletic, fast, hungry and motivated. They give it their all whenever they step out on the court.
Do I think the Lakers can defeat the Thunder?
The answer is now a resounding YES.
If Kobe can build on his great first round, if Bynum can play excellent help-defense, if Gasol can stay aggressive, if the bench can contribute and if Metta World Peace can make life difficult for Kevin Durant, the Lakers can defeat the Thunder.
This is going to be a hell of a series, and it's up to the Lakers to show the heart of a championship team and rise to the challenge the Thunder present.
Best of luck to both sides, and may the best team win!!!!