Real Betis: A Late Goal from Barcelona's Seydou Keita Prevents Giant Upset
May 13, 2012

Jasper Juinen/Getty Images
Real Betis had the game in the bag, leading La Liga giants Barcelona 2-1 in injury time, but a late-minute equalizer from Seydou Keita prevented the upset over 10-men Barcelona from happening. 
Real Betis: 4-2-3-1
Goalkeeper: Barriaga
Defenders: Perez, Dorado, Paulao, Chica
Midfielders: Canas, Etxebarria, Montero, Pozuelo, Pereira
Forwards: Castro
Substitutes: Fabricio, Isidoro, Lopez M. H., Molina J., Nono, Santa Cruz R., Sergio 
Barcelona: 4-3-3
Goalkeeper: Valdes
Defenders: Alves, Mascherano, Pique, Adriano
Midfielders: Xavi, Busquets, Keita
Forwards: Afellay, Messi, Pedro
Substitutes: Bartra M., Cuenca I., Fabregas, Iniesta, Montoya, Oier. Tello 
Placed second in the league and allowing just 27 goals (until this game, now up at 29), Barcelona started the game with a bang with Sergio Busquets slotting the ninth-minute goal against Betis. It came from Xavi's corner, which Busquets headed in the far post from the near post. Betis should've done better marking the man.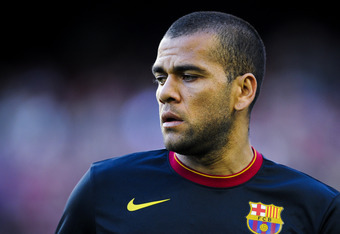 David Ramos/Getty Images
Dani Alves received his first yellow in the 32nd minute and then was foolishly sent off in the second half with 37 minutes to go. His second yellow came from a hard tackle on Montero and Barcelona manager Pep Guardiola admitted that "Dani Alves' sending off changed the game."
The second half saw Betis attacking with renewed vigor, perhaps gaining confidence from the first half, where Barça was able score only one goal—Barcelona had recorded over 110 goals over 37 games—although they had plenty of chances to score. 
Ruben Castro put two goals away against Barça's Victor Valdes—the first coming from an assist by second-half substitute Roque Santa Cruz in the 71st minute. Castro chipped the ball over Valdes and it sailed into the net. What a cheeky finish.
Benat Etxebarria recorded an assist for Castro's second goal just three minutes later and the home side were celebrating until the 90th minute. Benat's pass allowed for Castro to beat the offside trap, which he coolly placed into the back of the net for his second of the night. 
Messi had the chance to pull Barça back in the game, but his shot was deflected off the post. 
It was, unfortunately for Betis, time for Barça to kick things into overdrive as substitute Montoya crossed to the jumping Seydou Keita to score the equalizer. 
Santa Cruz's loan spell comes to an end at the end of the season. Betis should make a move to make the Paraguayan's stay permanent, as the forward himself has stated his desire to stay at the club. 
The 2-2 score line means Barça stays at second place (Real Madrid already won the league) and Real Betis managing to stay in mid-table, away from the relegation zone.