NHL Playoffs 2012: 6 Kings and Coyotes Players That Are Up for the Conn Smythe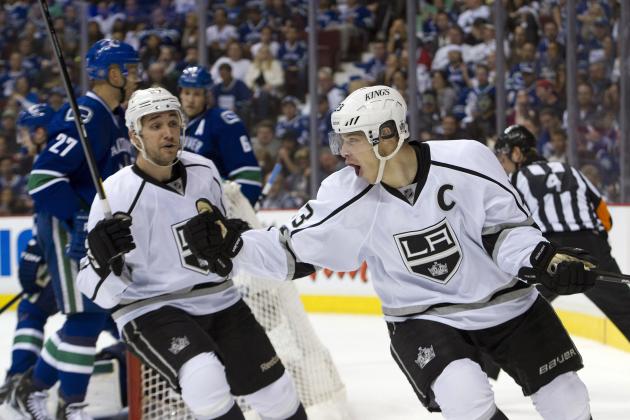 Rich Lam/Getty Images

The NHL playoffs continue tomorrow with the start of the Western Conference finals between the Los Angeles Kings and the Phoenix Coyotes.
Each team has a couple of early Conn Smythe Trophy candidates, and each of these candidates is worthy of consideration.
Although there are two rounds of playoff hockey left, it never hurts to acknowledge these individual contributions to their teams in the form of Conn Smythe Trophy predictions.
So here are the six candidates between the Kings and Coyotes that would be nominated if the season ended today.
Begin Slideshow

»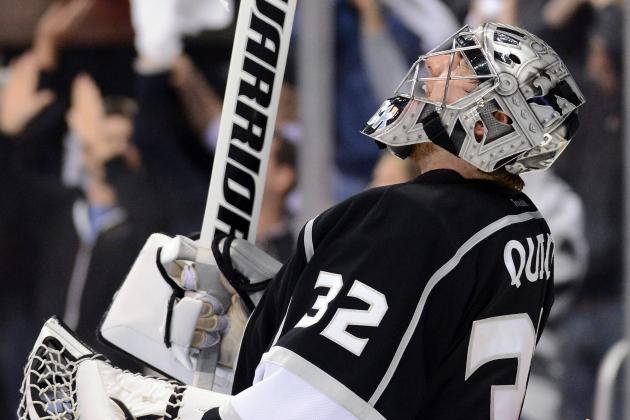 Harry How/Getty Images

There's been no better goaltender in these playoffs than Jonathan Quick.
The numbers don't lie: 8-1 record, 14 goals against in those nine games for a .949 save percentage and 1.55 GAA.
Quick has been just outstanding over the first two playoff rounds against the Vancouver Canucks and the St. Louis Blues, leading the Kings to become the first team to knock off a No. 1 and No. 2 seed in the same playoff season.
Need any more reasons?
Quick should be the leader in Conn Smythe voting right now.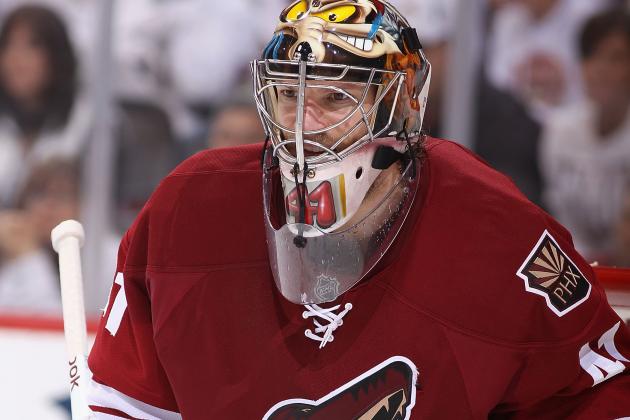 Christian Petersen/Getty Images

If Jonathan Quick is No. 1 for Conn Smythe voting right now, then Mike Smith should be 1-A.
Smith has simply just made saves, giving the Coyotes the chance to be in the Conference finals.
There were games in the first round when the Coyotes played the Chicago Blackhawks where the shots would be 30-10 Chicago, but the score would be 1-0 for Phoenix.
Mike Smith was the reason that the Coyotes prevailed in that series, and bested Vezina finalist Pekka Rinne in the last round when the Coyotes ran over the Nashville Predators in five games.
Smith has proven that as long as he stays in his net (see Game 3 highlights against Nashville), he can stop just about anything that is thrown his way.
If his team has any chance to advance past this round, Smith will give them that chance with his play against Los Angeles.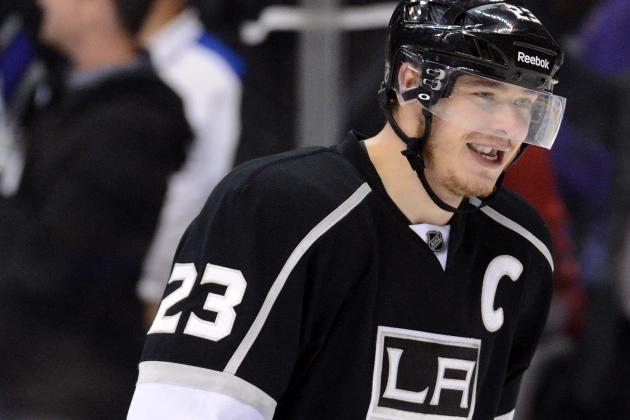 Harry How/Getty Images

Dustin Brown is the highest-scoring player left in the Western Conference playoff race. He also has a better points-per-game average than anyone else left in the NHL playoffs.
Brown has six goals and five assists in nine playoff games, and he has two short-handed goals as well as two game-winners.
Defensively, Brown has been all over the place as well with a plus-nine rating, and chipping in blocking shots and throwing hits.
His hit on Henrik Sedin virtually sealed the deal as far as the Kings winning the series.
He is No. 3 on my list in Conn Smythe Trophy consideration.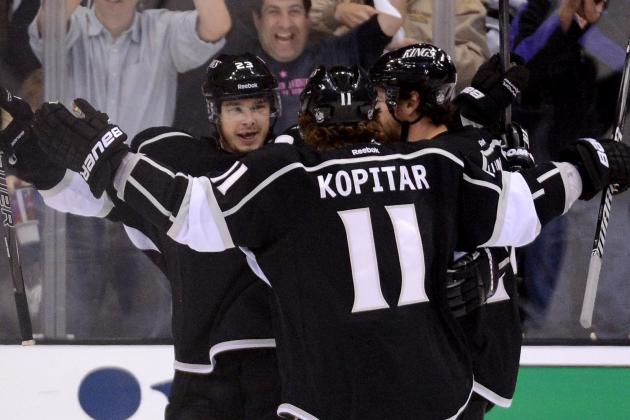 Harry How/Getty Images

Anze Kopitar might apologize if he was a little bit late showing up in the playoffs. Kopitar is on this list because he has six points in the last three games to give him 10 overall.
His play with the puck has been strong, and he is hard to knock off the puck.
Kopitar seems to have better vision over the past couple games as he's put up four assists over that span, but there won't be much room in the defensive zone of the Phoenix Coyotes.
That shouldn't be a problem for Kopitar: The 24-year-old Slovenian forward has 38 points in 39 career regular-season games against the Coyotes.
Sounds like Kopitar could up his Conn Smythe standing with a decent performance in this series.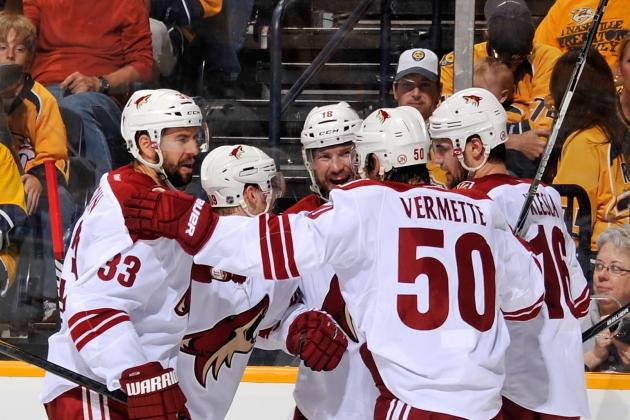 Frederick Breedon/Getty Images

Antoine Vermette has only one point in the last three games. Doesn't really sound impressive, but he had eight points in eight games prior to that.
Vermette also boasts two quite impressive playoff statistics.
He has a 29.4 shooting percentage (ninth in the playoffs) and a 58.4 faceoff percentage.
Now if he would only shoot more (17 shots in 11 games), he could have a higher point total.
Keep an eye out for Vermette as a dark-horse candidate for the Conn Smythe.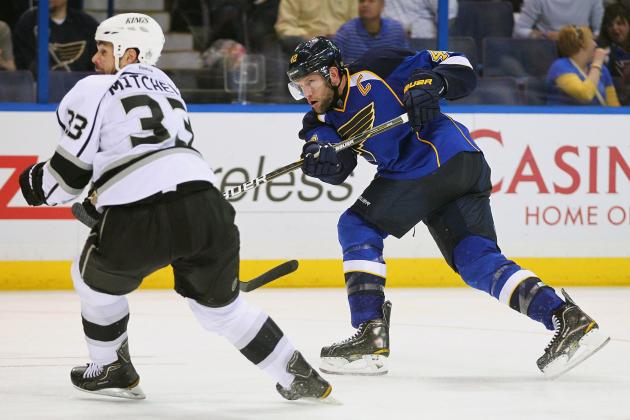 Dilip Vishwanat/Getty Images

Speaking of dark-horse candidates, Willie Mitchell has blocked 33 shots in just nine games—that's helping his goaltender out with almost four blocked shots a game.
Not bad for a former eighth-round pick.
Mitchell has been helping his goaltender, Jonathan Quick, in ways that are under-appreciated by most. Quick has such a good save percentage because he gets so much help defensively.
Whether it's tying up people in the slot, or blocking shots in front of him, the Kings have helped out Quick quite a bit defensively.
If Mitchell wins the Conn Smythe, it could be the least likely selection of all time. But Mitchell is doing his part, and his blocked shots have certainly helped his team and his goaltender. Whether he is a quality choice for MVP or not will be determined by the rest of the playoffs.
For more article updates, Follow @isaacesmith91