Players Championship 2012 Schedule: Tee Times and Predictions for Sunday's Elite
May 13, 2012

Andy Lyons/Getty Images
The Players Championship never disappoints.
Every year there's plenty of storylines surrounding TPC Sawgrass, and 2012 is no exception.
The highly entertaining and combustible Kevin Na is sitting atop the leaderboard, and his performance on Sunday will be a beautiful case study in golf and the human psyche.
We've also got Rickie Fowler and his awesome mustache seeking their second victory in a row, major winners Ben Curtis and Zach Johnson in the hunt, and Tiger Woods and Phil Mickelson being Tiger Woods and Phil Mickelson.
With a great fourth round on the horizon, here are all the Sunday tee times you need to know.
Kevin Na (-12) and Matt Kuchar (-11): 2:45 p.m. ET

Kevin Na has surpassed Tiger Woods as the most fascinating golfer on the planet.
As he waggles, murmurs to himself, steps back, waggles again, takes a random practice swing, waggles some more, then yells at himself and rips off a perfect shot, I can't take my eyes off the screen.
It seems as if every shot he takes has the potential to push him over the brink of insanity, and under the intense spotlight of TPC, I can't wait to see what he does with a one-stroke lead.
I'm supposed to make predictions here, but I have no clue what Na will do. My head tells me he's going to crumble, but my heart wants him to win. Either way, it will be thoroughly entertaining.
As for Kuchar, he's been the most consistently good golfer this week. After posting scores of 68, 68 and 69 in the first three rounds, he just needs to keep doing what he's doing on Sunday.
In the end, I'm expecting Kuchar to surpass Na and win the tournament by shooting another three- or four-under.
Rickie Fowler (-9) and Ben Curtis (-7): 2:34 p.m. ET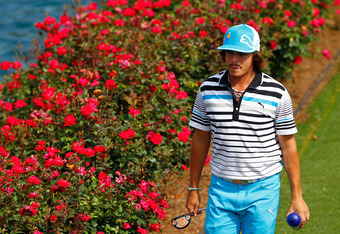 Mike Ehrmann/Getty Images
If I was a PGA executive, I would be praying for a Rickie Fowler victory on Sunday.
The 23-year-old with the hipster mustache and colorful outfits is making golf appealing to young people, which is incredibly important for the sport. There's an entire demographic that only knows about golf because of Happy Gilmore, and Fowler is perhaps the only tour player capable of reaching them.
If he wins, it will be his second straight victory and a huge step toward becoming golf's next great superstar.
Curtis, meanwhile, is also looking for his second win of the year. In April, he won the Valero Texas Open, his first tour victory since 2006. A win at TPC would be an excellent addition to a resume that includes the 2003 Open Championship, but not much else.
Given their strong play recently, I wouldn't be surprised if either player took home the trophy.
Tiger Woods (-2) and Jim Furyk (-2): 11:25 A.M
In a star-studded morning pairing, Woods and Furyk will certainly be drawing some attention on Sunday.
Although neither has much of a shot at winning, these are two of the best to ever play the game. If they get in the zone, anything can happen.
I'm expecting them to bring out the best in each other on Sunday and post their best scores of the tournament. I'm predicting a 69 for Furyk and a 67 for Woods.
For all of Sunday's tee times, click here.