New York Yankees: Why Phil Hughes Has Saved His Rotation Spot in 2012 for Now
May 12, 2012

Nick Laham/Getty Images
When the season started, things weren't looking good for Phil Hughes.
He had a 1-4 record with a 7.48 ERA and he was pitching himself out of the rotation with poor performance after poor performance.
David Phelps was attempting to pitch himself into the rotation and Andy Pettitte is returning to the New York Yankees on Sunday, so it seemed like only a matter of time before Hughes got demoted.
A little over a week ago, I wrote a story stating that Hughes was on the verge of losing his spot when Pettitte came back to the team.
Lately, it seems like Hughes may finally be turning everything around.
In his last two starts, Hughes not only has given the Yankees back-to-back wins, he's given them back-to-back quality starts.
On May 6, Hughes overpowered the Kansas City Royals for 6.2 innings, six hits and seven strikeouts, which was his second win of the season.
And then on Saturday against the Seattle Mariners, Hughes went 7.2 innings, allowed one run on six hits, walked one and struck out four in a 6-2 Yankees win. Hughes was able to drop his ERA again from 6.67 down to 5.50, dropping almost two full runs since the month of May started.
What's good to see from Hughes is that not only is his velocity consistent, but his control has been a lot better.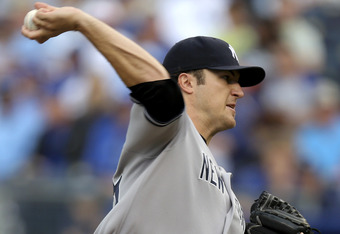 Ed Zurga/Getty Images
When Hughes leaves his pitches over the plate with little-to-no movement, hitters can tee off on Hughes, which is why the 1-4 record started.
But if Hughes changes speeds, moves his location of his pitches and still uses power to get hitters out, Hughes will have success, which is why he's won two starts in a row.
Hughes has always been a big part of the Yankees' current and future plans of the rotation, and having him pitch well is something they need if they want to compete for a championship in October.
If Hughes struggles, it causes the Yankees to try and find alternate solutions, which isn't something Yankees GM Brian Cashman wants to do, given the investment they have put into Hughes since they drafted him back in the 2004 MLB draft.
But when he does well, the Yankees tend to do well—like when Hughes became a temporary but dominant set-up man for Mariano Rivera in 2009, when the Yankees won the World Series or, in 2010, when Hughes won 18 games and was an American League All-Star.
The Yankees have gotten quality starts from CC Sabathia, Hiroki Kuroda has pitched much better as of late, Ivan Nova is winning despite having a higher ERA and David Phelps is doing everything he can to keep a spot on the team—plus Pettitte's returning from his extended spring training on Sunday.
If they can get Hughes pitching like this for the rest of 2012, that only increases the Yankees' chances of having success in 2012.
Stay tuned, Yankees Universe.