Phil Hughes Remains in New York Yankees' Rotation, David Phelps to the Bullpen
May 12, 2012

Mike Stobe/Getty Images
Phil Hughes was just about on the edge of being removed from the New York Yankees' starting rotation upon the return of Andy Pettitte tomorrow, but after a great start against the Seattle Mariners, Hughes will keep his spot.
Against Seattle, Hughes went 7.2 innings, allowing one run on six hits with four strikeouts and left two runners on in the eighth after being relieved by Boone Logan.
The 25-year-old threw 112 pitches on the afternoon, and it was clear manager Joe Girardi was trying to help Hughes build some confidence with his longest start of the 2012 season. It was clearly his best start of the season.
This was Hughes' second straight solid start and while both were against the likes of the Kansas City Royals and Seattle Mariners, it'll be enough momentum to keep him in the starting five.
That would mean David Phelps will move back to the bullpen and according to Thomas Boorstein of MLB.com, that is exactly where the rookie is going.
"After two turns in the Yankees' rotation, David Phelps will return to the bullpen ahead of Andy Pettitte's return Sunday."
Phelps' return to the bullpen will be a much-needed move for this team. Since losing Mariano Rivera, the Yanks can use all the bullpen depth they can get and having had success this year, Phelps will be a great boost and could now see a more prominent role.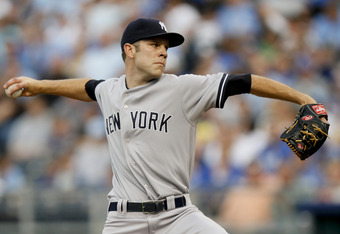 Ed Zurga/Getty Images
Hughes' possible value to this team continues to outweigh anything he's done in the past. At this point, it's what have you done for me lately, and lately, Hughes has done his job.
That will keep the former Yanks top prospect a part of the rotation for the time being. But that certainly doesn't mean he's untouchable.