Toronto Maple Leafs: Top 10 Prospects and How They Will Translate to the NHL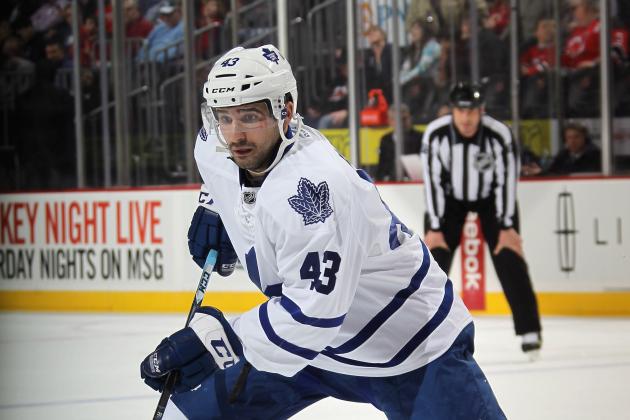 Bruce Bennett/Getty Images
The "Wizard of Naz" is hands down Toronto's top prospect.
You can say a lot of things about Brian Burke. However, one thing that every member of Leafs nation, and any other nation, can agree upon is that Brian Burke has given the Leafs the most well-stocked cupboard of prospects than they've had in a long, long time.
This cannot be better exemplified than by the Toronto Marlies (the Leafs' AHL affiliate team) ripping it up in the AHL this year and having a 7-1 record in the playoffs and advancing to the Western Conference Finals to face the Oklahoma City Barons. The Marlies are stocked full of young players that Burke has added like Ryan Hamilton, Nazem Kadri, Ben Scrivens, Jake Gardiner, Matt Frattin, Carter Ashton, Joe Colborne and Jussi Rynnas.
This article is going to be taking a look at the Leafs' top 10 prospects (according to HockeysFuture.com), and using a combination of advanced stats (NHLe) and basic scouting, we'll see how far along each player is and what his future with the Leafs organization could be.
Top 10 Leafs Prospects, according to Hockeysfuture.com (skaters)
1. Nazem Kadri
2. Joe Colborne
3. Jesse Blacker
4. Matt Frattin
5. Carter Ashton
6. Gregg McKegg
7. Tyler Biggs
8. Stuart Percy
9. Brad Ross
10. Korbinian Holzer
11. Jerry D'Amigo
If you don't know what NHLe (NHLequivalency) is, take a look at these links below.
Essentially, it is a formula using the difficulties of "farm or feeder leagues" in comparison with the NHL and comparing a players Points Per Game (PPG) average to a statistical average for players making the jumps between leagues. Not a perfect formula by any means, but it has proven to be incredibly accurate on a broad scale so far.
[(Points divided by Games Played) X 82] x League Equivalency = NHLe
The X82 is for translating the player's PPG to an NHL schedule of 82 games, and his NHLe numbers will be based off the assumption that he will play 82 games. For example:
Claude Giroux
In his last season with the Gatineau Olympiques of the QMJHL, he scored 106 points in 55 games
[(106 / 55) x 82] x 0.28 (The QMJHL's equivalency) = 44.25 points
In Giroux's first full season with the Flyers, he played 82 games and scored 47 points.
Dustin Brown
In his last season with the Guelph Storm of the OHL, he scored 76 points in 58 games
[(76 / 58) X 82] X 0.30 (The OHL's equivalency) = 32.23 NHLe
In Brown's first full season with the Kings, he played 79 games and scored 28 points.
So while not an exact measurement, the NHLe is a great way to get an basic idea of the point totals a prospect is going to put up at the next level. It doesn't work out every time, but the number of times it does makes the NHLe formula an effective tool to gauge prospects.

http://hockeyanalytics.com/Research_files/League_Equivalencies.pdf

http://www.arcticicehockey.com/2011/6/25/2243219/the-winnipeg-jets-select-mark-scheifele-with-the-7th-pick

http://lowetide.ca/blog/2011/06/draft-2011-nhles-interesting.html

If you want to use the NHLe formula yourself, the other "farm league" equivalencies are below:
| | |
| --- | --- |
| League | NHLE |
| KHL | 0.83 |
| SEL | 0.78 |
| FNL | 0.54 |
| AHL | 0.44 |
| NCAA | 0.41 |
| OHL | 0.30 |
| WHL | 0.30 |
| QMJHL | 0.28 |
| USHL | 0.27 |
| AJHL | 0.16 |
| BCHL | 0.14 |
Note: I did not create the NHLe formula, and as such, will give credit it where credit is due to a Mr. Gabriel Desjardins. He did all the research and comparison data that gave us the league NHLe's, and we are all better off for it. As an interesting side note, NHLe seems to be mostly employed by talent judges/scouts/writers/fans in the Western Conference and hasn't really found its way over here yet.
Begin Slideshow

»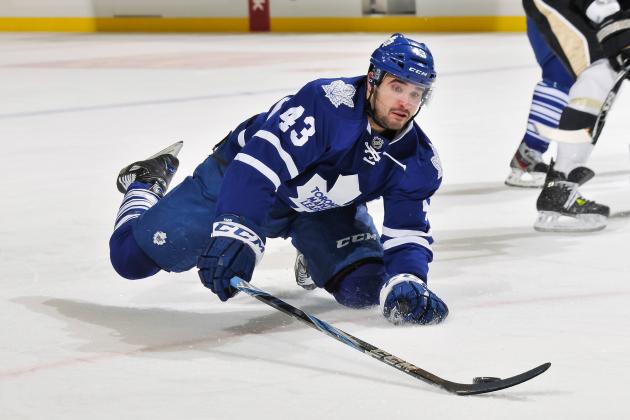 Jamie Sabau/Getty Images
Is Kadri finally ready to take the next step to the NHL?
Stats: 6'0", 188 lbs, NHL: 21GP, 5G, 7PTS, +2/AHL: 47GP, 18G, 38PTS, +2
The much-talked about "Wizard of Naz" has sublime hands that simply weave magic with the puck. With his tricky shot, good speed and strength on the puck, he is probably worth having on the roster purely for his power play and shootout creativity—something the Leafs were sorely lacking.
HockeysFuture.com evaluates him:
Kadri is a highly skilled forward who can make plays at a whim in the offensive zone. He's fearless on the ice which compensates for his small frame. While there are questions surrounding his game-to-game compete level and some of his decision making, his positives outweigh those negatives.
If he is still with the Leafs by training camp (read: has not been packaged off in some dramatic franchise saving trade), then he deserves a shot to see if he's got what it takes in a top-six role in the NHL.
With Wilson, he was never given the chance, always relegated to third or fourth-line duty. Carlyle showed a little more faith in him, but Carlyle demands defensive accountability, and that is definitely a weakness at times with Kadri.
NHL equivalency = 30.92 Points projected for the NHL level
Potential: First-line playmaking center
Projected: Second-line shifty right winger with shootout and power-play specialist status
How Long Until NHL Ready: 2012-13 season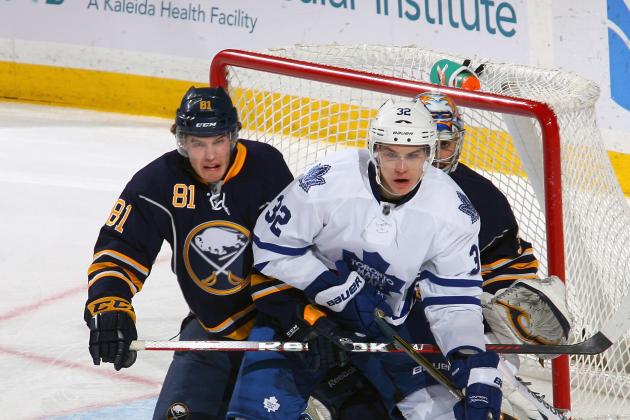 Rick Stewart/Getty Images
Big Joe started off strong this year, but then fell off.
Stats: 6'5", 213lbs, AHL: 65 GP, 16G, 39PTS, +0/Playoffs AHL: 6GP, 0G, 4TS, +1
Big Joe Colborne has intimidating size, a wicked shot, excellent vision, strong defensive and offensive instincts, and did I mention he's 6'5"? The biggest knocks against him are that his intensity levels seem to vary, but that could just be because he is a massive kid who is used to being able to dominate the opposition physically and is now playing in the pros among players who are much stronger.
Another concern is that for such a big, physically intimidating guy, he really doesn't use his massive size difference to his advantage. If he developed a more physical edge to his game, he would be a far more effective player, and his numbers would reflect that. Given time to figure out how to use his body effectively, those concerns should go away, as everyone who's scouted/interviewed/met him agrees that he is a high-character individual.
HockeysFuture.com says:
The smooth skating, 6'5 center, has soft hands, good vision and a wicked release. He oozes potential, but his impact on games at the AHL level varies dramatically. The reason for that could be simply that Colborne is a big body who's used to dominating physically and playing against opponents who are bigger and stronger than him, and it's taking some time to adjust. But there are also games where he simply looks less engaged and that, wavering intensity level, was a criticism he had in college as well. Even with his flaws, Colborne is a high-character individual, and is someone willing to put in the work, to improve on his shortcomings.
If Joe hasn't been packaged off in a trade over the course of this critical offseason for the Leafs, he will
probably need another season in the AHL to re-establish his scoring prowess. The reason I say that is
because he came roaring out of the gates and was named the AHL's rookie of the month for October.
Then he was goal less for a streak spanning over 42 games, finishing the season with only 39 points after
scoring 42 in 75 games the season before.
Joe still played a great defensive game, but the middle of the season, his offence just left him. His offensive game should hopefully return to him next season. We've seen glimpses of it so far in the AHL playoffs, which is a great sign.
So essentially, everything about Joe boils down to needing more time.
NHLe = 21.85pts (coming out of the NCAA, his NHLe was 35.34, so there might be some cause for concern)
Potential: First-line playmaking power forward center
Projected: Second-line playmaking center with size
How Long Until NHL Ready: 2014-15 season

Rick Stewart/Getty Images
Jesse Blacker is a dangerous player on the ice... for both teams
Stats: 6'1", 190lbs, AHL: 58GP, 1G, 16PTS, +8 / Playoffs: 4GP, 0G, 0PTS
Jesse Blacker is one of the Maple Leafs' most interesting prospects. He's a great two-way defenceman that has a powerful and explosive stride. He gets up and down the ice with ease and is fantastic in creating off the rush. Has a very underrated slap shot and loves to throw his weight around.
The biggest flaw in Blacker's dynamic game so far is the translation of his risk assessment from the OHL to the AHL. In the OHL, he was a one-man rush machine who would break up the ice at the most opportune times and almost never be out of position or creating an odd-man rush the other way.
In the AHL, his risk assessment hasn't quite matured yet, as in any given shift, you are as likely to see a rush into the offensive zone resulting in a great scoring chance for the Marlies as you are of seeing Blacker lose the puck and have an odd-man rush the other way.
Hockeysfuture.com says:
Blacker has a solid positional game and can play in a variety of roles. He rarely is caught out of position and is starting to read the play more effectively. He is a powerful skater and loves to rush the puck up the ice. His offensive game has taken major steps forward over the last few seasons as he had become one of the OHL's top defenders.
In his first AHL season, Blacker's defensive game has remained, and he is often a staple on the Marlies' first-ranked penalty kill. With only 16 points, his offence clearly hasn't followed him yet, but now that he's had a year of exposure to the pro game and he's comfortable with his defensive game, his offence should come alive next season. He is still two to three years of AHL seasoning away from the NHL, but when he does eventually make it, he will be a dynamic force to be reckoned with.
NHLe = 9.95pts (Last year of his OHL career his NHLe was 20.5pts)
Potential: No. 2 two-way defenseman and power-play quarterback
Projected: No.4 Two-way defenseman
How Long Until NHL Ready: 2014-15 season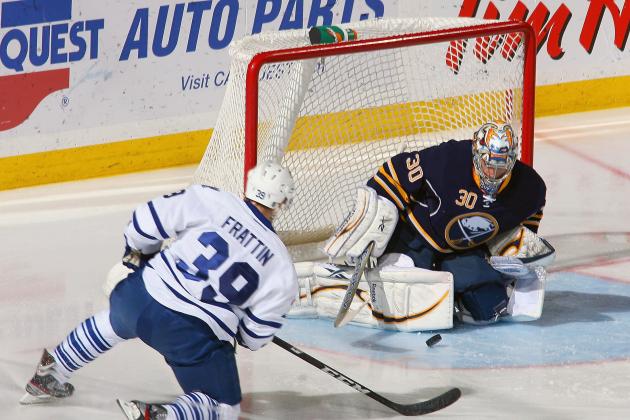 Rick Stewart/Getty Images
After he was shifted to LW, Matt Frattin showed he could score
Stats: 6'0", 200 lbs., NHL: 56GP 8G, 15PTS, -4 / AHL: 23GP, 14G, 18PTS, -2 / Playoffs 8GP, 5G, 7PTS +3
Matt Frattin surprised more than a few people by playing a significant chunk of the season with the Leafs. After leading the NCAA in scoring the previous season with 36 goals, Frattin showed promise of a power game off the side boards, capable of driving the net and getting the puck in and out of all the tough areas on the ice.
Armed with a quick wrist shot, Frattin has all the tools to be a goal scorer at the NHL level. He's got decent speed and, despite his plus/minus rating, is actually very solid in the defensive end. Once Randy Carlyle decided that Frattin's powerful skating and drive to the net was more effective coming off the left wing, Frattin's game started to take off, and he looked far more dangerous on a shift to shift basis.
Hockeysfuture.com says:
Frattin uses his excellent shot to back defenders off down the wing and shows good hands when opportunities arise in close. Due to a quick, hard release he often catches goalies off guard. He has a squatty build at 6`0 and 200 pounds. He is not afraid to do the dirty work in the corners, but is at his best when posted up in the slot. His added strength over his four NCAA years has strengthened his skating ability. He's extremely dangerous off the rush and can find ways to jump into open-ice; a snipers trademark.
Barring a trade for a Rick Nash or free-agent signing of a Zach Parise-type player(s), then the second-line left wing job is his to lose. The end of season and playoff stint with the Marlies has boosted Matt's confidence, and that, in turn, has allowed him to find his offensive game, which eluded him early on in the season. If Frattin hasn't been packaged off in a trade, I predict you'll see his name on the backs on many a Leafs fans' jersey, including mine.
NHLe = 29.09pts (NHLe based on his NCAA numbers is 45.84 points)
Potential: First-line left wing sniper with size
Projected: Top-six two-way all-around forward
How Long Until NHL Ready: 2012-13 season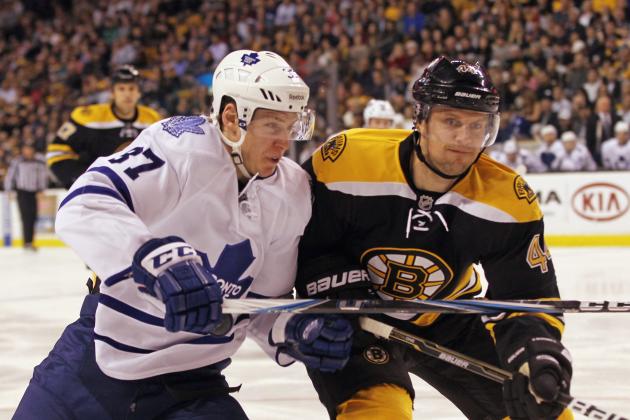 Bruce Bennett/Getty Images
Carter Ashton lost his offence in the NHL; he needs to find it to come back up.
Stats: 6'3, 215 lbs., NHL: 15GP, 0PTS/AHL: 63GP, 21G, 38PTS, +5/Playoffs: 2GP 0G, 1PT, +0
Carter Ashton is everything that NHL teams look for in a power forward. He's got great size, good hands, a nose for the net and strong character. Since coming to the Leafs for Keith Aulie at the NHL trade deadline, Ashton has lost his way of sorts. He recorded 35 of his 38 AHL points with Norfolk before being traded and looked completely out of place offensively while playing with the Leafs for 15 games. He needs to use his size more to win puck battles and to drive the net, and his skating needs some improvement as well.
As a general rule, power forwards always tend to take longer to develop properly, mostly because they are usually the beneficiaries of late or sudden growth spurts that leave them needing a few years to get used to what they can actually accomplish with their bodies. Ashton is no different and realistically, is several seasons away from contributing at the NHL level, offensively anyway.
Defensively, Ashton did not look out of place with the Leafs at all, effectively grinding it out along the walls and fighting for pucks in the corners while making smart exit passes to start the rush.
HockeysFuture.com says:
Ashton has developed into a consistent two-way performer and has quietly impressed scouts. Ashton possesses pro size and has demonstrated that he understands and accepts his role. A polished player with regards to the defensive nuances of the game he has added some offense to his game and drives to the net hard. Ashton's skating technique may need to improve as he advances to higher levels.
He has all the necessary tools to dominate at the NHL level; he just needs time to put them all together. However, his skating must improve.
NHLe = 21.76pts (NHLe based on his WHL numbers is 26.99 points)
Potential: First-line power forward
Projected: Second/third line two-way forward with size
How Long Until NHL Ready: 2015-16 season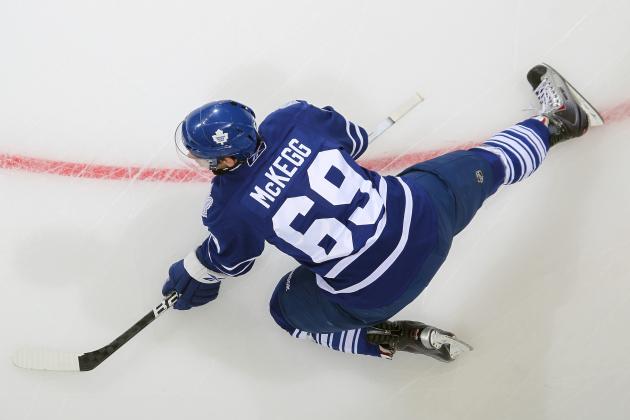 Claus Andersen/Getty Images
McKegg is a prospect that's mostly flown under the radar... that won't last.
Stats: 6'0, 185 lbs., 31G, 75PTS, -34/Playoffs: 11GP, 4G, 11PTS
McKegg is an interesting prospect because he's flown mostly under the radar since being drafted despite being a top offensive player in the OHL since his draft day. Last season, he tied Nail Yakupov for third overall in goals in the "O," and this season, he scored 75 points, good for 20th in the league and second on the London Knights.
McKegg started the season as captain of the miserable Erie Otters and managed only 34 points in 35 games while being the only offensive "star" on the team.
When he was traded to the Knights near the deadline, it was like a lightbulb came on for McKegg, and he went on to score 41 points in only 30 games for the Knights. We can only wonder and imagine what he might've be able to accomplish this season had he spent the entire campaign with London.
Hockeysfuture.com says:
Capable of lining up at center and wing, McKegg is an offensive catalyst with a good mind for the game. He's a natural goal scorer who can find numerous ways to bury the biscuit. Not overly physical, but also doesn't shy away from contact. He has deceptive hands and the ability to slip through tight areas. Game-to-game consistency and strength are areas of weakness in McKegg's game currently.
McKegg is a shifty player with the necessary speed, vision and quick release to be a goal scorer in the NHL. Not a massive player, but he uses his size when he has to, although he could stand to use it more to create space for both himself and his line mates. Needs to add another 10 pounds of muscle mass before being ready for the NHL, but will be able to ease into the pro game with at least a season with the Toronto Marlies starting in 2012-13.
Adding some bulk and just spending some time getting comfortable with the pro game will do wonders for Greg. He could end up being one of Brain Burke's best draft picks.
NHLe =
Potential: First-line scoring forward
Projected: Middle six (second/third Line) scoring forward
How Long Until NHL Ready: 2014-15 season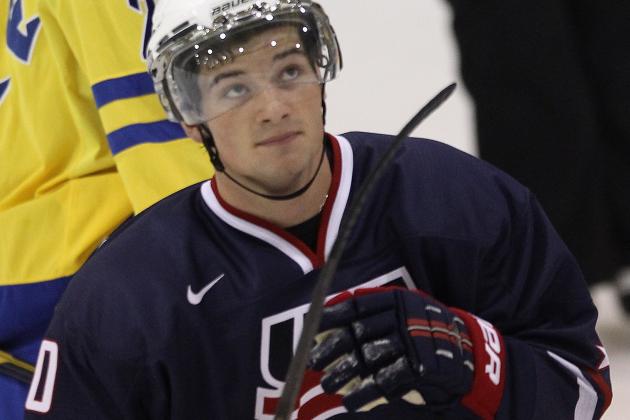 Bruce Bennett/Getty Images
Biggs has chosen to leave the U of Miami. Where he plays next year (OHL, AHL, NHL) is up to him.
Stats: 6'2", 200 lbs/CCHA (NCAA): 37GP, 9G, 17PTS, 63PIM
Tyler Biggs was an off-the-board selection by Brian Burke at the entry draft, with most experts predicting he would fall another five or more spots and not be selected at No. 22. He is everything that a hockey player should be playing on a Brian Burke team. He's big, mean and has truculence coming out the ying-yang. His skating is decent, but could use some work. He can score and is not afraid to go to the dirty areas of the ice to get the puck.
He was committed to the University of Miami, but after his first year, he's decided that it isn't the path for him. This will both help and hinder his development, as the NCAA route is usually beneficial for power forwards because of how much mandatory gym time there is to build up muscle mass. However, he can now choose to play for the Plymouth Whalers of the OHL, who own his rights, where he will be able to really dominate offensively with his size and power game. He could step in with the Toronto Marlies of the AHL to get his feet wet in the pro game.
Another option would be if he has an absolutely amazing Leafs training camp, he could start the season with the Leafs.
Biggs still has a long way to go to be a power forward in the NHL, but he has got all the tools to make Brian Burke look like a genius once he gets there. His skating needs to improve, as does his ability to rein in his aggressiveness so that he doesn't take stupid penalties. He's defensively responsible and, at the very least, projects to be able to handle the rigours of checking line duty.
NHLe = 15.44pts
Potential: Top-six power forward
Projected: Middle-six two-way forward
How Long Until NHL Ready: 2016-17 season
Nick Laham/Getty Images
Stuart Percy was a slightly off-the-board selection by Burke; will it pay off?
Stats: 6'1, 193 lbs., OHL: 34GP, 5G, 25PTS, +18/Playoffs: 6GP, 1G, 2PTS
Stuart Percy had a rough year with the Mississauga St. Michael's Majors, with his season being derailed by a concussion. He's a very well-rounded defenseman who can look like a dominant offensive defenseman some nights, and other nights, he looks like a solid shutdown defender.
He will most likely project as a two-way defender that plays in all situations in the pro ranks. He is a puck-moving defender to a puck rusher like Jesse Blacker or Jake Gardiner, and he's got great mobility and puck control abilities for his age. He's a steady presence on the blue line and doesn't panic easily.
Hockeysfuture says:
Percy possesses all-round capability, and is very calm under pressure situations. He moves the puck efficiently out of the defensive zone and has untapped offensive potential – although he is unlikely to develop into a premiere offensive defender. His focus over the next few seasons will be developing all-round strength (specifically leg strength) to compete for a spot at the pro level.
Percy needs time to adapt to the pro game, and he should probably have at least a season to make sure there are no lingering effects from the concussion.
If I had to compare Percy to anyone, it would be somewhere between the calm, composed and effective puck-moving game of Jake Gardiner and the simple, responsible, shutdown game of top prospect Ryan Murray.
NHLe = 16.6pts
Potential: Top four two-way shutdown defender that plays all situations
Projected: No. 4-5 two-way defender
How Long Until NHL Ready: 2014-15 season (Maybe not by training camp, but as a midseason call-up)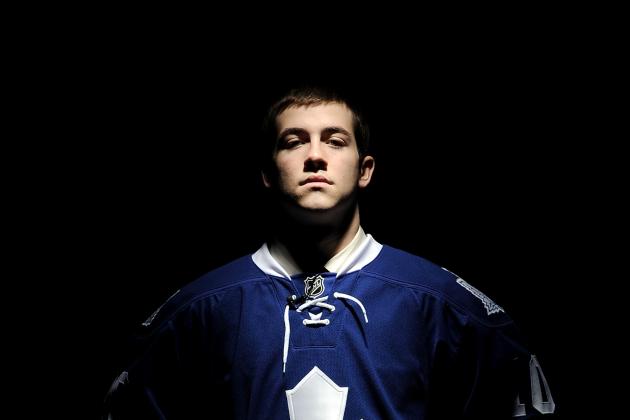 Harry How/Getty Images
Hailed as the Next Darcy Tucker... is he ready to step right into the NHL?
Stats: 6'1", 183 lbs, WHL 68GP, 42G, 82PTS, +15/Playoffs: 21GP, 12G, 22PTS
Brad Ross had a career year with the Winterhawks and looks to have more of an offensive upside than first thought. He still has a very Darcy Tucker-like style of game, and his bread and butter is still very much getting under opponents' skin. He plays a solid two-way game, and with 22 points (12 goals) in only 21 playoff games, he is a clutch, high-stakes player as well.
We won't know until training camp if his two additional seasons in junior have been enough to ready him for the NHL, and he might need some time in the AHL first, but he's closer to making an impact than most pundits thought he'd be. He fights, he can score, he agitates that opposition, he backchecks and he's not afraid to pay the physical price for the team by blocking shots or taking a hit to make a play.
Hockeysfuture.com says:
Considered one of the hardest players to play against in the WHL, Ross brings energy and grit to the mix, which sometimes makes it easy for his offensive prowess to be overlooked. An in-your-face forward who's relentless on the ice, his presence helps create open ice for his ultra-skilled linemates. He thrives in a pest role and should continue to frustrate opponents at the pro level.

For Ross to continue playing his aggressive style of game he'll need to add strength in order to backup his actions. He'll also need to control his aggressive nature as his reputation precedes himself in the hockey world.
Ross needs to add size to his frame in order to keep up his super pest abilities, but he's not as far away from the NHL as some pundits think.
NHLe = 28.74
Potential: Top six super-pest that can score
Projected: Third-line agitator
How Long Until NHL Ready: 2013-14 season (Maybe not by training camp, but as a midseason call up)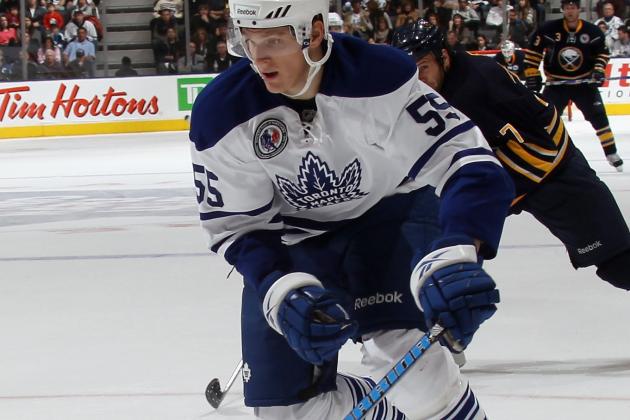 Bruce Bennett/Getty Images
Holzer is a big mean, snarly defending machine. He'll be bringing his talents to the Leafs a lot sooner than later
Stats: 6'3", 206lbs, AHL: 57GP, 1G, 20PTS, +7/Playoffs: 8GP, 1G, 3PTS
Holzer is a big, mean defender who plays a simple shutdown defensive game. He makes smart first passes and actually has a surprisingly accurate slapshot, but is really not gifted offensively, which is fine for him. He loves playing big and mean, and he loves punishing forwards that invade his turf. He has all the tools and seasoning to step right into the No. 5 or 6 spot on the Leafs Blue line next season.
Many consider the DEL (German equivalent of the Swedish Elite League) to be on par with the American Hockey League in terms of talent level, and as such, Holzer has, in theory, played five seasons against AHL-level competition instead of just the two he has in North America.
Hockeysfuture.com says:
Holzer has good size at 6'3, and continues to add strength to his frame. He initiates contact at the proper time and handles himself well in physical contests. He is calm with the puck and has a solid transition game out of the defensive zone. As the 2010-11 season wore on, Holzer started to adjust well to the speed of the smaller-ice surface. Defensively, Holzer plays sound positionally and can neutralize opposing forwards in a shut-down role.
Realistically, there aren't many holes of any significance to Holzer's game, largely because of how simple he keeps it. His skating has improved dramatically since he first arrived in North America, and his confidence has never been higher.
He will be playing in the NHL at some point next season; the only real question is, will it be with the Leafs?
NHLe = 12.76pts
Potential: No. 2-3 shutdown defender that logs heavy minutes on the PK
Projected: No. 5-6 responsible defenseman
How Long Until NHL Ready: 2012-13 season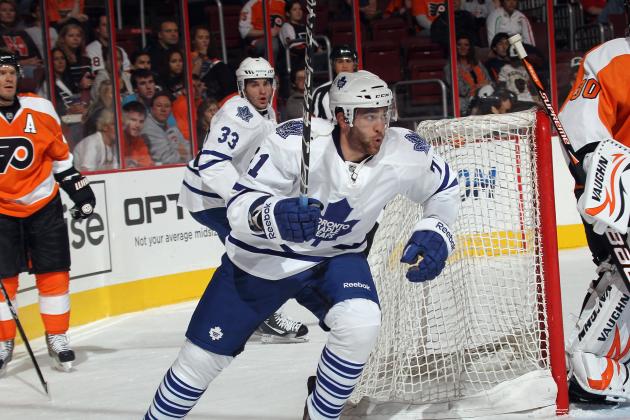 Bruce Bennett/Getty Images
D'Amigo has a legitimate shot at 3rd line duty for the Leafs
Stats: 5'11", 213 lbs, AHL: 76GP, 15G, 41PTS, +13/Playoffs: 8GP, 6G, 9PTS, +10
Jerry was a sixth-round pick for the Leafs back in 2009 and, after a rocky developmental start, has finally started to find his way under Dallas Eakins with the Marlies. He's got breakneck speed and sports an all-around "jack of all trades, master of none" type game. He's a fierce competitor and leaves everything on the ice every shift. He's like a lesser version of the Leafs' Mikhail Grabovski.
On top of his decent regular season, D'Amigo is tearing up the AHL playoffs for the Marlies right now with eight points in seven games and leads the AHL playoffs in goals with six. D'Amigo doesn't have the height normally associated with a player that plays his style of game, but his lower body is Crosby-like. His speedy north-south, chippy offensive game, solid two-way play, great forechecking abilities and an ability to raise his level of play in clutch situations makes him an ideal third-line checking forward capable of filling in on the second line if needed.
Hockeysfuture.com says:
A stocky forward with offensive upside, D'Amigo has the tools to be a quality forward at the pro level. He has a strong, powerful build and can motor at both ends of the ice. He has a tireless work-ethic and leaves everything on the ice. D'Amigo will have to watch his conditioning at the pro level and find ways to translate the scoring success he had in the NCAA and OHL. Should he be able to do so, the Maple Leafs will have a valuable forward on their hands.
D'Amigo has all the skills and drive to make the NHL jump next season, but if he doesn't earn a spot right out of camp, another year of seasoning can't hurt. He will certainly be one of the first call-ups if injury happens if he doesn't make it right out of camp.
NHLe = 21.47pts
Potential: Second/third-line two-way forward used in all situations
Projected: Third-line agitator/checking forward
How Long Until NHL Ready: 2012-13 season