Arizona Cardinals Have Done the Most to Close the Gap on San Francisco 49ers
May 12, 2012

The Arizona Cardinals have enjoyed a productive offseason and have done more than any other NFC West team to close the gap on the San Francisco 49ers. The Cardinals have made a series of solid moves in both free agency and the draft, and could surprise the NFC runners-up.
The biggest reason for optimism amongst Cardinals fans should be a burgeoning defense, developing well under the stewardship of coordinator Ray Horton. After several attempts at trying to find a coordinator who could replicate the Pittsburgh Steelers' model for defense, Ken Whisenhunt has finally found the right man.
Horton's group came on strong towards the end of the 2011 campaign. The emergence of Sam Acho has at last given the Cardinals a consistent pass-rush threat from the outside.
The team has continued to stockpile ex-Steelers veterans equipped with vital scheme knowledge, in the form of defensive end Nick Eason and nickle back William Gay. The unit has been further boosted by the news that Calais Campbell has signed a new deal.
Horton should be able to really open up the playbook in year two and bring even more fire zone pressures. If players like Kerry Rhodes stay healthy in the secondary, this defense will surprise a lot of people.
It would be remiss not to state that there are still major questions concerning the offense, notably at quarterback. Yet the team did whoever will be under center a huge favour, by drafting Michael Floyd in the first round to partner the league's best receiver, Larry Fitzgerald.
Character concerns were raised regarding Floyd, stemming from a series of alcohol-related arrests. However, he is a natural playmaker with a knack for finding the end zone, and someone the Cardinals will certainly benefit from.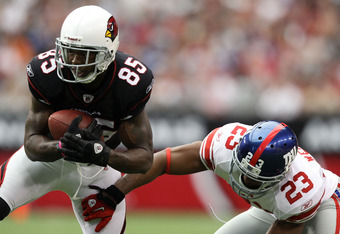 Christian Petersen/Getty Images
With Floyd and Fitzgerald drawing attention on the outside, there will be even more room underneath for Early Doucet and Andre Roberts. What gives Arizona's offense the potential to be lethal this season, is the emergence of Beanie Wells.
The three-year pro has given the Cardinals a rushing threat they didn't even have during their terrific run to the Super Bowl in the 2008-09 campaign. Opposing defenses may not want to risk leaving both safeties deep for Floyd and Fitzgerald, knowing that Wells can pile up the yards on the ground.
One of the best things Arizona did in the draft was add three linemen to the ranks. Bobby Massie and Senio Kelemete can compete for starting jobs right away, and seventh-rounder Nate Potter could surprise many.
Yes, there is still an issue at quarterback—yet that shouldn't put Arizona further behind the 49ers or Seattle Seahawks, both of whom have their own questions to answer at the position. With their defensive potential and a core group of playmakers on offense, Arizona could pull off a major shock in the NFC West.