Every Top 25 Team's Biggest Need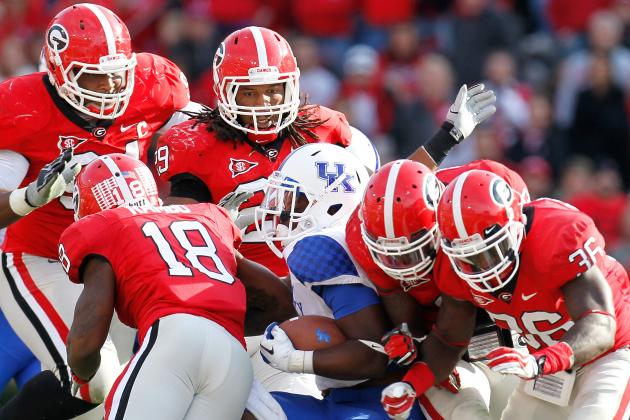 Kevin C. Cox/Getty Images

One knows college football is around the corner when we are already talking about rankings.
Looking at "College Football Live" with its latest 2012 preseason Top 25, many are already discussing around the water cooler whether their team is ranked too high or low.
Perhaps your team was snubbed from the rankings, but there is no such thing as a perfect team. Every ranked team has something it is working on during the offseason. Some might call it a weak link whereas others call it a need.
So, here are your biggest needs for every single ranked team in ESPN's preseason poll.
Begin Slideshow

»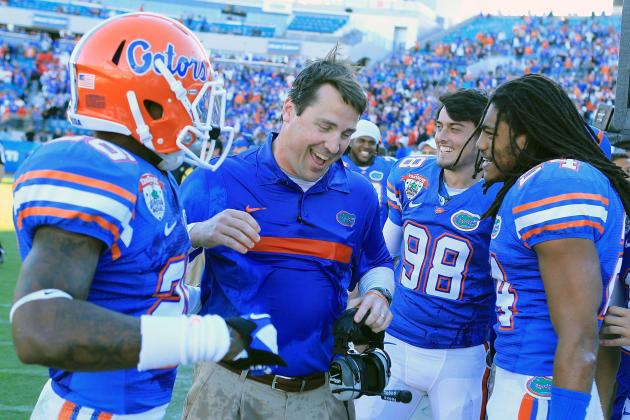 Scott Halleran/Getty Images

With 10 projected starters back on defense, the Gators do not have any serious issues on that side of the ball.
The talented youngsters they possess will give them a chance to do some damage in the SEC East, but their offense will ultimately decide their fate.
The receivers are no longer a major concern since they are developing, but the backfield will be fairly green.
Jacoby Brissett has been known more for his throwing ability whereas the projected backup quarterback, Jeff Driskel, is a run-first signal-caller.
The battle at quarterback should be a tight one throughout the spring and they may share snaps once the season starts, but there needs to be some running backs to step up as well.
Mike Gillislee has flashed brilliance in mop-up duty many times before and, alongside Mack Brown, they have the chance to become a killer combo.
The only problem is they do not have starting game experience in the SEC spotlight, and when you have a fairly inexperienced quarterback(s), success does not always follow.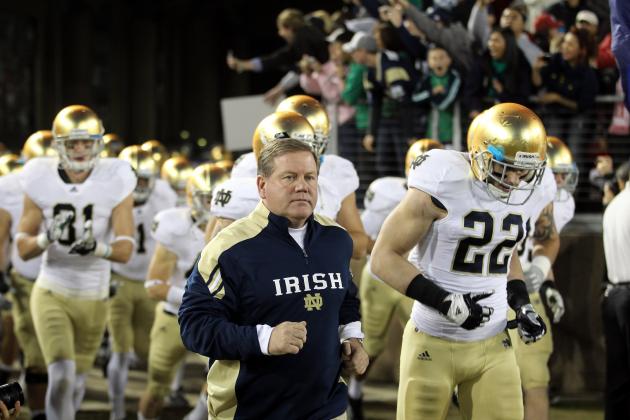 Ezra Shaw/Getty Images

Who on earth is going to start under center for the Irish?
Tommy Rees has struggled both on and off the field, so he certainly does not look like he will be starting over a few guys that have been producing on the field.
Andrew Hendrix, Gunner Kiel and Everett Golson are the candidates, and while Golson looked great in the spring game, it is different once live bullets are being thrown at you.
The passing offense will be a concern without Michael Floyd, albeit All-American tight end Tyler Eiffert returns.
However, the passing defense looks to be a major concern especially since both USC and Oklahoma are on the schedule. Those two teams have two of the better passing offenses in the nation returning.
To make matters worse is all of Notre Dame's top defensive backs are gone in Harrison Smith, Robert Blanton and Gary Gray.
Players that must fill in admirably would be Zeke Motta, Jamoris Slaughter, Lo Wood and Bennett Jackson.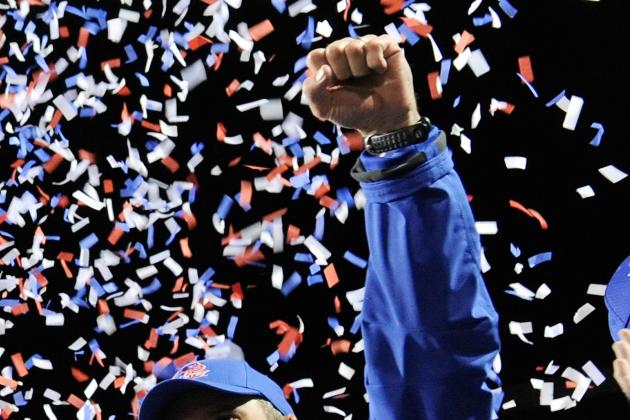 Ethan Miller/Getty Images

We all know Boise State's defense is going to reload thanks to Chris Petersen's track record of stockpiling his team with legit depth for a squad that is not from the BCS.
Both lines of scrimmage are impressive every season, and despite losing one of the better defensive lines in the nation for the past few seasons, they will be just fine.
The quarterback position can easily be looked as the biggest weakness, but Joe Southwick should just be fine with D.J. Harper in the backfield and a bunch of receivers stretching the field.
The top choice for weakness has been their kicker. Jake Van Ginkel had an extra point blocked, whereas Dan Goodale missed an extra point in the spring game.
Are the Broncos even going to bother kicking it when the team is inside the 25?
Petersen may be better off just going for it because it sure seems as if the problems will continue at kicker for the time being.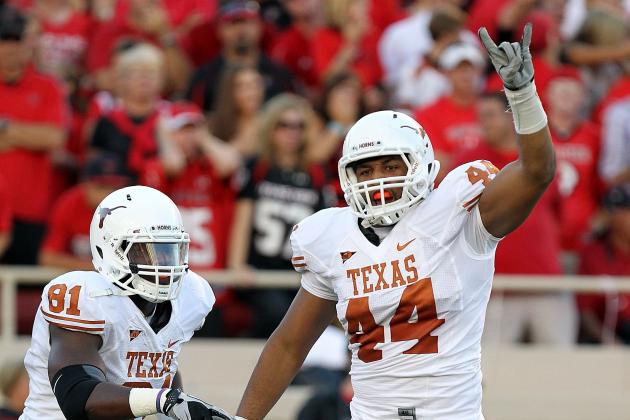 Ronald Martinez/Getty Images

Sure, the Longhorns lose a pair of linebackers in Emmanuel Acho and Keenan Robinson that were studs, but the depth behind them is fairly solid.
The Longhorns were 86th in passing offense one season ago, and they really struggled to have any sort of consistency along the way.
David Ash is the one who will be spinning it in Austin this upcoming season, and he will need the speed freak of Maquise Goodwin along Mike Davis and Jaxson Shipley to perform like studs.
We know there are a ton of running backs that are licking their chops for the season to get here, but if they become a balanced offense, they very well could become the dark horse to win the Big 12.
Doug Pensinger/Getty Images

The Cowboys were so close to playing in the BCS National Championship Game one season ago, and their offense was unstoppable with Brandon Weeden, Justin Blackmon and Joseph Randle.
All but Randle are gone, and the Wes Lunt era looks like it should be just fine with solid enough weapons to stretch the field for Mike Gundy and Todd Monken's offense.
However, that defense really struggled to stop the run last season. Thank God they led the country in turnovers gained at 44 because the front seven was often ran over by the opposition.
They were lucky to sneak by Stanford in the Fiesta Bowl thanks to a few red zone woes by the Cardinal. Oklahoma State was gashed for 243 yards!
There is no way that can occur again in 2012 or else a four-plus loss season will be on the way. Shaun Lewis and the athletic linebackers are not so much as the problem as will be getting pressure on the quarterback off the edge.
If the Pokes defense cannot put opposing Big 12 offenses in obvious passing downs (Big 12 offenses will pass whenever), their productive offense will be on the sidelines and the defense will be huffing and puffing in the fourth quarter.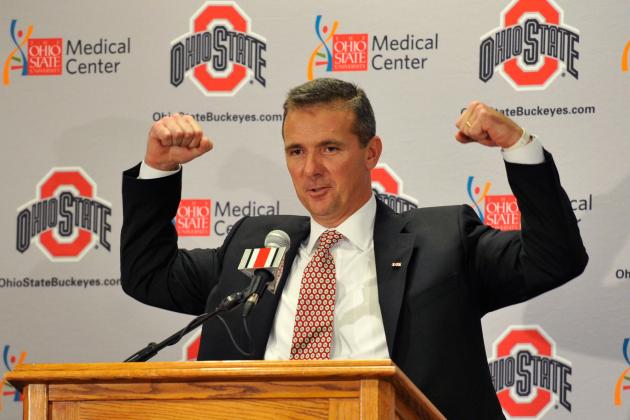 Jamie Sabau/Getty Images

Losing one of the better offensive tackles and centers in the country usually spells disaster for almost any program in America, but the Buckeyes will likely find a way to still move the ball offensively.
Urban Meyer didn't come back to Ohio State to see his Buckeyes struggle out of the gates, and his defense certainly looks borderline spectacular.
However, they need to patch some things together upfront on the offensive side of the ball. Braxton Miller is a scrambler that can freelance and create so much on his own for the group of young receivers he has, but only three linemen return and they are all juniors.
The bad news that Buckeyes fans certainly do not want to hear would be the struggles they had one season ago in terms of protecting Miller.
Mike Adams was suspended for five games, so some of the numbers were skewed, but the bottom line was Ohio State ranked 118th allowing 46 sacks (3.54 per) on the season.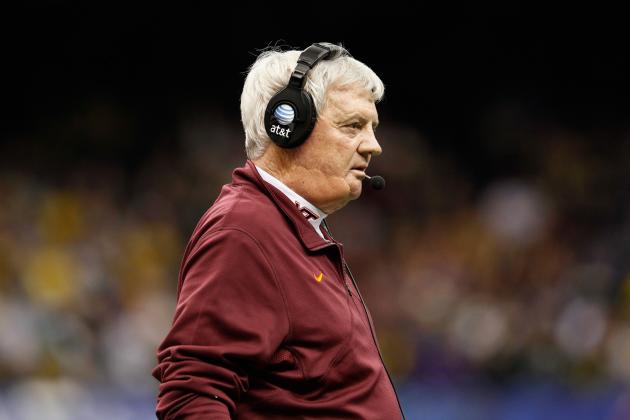 Kevin C. Cox/Getty Images

Every season those who doubt Frank Beamer usually have to cook up a nice meal of crow. The man is a flat out winner and has one of the better streaks going for him in all of sports right now.
Beamer and his Hokies have won 10 or more games since 2004, and they have brought in several NFL backs every fall.
The plethora of backs that Beamers has brought into Lane Stadium has been remarkable, but this season seems to finally have some doubt in regards to who will share the bulk of the load.
J.C. Coleman is a waterbug that cannot exactly tote it 20 times a game, but Tony Gregory will hopefully be healthy in time for the season coming off his ACL injury.
Throw in a highly touted back in Drew Harris, and while the Hokies should not be brutal offensively, there certainly are a few questions heading into the season.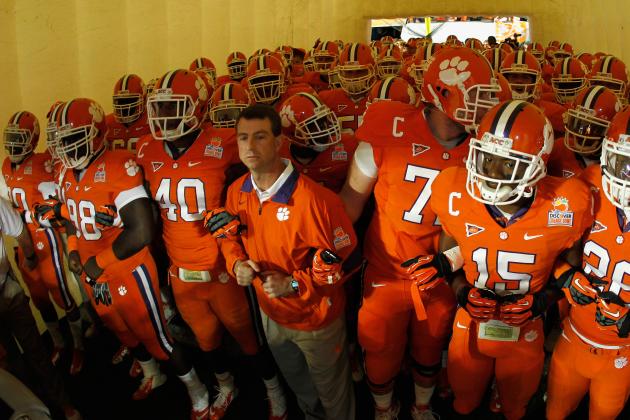 Mike Ehrmann/Getty Images

Looking at Clemson from one season ago, every loss the Tigers encountered was because of their lack of studs on both lines of scrimmage.
Plus, they are losing Brandon Thompson and Andre Branch on a defense that was ranked only 71st in yards allowed per game (394).
The offensive line was nearly the worst in the entire ACC (FSU only worse), as they allowed 33 sacks on the season (2.36).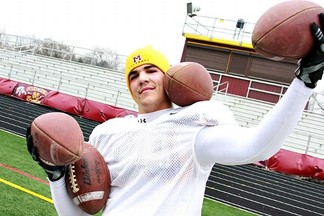 Scott Powers/ESPNChicago.com http://espn.go.com/blog/chicago/high-school/post/_/id/2225/player-of-year-montinis-jordan-westerkamp
Many label and put all the blame on quarterback Taylor Martinez, but to be honest he was arguably not even half the problem.
No offense to the Huskers receivers one season ago, but not many Big Ten teams drew less separation from defensive backs than they did.
Incoming freshman Jordan Westerkamp could change the way you gameplan against Nebraska, which is to load up the box with eight or nine guys to stop a potential future All-American in Rex Burkhead.
Martinez needs to cut down on poor decisions and throws that often took Nebraska out of games. The perfect example was against Wisconsin, where the first play of the second half was a pick thrown by Martinez. Nebraska was still in the game and was a slow, methodical drive from having a chance to come away with the win.
He only had eight INTs, but the 47 sacks he has taken early on in his career seems to have severely affected the passing attack of Nebraska, but somebody else has to step up.
Kenny Bell, Jamal Turner and Quincy Enunwa are some of the receivers that need to be productive or else this offense will not improve much from last season.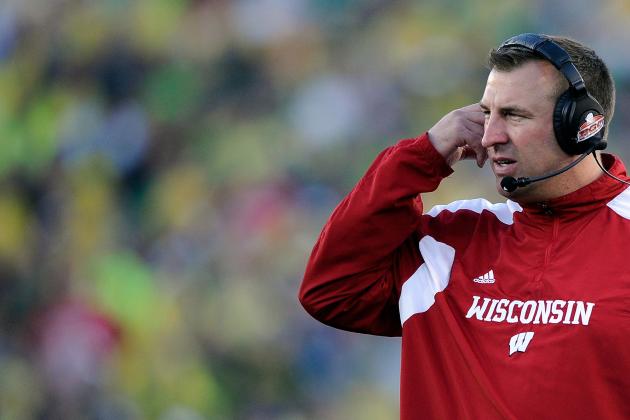 Kevork Djansezian/Getty Images

Erasmus James and J.J. Watt were absolute Big Ten beasts when they lit up the opposition at Camp Randall Stadium.
Luckily, Wisconsin has a vastly underrated secondary and two present/future All- Big Ten linebackers in Mike Taylor and Chris Borland.
Still, the Badgers need to have one of the better defensive lines in the Big Ten if they expect to get back to Pasadena for a third-straight season.
David Gilbert should be fully ready for the season, but he missed all of spring ball recovering from his foot injury that sidelined him for nearly all of last season.
The list is short as far as others playing at a high level with Gilbert, which ultimately cost them perhaps in the Big Ten Championship.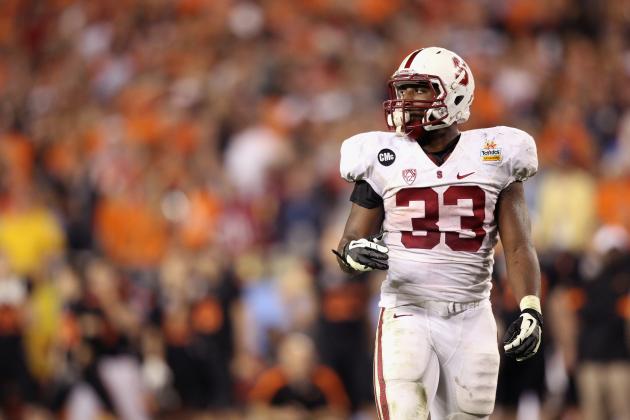 Christian Petersen/Getty Images

Andrew Luck is easily the toughest loss for the Cardinal because he was one of the better superstars in recent memory.
However, Brett Nottingham looks poised to perform well barring the development of his offensive line.
David DeCastro and Jonathan Martin were two All-Americans that protected Luck in all of the heavyweight matchups, and they too will be missed.
Losing Luck will be tough, but these linemen are arguably a bigger loss. Stanford was and will remain a running team thanks to several stud backs and tight ends.
Stepfan Taylor is an All-Pac-12 running back, but he will likely not have as many holes to run through.
It may sound like nitpicking since the numbers will not drop too much, but even with three starters returning, there will be some struggles early on in the season.
Throw in a brand new secondary, and the Cardinal will find it difficult to blowout let alone dethrone every conference opponent it faces in 2012.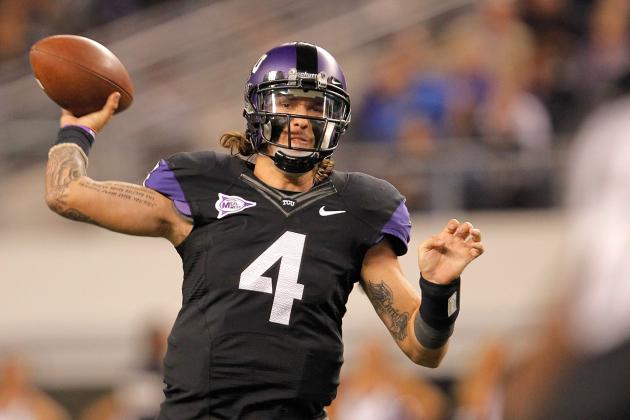 Sarah Glenn/Getty Images

The Big 12 has thrown the pigskin around a time or two, and it might be best to not allow receivers to get a nice cushion.
Two starters technically return, but the experience and overall talent level will be a great test in the Big 12 for the Horned Frogs. Gary Patterson always puts together a fine defense, but this is no longer Mountain West competition.
Oklahoma, Texas Tech, Oklahoma State and West Virginia can sling it with the best of them, so TCU must have a few unknowns perform like the norm.
Up front, Casey Pachall would love it if he could set his feet like he did last season. TCU allowed only 13 sacks for the entire season which is tremendous, but it is losing three starters, which is a lot of production that will be gone.
Blaize Foltz returns as he was an All-Mountain West guard that was capable of doing many great things, but Pachall may need to pull a Houdini act in a few games in order to avoid overwhelming pressure.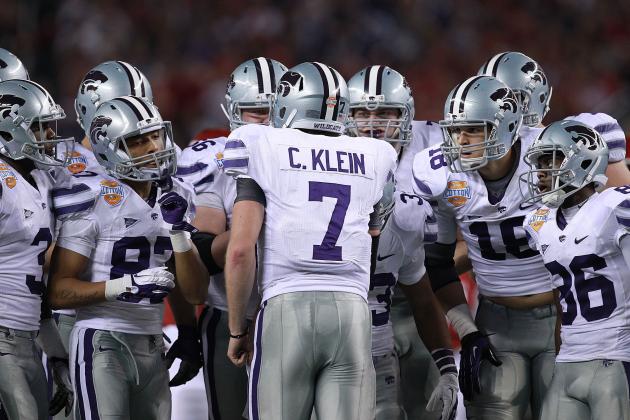 Ronald Martinez/Getty Images

The Wildcats had one hell of a season in 2011. To reach the Cotton Bowl and win 10 games in which many, including myself, thought they would fall short of a bowl game is truly remarkable.
Bill Snyder is a hell of a coach after turning over this program on two separate occasions, but how will this team react after it had so much success?
The Wildcats will have a bit of a bulls-eye on them since it is a strong likelihood we see them ranked in the top 15 during the preseason.
Kansas State won so many close games last season that it almost seemed as if lady luck was always on their side until they ran into Oklahoma and eventually Arkansas (Snyder has proven to be a winner though).
Collin Klein was ridiculous last season setting an FBS record for a quarterback with his 27 rushing scores. Still, the passing offense was abysmal ranking 108th in the country, averaging only 151 yards per game.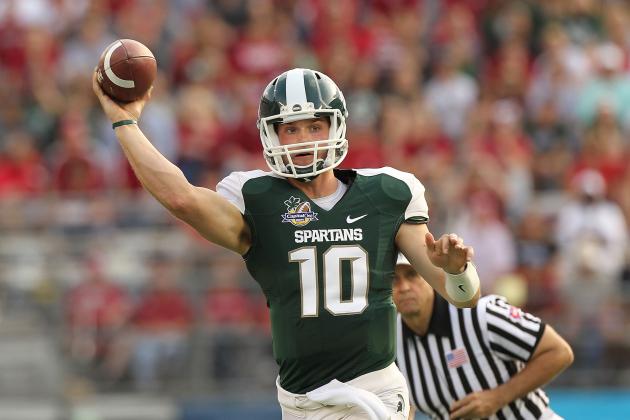 Mike Ehrmann/Getty Images

Several ranked teams come into the year highly ranked, and yet they ultimately struggle to live up to their expectations because they have a hard time completing a crucial pass.
Michigan State was clutch last year thanks to Kirk Cousins, who has to be considered one of the greatest Spartan quarterbacks thanks to his 22-5 record in his final two seasons.
So, Andrew Maxwell must be able to fill that void that Cousins is leaving behind because this is a team game we are talking about here.
There are a ton of question marks at the receivers, but there are a ton of potential answers. DeAnthony Arnett cleared waivers from Tennessee, and he is eligible to play right away for the Spartans.
That is crucial since guys like Tony Lippett, Andre Sims Jr, Jeremy Langford, Bennie Fowler and Keith Mumphery will be counted on after barely seeing the field in the past (if at all).
Just hanging onto the ball will be crucial if Sparty expects to finally win/reach that coveted Big Ten title and appearance in Pasadena.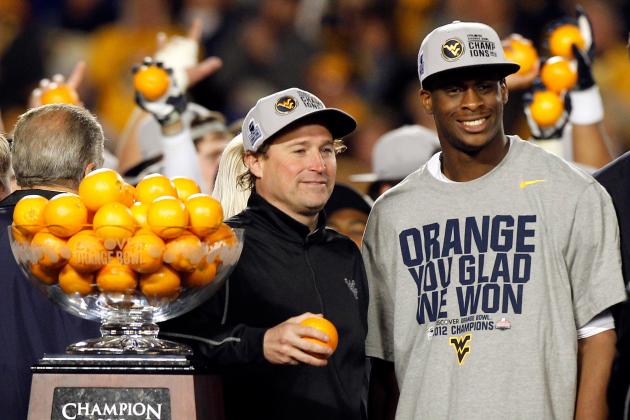 J. Meric/Getty Images

The Mountaineers offense will rank among the elite in college football, so the transition to the Big 12 will not be an impossible one.
However, the defense is where everybody will see just how far they can go in year one.
Losing Bruce Irvin and Julian Miller up front will test the will power, and they better be up for the challenge or else this loaded squad may fall short of a BCS trip.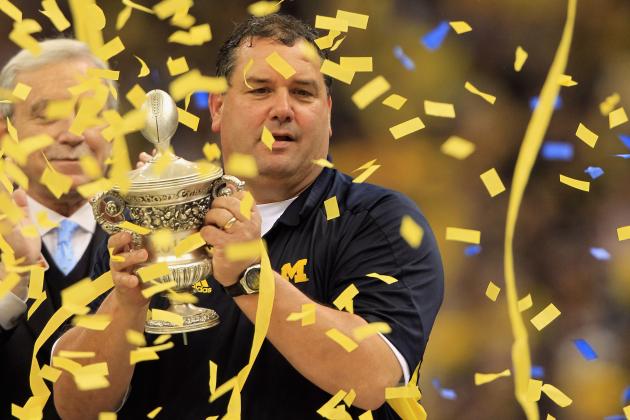 Matthew Stockman/Getty Images

Denard Robinson would love to get a few more stud receivers to thread the needle to, but he has proven to bail out his receivers after buying a ton of time in the pocket.
The Wolverines were as stout as it gets since Lloyd Carr left, and they must be able to live up to the expectations despite the losses from Mike Martin and Ryan Van Bergen.
The linebackers are loaded with everything you could ask for, and the secondary is improving by the day.
If the Maize and Blue remain relevant up front, they may just be smelling roses next season.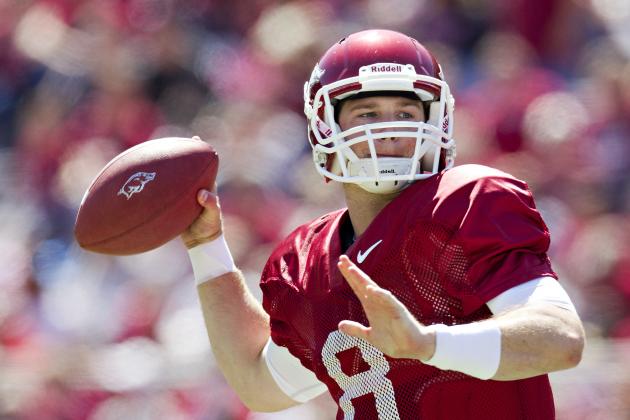 Wesley Hitt/Getty Images

The Razorbacks are a national championship-caliber of a team with their explosive playmakers on both sides of the ball (Alonzo Highsmith is vital but still recovering from pectoral injury).
The offensive stars they have coming back are clutch, and the combo of Tyler Wilson and Knile Davis could take them a far ways if their offensive line can get the job done.
That really is the only issue offensively speaking, and the Razorbacks have three starters returning up front.
Nobody is better than Alvin Bailey, but they will need their inexperienced players to perform well when they take on both Alabama and LSU.
Wilson can buy time with his feet because he is a stud after all, and the same goes for Davis, but they can only carry this team so much when they go up against arguably the top teams on the planet at home.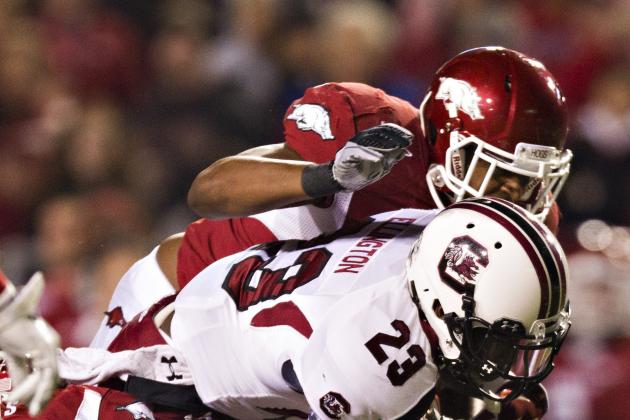 Wesley Hitt/Getty Images

Alshon Jeffery is now a Chicago Bear, and the Gamecocks better get the production they were looking for last season.
The field was not stretched enough in the clutch games against Auburn and Arkansas.
If the likes of Ace Sanders, Bruce Ellington, DeAngelo Smith and Justice Cunningham (among few others) cannot fill the void, SC will be sitting home scratching their heads when it's not in Atlanta on that first Saturday of December.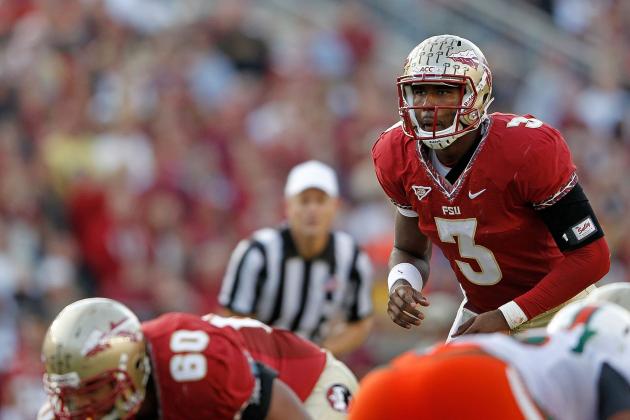 Mike Ehrmann/Getty Images

Is there any concern that anybody is even whispering about on this team other than their offensive line?
If they had the same studs on their offensive line as opposed to their defensive line, this team could beat anybody (not saying the likes of Josue Matias, Jacob Fahrenkrug, Bryan Stork, Garrett Faircloth, Bobby Hart cannot become the best in the ACC).
The issue is they do not have any superstars up front on offense, which could make E.J. Manuel's life difficult, but they were full of youth last season.
All of these starters that have returned (all of them) have a season under their belts which should help them down the road.
However, this group was porous statistically as they were 110th in sacks allowed per game (3.15, 41 for season). Not only is that not BCS title contender-worthy, but it is arguably not even ACC title contender-worthy.
Virginia Tech should be able to harass the quarterback with the best of them, and we know Clemson has given the Noles a ton of fits through the years, so this unit could make or break them in 2012.
Kevin C. Cox/Getty Images

Bacarri Rambo has been suspended for the first four games of the regular season due to violating Georgia's alcohol and drug policy last season.
Spring break can get a little hectic, but the Bulldogs defense has the capability of becoming the best in the SEC (and beyond).
UGA has nice depth up front and the speed is quite filthy, but will they live up the hype despite the fairly soft schedule?
Avoiding the big dogs from the West is a gift from the football gods, but the Dawgs have a few concerns in the secondary with Rambo missing some action.
Malcolm Mitchell was the one receiver that Aaron Murray could nearly never overthrow, but he is now likely to start and or play significant time at defensive back early on in the season (he will play some receiver also).
Mitchell was solid in the spring and he drew praise from teammates, but it is a whole new game when there are live bullets being thrown at you.
If the corners can hold up, this has the makings of becoming one of Mark Richt's best teams he may ever coach.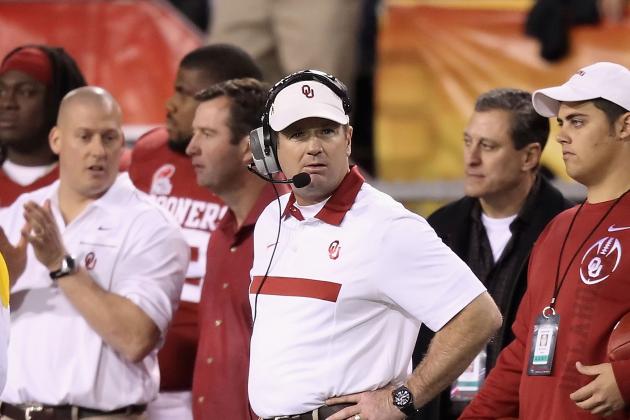 Christian Petersen/Getty Images

Frank Alexander and Ronnell Lewis were freaks off the edge, and the ability and production from their former defensive coordinator Brent Venables has been impressive.
However, Venables is gone and now Bob Stoops' brother Mike will fill in.
Which Sooner performer will be the next to fill in admirably for those two studs that are now gone?
The interior won't be a problem with Jamarkus McFarland and Casey Walker, but it is imperative the pass-rushers (David King, R.J. Washington, Chaz Nelson, Chucka Ndulue) continue to harass the passer (eighth last season in sacks, 40).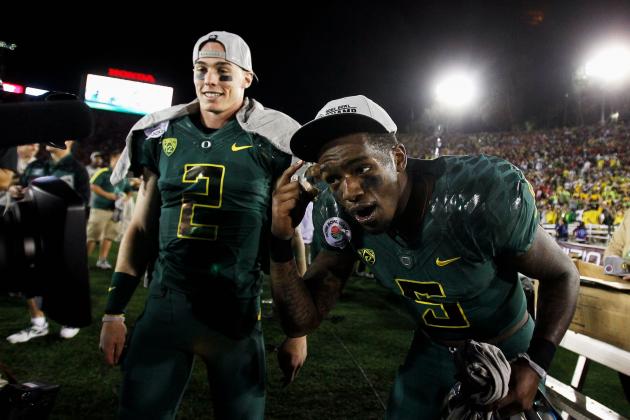 Jeff Gross/Getty Images

The third-string quarterback was not even a household name in his backyard last season in Eugene, but now he has a chance to become a star in 2012.
Marcus Mariota is battling his brains out with Bryan Bennett for the starting gig of Chip Kelly's high octane offense.
The Ducks high octane offense has gone bonkers for the past few seasons, and there is arguably no other team more exciting to watch in college football these days.
Regardless of who starts, the experience factor (Bennett has thrown 46 passes, Mariota redshirted) will challenge this team, and many believe that when you have two quarterbacks, it often means you have zero.
Luckily this squad only has five road games and just one will be against a ranked team.
That one game could be against the top-ranked team in America with Matt Barkley and those eye-popping Trojans waiting in their own backyard for whoever is ready to go under center for the Ducks.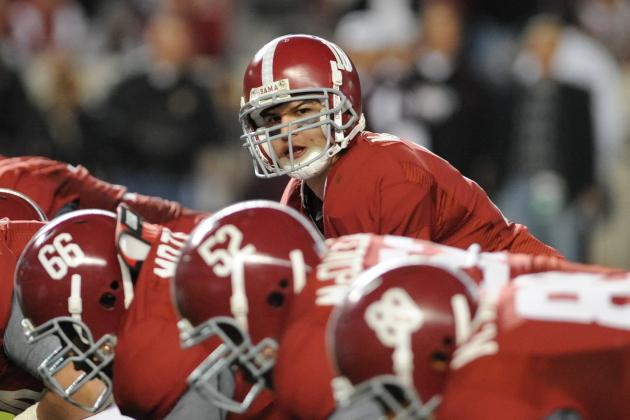 Al Messerschmidt/Getty Images

Does Alabama have any legit weaknesses?
Nick Saban will not point to any glaring weaknesses, but he is going to get everything out of his team.
A.J. McCarron returns at quarterback which is huge for a backfield that will be featuring a few young running backs.
The offensive line could easily be the best in the country with three linemen that will likely garner All-American and All-SEC consideration (Jones, Fluker, Womack).
The receivers torched the Bayou Bengals when they played for all the marbles, which is a great sign for the near future.
The defense loses a couple of the best players in the country from one season ago, but the depth and overall talent is arguably better from one season ago (they could get few more sacks).
The one weak link could be the fact that there may not be a lock of a first-rounder on the defensive side of the ball, but many will argue Robert Lester and or Nico Johnson will be right there next season.
The other weak link is they will likely not have any defensive linemen on the preseason All-SEC First Team (perhaps not the second team either). Still, they will come after you and make sure quarterbacks know who everybody's name is on that defense in 2012.
Looking at the red zone, last season the Tide were 19th in red zone offense, and they were No. 1 for defense.
Can those numbers occur again?
Certainly they should offensively, but will the defense continue to dominate the opposition when they get close to scoring?
Crimson Tide fans are screaming (hell yes we will shut down everybody) about how they will get the job done, but we can count on SEC opponents to show up like Alabama is their Super Bowl every weekend.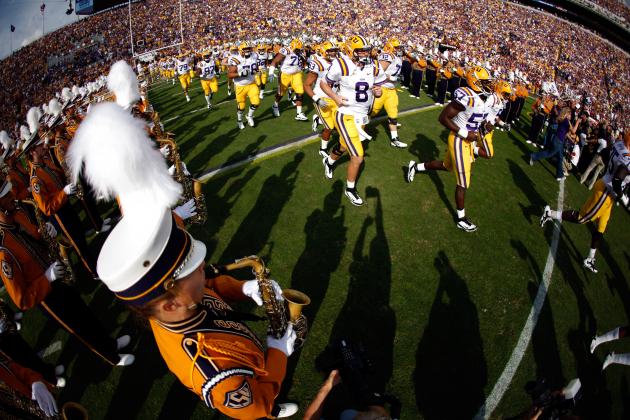 Chris Graythen/Getty Images

The life of the Bayou Bengals was nearly perfect last season until Alabama ruined their dream season.
Jordan Jefferson struggled miserably in the final two games of the season, and it cost the offense dearly against the Tide.
The defense is absolutely loaded up front, and they have one of the better defensive backfields in the country.
However, the linebackers could perform with more consistency in order to officially become the best defense in the nation.
Throw in the lack of experience from Zach Mettenberger, and many are wondering just how much the offense will improve against the elite competition?
Alabama, Arkansas and a potential SEC East winner in the SEC title will be easier said than done for the former hot-shot Georgia recruit.
Seemingly one of the more talented quarterbacks that Les Miles has coached at LSU will give his team a great chance to get back to Atlanta (and to BCS title), but the big-game experience will truly test the patience of all Tiger fans.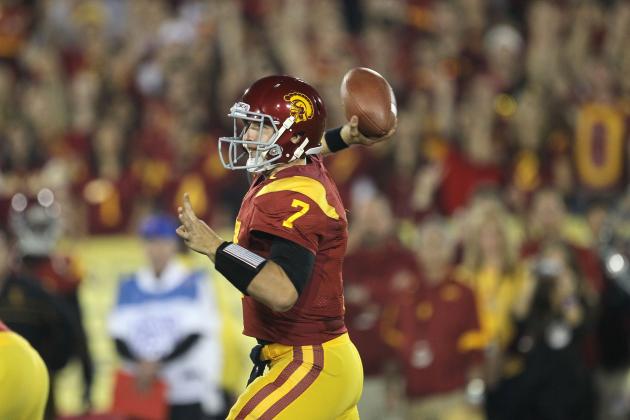 Stephen Dunn/Getty Images

If Matt Barkley were to miss any significant time under center, this offense would be in some trouble, but wouldn't any team panic if they lost their superstar quarterback?
Barkley is without a shadow of a doubt the top player in the nation heading into the 2012 season, and while he may not be as talented as say an Andrew Luck for the next level, he could do something Luck never did: Heisman or BCS title.
If Barkley would go down, look for Matt Wittek and Cody Kessler to take over from there, although no Trojan fan prefers to even think of such a terrible thought.
Their offense should be the most explosive in the country next season, but they need their defensive tackles to stuff the run better.
USC was 18th against the run last season thanks to a ferocious front line that was extremely quick off the ball.
Nick Perry is gone on the edge, but they have plenty of depth with West Horton and Kevin Greene (Greg Townsend may be better).
However, the tackles need to produce like legit Pac-12 performers if USC expects to run the table and rock and or compete for a BCS National Championship. Ranked as the top team out there by several publications, they need a few unknowns to grab America's attention.
Antwaun Woods, J.R. Tavai and George Uko are question marks at the moment, but they could be the ones to help the Trojans return back to the promised land.