Serie A Transfer Rumors: 11 Big-Name Italians Set to Move This Summer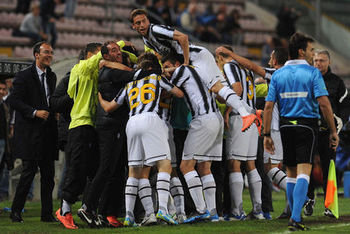 With the European season ending, the opening of the summer transfer window now looms large over Europe. Players will move, money will be spent, and hopes for next year will be born or be sunk before they ever began.
Some of the best Italian players from all over the world could be on the move. Who will they be? Where will they go? Let's take a look at some of the biggest Italians moving in this summer's window.
Riccardo Montolivo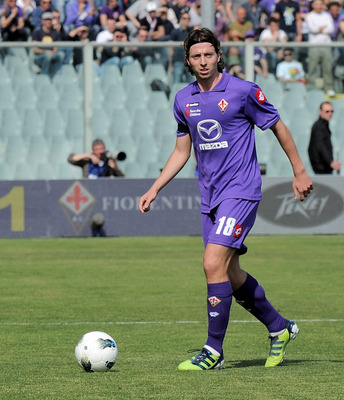 Dino Panato/Getty Images
It has been a known fact for months that Riccardo Montolivo will be moving from Fiorentina to A.C. Milan on a free transfer this summer.
Having been toppled from the Serie A throne this season by Juventus, the rossoneri are now realizing just how misguided the decision to allow Andrea Pirlo to move to the Turin giants on a Bosman last year was.
Pirlo's wonderful play from the midfield this year keyed Juve's scudetto drive, while Milan suffered from a dearth of creativity in the midfield and relied increasingly on Zlatan Ibrahimovic to get them out of trouble as the season wore on.
Montolivio—once considered an heir-apparent to Pirlo on the national team—will inject a much-needed boost of youth and creativity to Milan's midfield, filling the regista role that Pirlo once so ably held down at the San Siro.
Sebastian Giovinco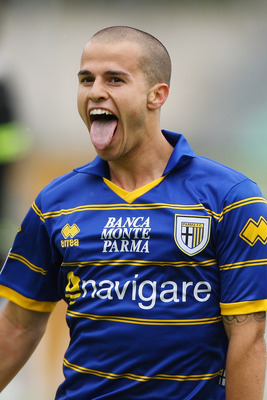 Paolo Bruno/Getty Images
The Atomic Ant led Parma to an outside chance of European qualification—they were officially eliminated last week—but it is almost certain that Sebastian Giovinco will be moving for bigger potatoes this summer.
Any move he does make must be preceded by a resolution of the co-ownership deal between Parma and Giovinco's parent club, Juventus. Juve is likely to win out in that situation, but what they do with him afterwards will be interesting.
With Alessandro Del Piero likely leaving the Turin giants at season's end, Juve's No.10 shirt will be available for the first time in nearly 20 years. Giovinco has admitted that he would return to Juve in the right circumstances, and that the prospect of wearing Juve's No.10 is tempting.
However, if Giovinco doesn't get the guarantees he wants for a Juve return, there are plenty of other options for him.
Last month Barcelona was identified as a potential suitor by Giovinco's agent, Antonio D'Amico. Premier League giants Chelsea, faced with the prospect of having to completely rebuild their front line should Didier Drogba leave at the end of his contract, also have interest in the Italian spark plug.
As in-demand as Giovinco is now, the next few months could see his eventual transfer fee increase substantially. A virtual lock to go to Poland with the Azzurri for Euro 2012, a top-notch performance on the international stage could shoot his worth into the stratosphere.
Alberto Aquilani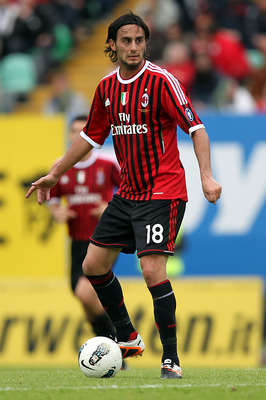 Gabriele Maltinti/Getty Images
Alberto Aquilani has been quite the traveler these past two years. After a loan spell at Juventus last season revitalized his career, Kenny Daglish didn't know how to fit him into his squad at Liverpool this year and sent him back to Italy on another loan this year, this time to A.C. Milan.
This loan spell was less successful due to injuries, but Aquilani is still a wanted man. Juve had wanted to make his loan spell permanent last year, but decided the fee to seal the deal was too high.
Considering the midfield combination they have built now, it's unlikely that they'll move for him now.
Several months ago, it was considered a lock that Milan would make this newest loan permanent, but the confidence in that has eroded lately. The acquisition of Montolivo doesn't rule him out for Milan—at least not tactically.
Montolivo is better as a deep-lying regista, and while Aquilani can play that role, he is better in a more advanced role as a trequartista—a role that Milan has tried vainly to fill with Dutchman Urby Emanuelson this season.
However, it may be in Liverpool's best interests to finally reincorporate Aquilani into their squad. Big-money midfield acquisitions Charlie Adam, Jordan Henderson, and Stuart Downing have been complete flops this year. Their lack of form combined with the December injury of Lucas Levia rendered the Reds midfielder completely ineffective, the direct cause of their horrible finish.
In the absence of any other potential suitors, I'd guess that this year is the year he finally returns to Anfield—it's cheaper to take the quality player they already have than trying to outbid Arsenal, Chelsea, and the Manchester teams for help.
Antonio Di Natale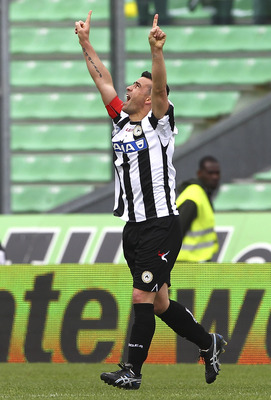 Marco Luzzani/Getty Images
This one is going into unorthodox territory because the likelihood of Antonio Di Natale leaving Udinese for another club is close to nil.
The Di Natale move that has everyone in Italy buzzing is a move out of soccer for good.
The Udinese captain—two-time defending capocannoniere before a late-season slump found him finishing fourth behind winner Zlatan Ibrahimovic this year—is 34 years old and has been unable to train between matches since suffering an injury this year, and was deeply affected by the death of Udinese teammate Pieromario Morosini, who was playing on loan for Serie B club Livorno when he collapsed on the field and died a month ago.
Shortly after Morosini's death, Di Natale criticized the full match schedule of top-level soccer players and intimated that he would be considering his options once the season comes to an end. About a week ago, he seemingly confirmed that he would retire after playing for Italy at Euro 2012 before backtracking and issuing a company-line statement that he was only focused on Udinese's efforts to return to the Champions League.
Needless to say, if Di Natale were to leave soccer, Udinese would be an entirely different team. The zebrette are likely praying that this is merely an emotional reaction to Morosini's death. Otherwise next year Udinese's rise to prominence in Serie A could come to a very sudden stop.
Mario Balotelli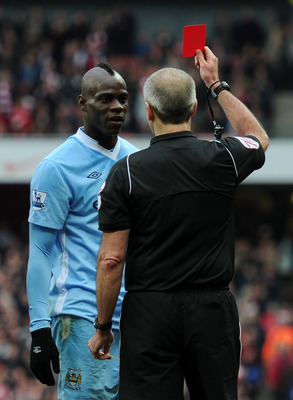 Michael Regan/Getty Images
Mario Balotelli has probably kicked his last ball for Manchester City. Four red cards in two seasons with the club, as well as stunts ranging from the playful (throwing darts at youth team players in City's training facility) to the selfish (arguing on the field with teammate Alexsandar Kolarov over who would take a free kick, followed by a locker room spat with midfielder Yaya Toure) have likely been the final straw for Roberto Mancini and the Citizens' brass.
Balotelli has been linked with A.C. Milan—the team the Ghanaian-born Italian striker grew up rooting for. A partnership between Balotelli and Zlatan Ibrahimovic—should it stay together—would likely be deadly.
Another possibility is former team Inter. Strong speculation began when Balotelli randomly crashed the introductory press conference of new Inter manager Andrea Stramaccioni in March. What Balotelli was doing in Milan rather than Manchester on a Tuesday during the season is anyone's guess (although his family does live in Lombardy, so that might be overly harsh) but bringing Balotelli back would make sense for the nerazzuri, who, despite the resurgence this year of Diego Milito, are likely to address the hole left by the ill-advised sale of top striker Samuel Eto'o last summer.
Balotelli may be able to repair his image somewhat if Cesare Prandelli takes him to Poland for the Euros, but his antics will likely mean he'll be affordable on the transfer market should he be sold—which I think is likely, despite his agent's claims to the contrary.
Angelo Ogbonna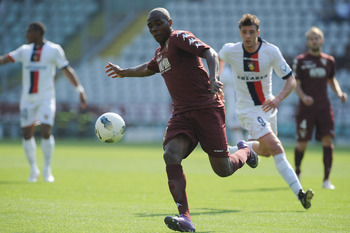 Valerio Pennicino/Getty Images
Torino center-back Angelo Ogbonna has been a curiosity the last few years as the only player on the Italian national team to play for a second-tier club rather than a top-flight team.
That situation may change this season, whether Ogbonna moves away from the other Turin club over the summer—il toro are currently in second place in Serie B with three games left to play.
But several teams are looking into acquiring his services for 2012-13. Liverpool have been linked to him, as have Manchester City. Arsene Wenger is thought to rate the Italian highly as well.
On the home front, Torino's archrivals Juventus have been linked with Ogbonna, who like current bianconeri vice captain Giorgio Chiellini, can play in the center or on the left, a position of need for Juve. However, Ogbonna's loyalty to his current club is strong and he has publicly claimed that he will not join the bianconeri.
Other Italian teams have huge interest in the defender, but he is a boyhood fan of A.C. Milan, and they have reportedly opened negotiations with Torino with the intent of making him the heir to the departing Alessandro Nesta.
Alessandro Del Piero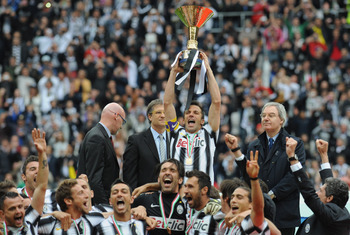 Valerio Pennicino/Getty Images
The legendary Juventus captain has been having his last hurrah with the bianconeri this season. In October, Juve president Andrea Agnelli controversially announced that Del Piero would not return to the Turin giants after his current contract runs out.
Next week's Coppa Italia final against Napoli will be Del Piero's final match with the team that made him legend, but despite earlier desires to end his career in Turin, Del Piero said shortly after Agnelli's announcement that he believes he has gas left in the tank, and that he will continue his career next season.
Many teams would be interested in such a player. An intriguing possibility is a move to Premier League side Arsenal. Rumors were reported on football-italia.net and talksport.co.uk in March that Arsene Wenger was considering the move thus summer.
He would be an immediate upgrade to Arsenal's backup strikers Marouane Chamakh and Park Ju-Young. The combined abilities of Del Piero and Robin van Persie (should he stay with the Gunners) would have unlimited potential. He would also help fill the hole should van Persie leave the team.
He could also stay in Italy. Udinese president Gaimpaolo Pozzo has said that he believes he would fit in well to his side
The more probable option, however is a move across the Atlantic to MLS. Most of the talk has him joining former Arsenal and Barcelona striker Thierry Henry with the New York Red Bulls. The Red Bulls (and their previous incarnation, the New York/New Jersey Metrostars) are the only New York pro sports team to have not won a championship, and Del Piero could give them the firepower they need to overtake their rivals and lift the MLS Cup.
Other MLS teams, like the Chicago Fire and Seattle Sounders, are also vying for his services. It remains to be seen where he will be headed as the transfer window opens.
Alberto Masi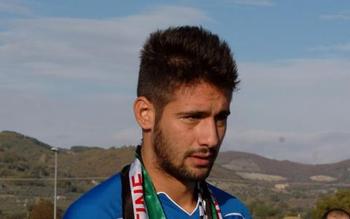 You may not know this face. Odds are you will soon.
At 19 years old, Alberto Masi is one of the hottest young defensive prospects in Italy. A member of Sampdoria's youth squad, he was loaned out to Serie C side Pro Vercelli this year. He is being referred to as the "new Nesta."
Several top-tier teams are scouting the teenager. Atalanta and Arsenal are two of the teams that have inquired into his services, and he could soon join Ogbonna and Inter's Andrea Ranocchia as the next generation of Italy's defense.
Expect him to stay in Italy.
By the way, speaking of Nesta...
Alessandro Nesta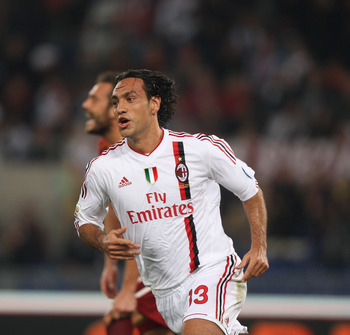 Paolo Bruno/Getty Images
Another Italian legend set to leave his side, the 36 year old Nesta confirmed this week that he will be leaving A.C. Milan this summer. While there are few indications where he may wind up, he, like Del Piero, is strongly linked with MLS, and the Red Bulls in particular.
Nesta's departure from Milan, while long suspected, was not as definite as Del Piero's has been from Juve, so there has not been nearly as much speculation as to his destination.
We'll have to see how things develop, but it looks like the 2006 World Cup winner will join his former international teammate in the US.
Ciro Immobile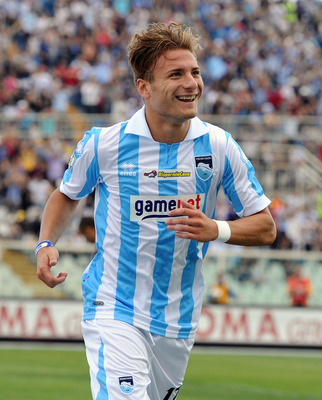 Giuseppe Bellini/Getty Images
Highly rated striker Ciro Immobile has finally, at 22, found his footing as a professional striker. On loan from Juventus with current Serie B leaders Pescara, Immobile has scored 27 times this season and has the delfini on the cusp of their first trip to Serie A in nearly 20 years.
He has the potential to develop into a world-class striker, which is exactly what the top brass at Genoa thought when they secured a co-ownership deal with Juve for half his rights at the deadline of the winter transfer window in January.
Immobile was allowed to complete the season on his loan, but this summer he will move from Juve to the grifone over the summer and will be expected to partner winter signing Alberto Gilardino to key Genoa's attack—a necessity if they are to avoid a repeat of their embarrassing 17th place finish this season and win back the support of their fans.
Marco Di Vaio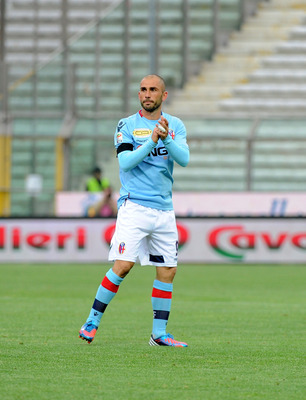 Dino Panato/Getty Images
Amidst the constant speculation over Serie A's aging stars moving to MLS, one of them has recently confirmed that he will be doing just that. Bologna ace Marco Di Vaio has announced that he will be joining the MLS's Montreal Impact this summer.
Di Vaio has scored 65 times in 141 Serie A games for the rossoblu in the four years since he joined them from Genoa, but he is 35 years old and has said that he no longer wants to "feel like a weight to the club and the fans."
Di Vaio will add an abundance of class and skill to Montreal, who have just started their first season in the MLS after being added to the league as an expansion team.
He will be reunited with former Valencia teammate Bernardo Corradi, and provides a solid goalscoring threat for the Canadian side as they look to start their tenure in MLS much the way the Seattle Sounders did when they entered the US's top soccer league in 2007.
Keep Reading