London 2012: International Athletes Who Will Excite in Olympics
May 12, 2012

Mark Dadswell/Getty Images
The Olympics have always been an international showcase for the best athletes in the world to display their talents. 
In London, the international community will boast some great hopefuls and it is always important to keep in touch with the sports world outside the United States of America. 
Here are some international athletes that will excite in the 2012 Olympics. 
Salah Mejri, Tunisia: Basketball 
Salah Mejri is a monster of a man standing at 7'1". 
It's the first time that Tunisia has ever seen a seven-footer on their roster. What Mejri brings to the court is a real center. 
Tunisia now has a solid big man to go up against the premier centers of the world. The added pressure from the team means increasing his rebounds and blocks totals and staying out of foul trouble. Like most big men, Mejri has found himself getting in the inviting waters of fouling because of his size.
The seven-footer has been improving at a substantial rate and should be ready to perform well in London. 
His nine rebounds per game in the 2011 FIBA Africa Championship is a testament to what Mejri can do and should be able to do in 2012.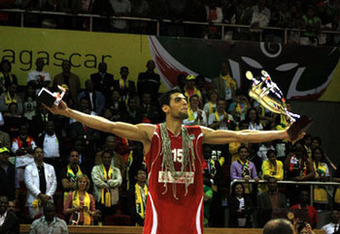 Did I mention that he is 7'1"? Tunisia is an underdog to watch in basketball and Mejri will be at the forefront of a potential shocker. 
Emanuel Rego and Alison Cerutti, Brazil: Beach Volleyball 
This Brazilian duo is the team to beat on the sand. They won the 2011 World Championships in June and the world is waiting for them to excite in London. 
Rego already has two Olympic medals to his name as he won gold in Athens 2004 and picked up a bronze in Beijing 2008. He also has won gold in four World Championships and in the 2007 Pan American Games. 
Rego has countless other awards to his name including the Men's FIVB World Tour "Most Outstanding" award that he won in 2006 and 2011. 
Since pairing with Cerutti, the duo has thrilled the world en route to winning the Men's FIVB World Tour Team of the Year in 2011. 
The budding rivalry between the Brazilians and the Americans Phil Dalhausser and Todd Rogers will be an interesting one to watch. 
Chris Hoy, Great Britain: Cycling 
Sir Chris Hoy is the most successful British Olympian in a century. He is also the most successful Olympic male cyclist of all time.
Hoy nabbed three gold medals in Beijing for the sprint, team sprint and keirin which added to his gold from Athens and his silver from Sydney. 
The cyclist has won countless number of medals at multiple world championships, and while he may be 36 going into London, expect the home crowd to cheer on their countryman as he finishes with at least one gold medal.