Boston Bruins: Should They Retain Any of Their Trade Deadline Acquisitions?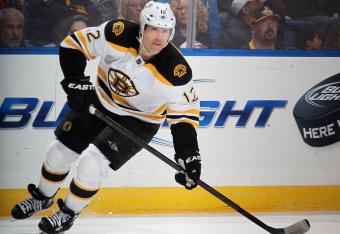 Bruce Bennett/Getty Images
There is nothing valuable Greg Zanon can bring to the Boston Bruins' blue line that Zdeno Chara, Dennis Seidenberg and Johnny Boychuk cannot.
While hardly on par with the level Mark Recchi was at, Brian Rolston boasts a combination of veteran presence and offensive value that no other current Bruin possesses. And finding anyone equal to or exceeding that value will, at best, require arduous navigation through this summer's trade or free-agent market.
Mike Mottau is a mystery man. Not much else can be said for the moment, seeing as the depth defenseman had only eight opportunities to make an impression on his newest employers.
Based on necessity and what they can expect from the internal farm system and the external market, two of the Bruins' three imports from the 2011-12 NHL trading deadline should be keepers through at least the start of next season.
Though a prolific hitter and shot-blocker in 24 twirls with Boston, Zanon is the odd man out here. Since coming from Minnesota at the deadline, he has painted the impression of being a polar opposite defender along the boards as opposed to the dirty-nose area in front of the net.
He was physical enough each night, but he saw multiple goals go in off his body and/or in the midst of his over-committing and arguably interfering with his own goaltender, Tim Thomas. In addition, assuming Joe Corvo is one-and-done and if the Bruins want to try yet again for a playmaking point patroller, that has never been Zanon's model.
The same could be said about Mottau, though, only in terms of his NHL career so far. Mottau has seven career goals in 313 NHL games and his most productive year out of five seasons was an 18-point campaign with New Jersey in 2009-10.
But the 34-year-old Quincy, Mass. native and Boston College graduate could still blossom late if given the chance. He could still translate his 279 points (including 24 power-play goals) in 463 American League twirls to the next level, and playing a full season for his boyhood home team could be a driving intangible.
At the very least, unless they find a more enticing option via trade or free agency, the Bruins ought to give Mottau a fresh sheet in October, especially since Dougie Hamilton need not be rushed into the mix.
Other than Corvo, Boston's five defensive regulars who were with the team for the entire 2011-12 campaign are under contract through at least 2012-13. The fresh-out-of-college Torey Krug was added late with two games played and a pact for the next two seasons.
Even if Hamilton is ready to step up from the OHL at the unripe age of 19 this autumn, Mottau should at least be retained in the same depth defenseman role he played in March and April. There will all but indubitably be a point where Hamilton will need to be scratched or returned to Niagara while Krug will be better served picking up guaranteed, authentic game experience in Providence.
Krug's situation projects to apply to the likes of forwards Jared Knight and Ryan Spooner as they, unlike Hamilton, will run out of major-junior eligibility after this season. Collectively speaking, Boston's offense is not getting much older, which is one reason to retain Rolston.
As the roster sits now, the 39-year-old Rolston will still be the eldest of the Bruins next season. And he will be one of only four healthy, rostered tricenarians among Boston forwards, opposite Shawn Thornton (35), Chris Kelly (31 going on 32) and Rich Peverley (30).
A veteran of 1,256 regular-season games and 77 Stanley Cup playoff tilts, Rolston's productivity rate dipped to an unprecedented low over 45 games with the New York Islanders. But within two weeks of coming to the Bruins at the deadline, along with Mottau, he erupted for 11 assists and 14 points in 12 games.
He carried that acetylene stick over to the postseason for a point in each of the first three games against Washington before finally cooling off, which put him in comprehensive company with the majority of Boston's strike force.
It's hard to gauge the intended offseason overhaul to the Bruins' roster, much less how much is even attainable. There will surely be an array of enticing names, as there were in the months from October to February, but the final result of those searches speaks for itself.
Rolston is the fourth-oldest NHL forward set to become an unrestricted free agent on July 1. But considering the way he sandwiched his uneventful stint on Long Island with a passable performance in New Jersey and a three-week surge in Boston, he likely will not run permanently arid in 2012-13.
Of the other seasoned names on the list, none are anything close to a combination of a surefire acquisition and instant impact. Unless he has a solid trade up his sleeve, general manager Peter Chiarelli may be better off gratefully acknowledging Rolston's unique input and re-signing him for one more season.
This article is
What is the duplicate article?
Why is this article offensive?
Where is this article plagiarized from?
Why is this article poorly edited?

Boston Bruins: Like this team?