Cincinnati Reds: Turning the Reds into a World Series Contender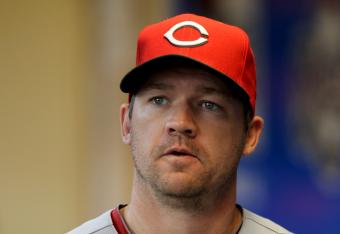 Mike McGinnis/Getty Images
The Cincinnati Reds have the pieces necessary to become a serious World Series contender in 2012. But as of now, they have yet to put together a consistent string of wins to make it appear so.
The Reds have committed a large sum of money to Brandon Phillips and Joey Votto over the next decade, so they have a core intact for the future. We can sit here and bicker over whether it was the right call to spend such a large amount of money on two players, but that is not what this article is about.
The Reds need some help from a few guys on the roster if they want to succeed. We will start with Scott Rolen. Rolen has been one of the best—if not the best—third basemen in all of baseball over the last 10 years, but he is showing signs of age in the young 2012 season.
Rolen is a fan favorite in Cincinnati and has become the leader in the clubhouse, but there is always a "but." He has not shown much in the way of production this season and the real question is, will he? I do not think anyone knows the answer to that question.
Let us take a look at Rolen right now. Rolen is hitting a mere .174 with an on-base percentage of .238. These do not resemble the career numbers of Scott Rolen. Rolen is a lifetime .281 hitter, but we do have to account for age at the present time and also the shoulder ailments he has had in the past.
This does not suggest the Reds go out and release or trade Rolen whatsoever. But there will have to come a point for Dusty Baker and company to sit down and decide if they want to continue running Rolen out there more times than not.
Scott Rolen can still pick it at third base, which is a major boost defensively, but defense does not equal offensive production. The Reds have Todd Frazier, who has shown some spark off the bench, and he can do an admirable job at third base. This is not suggesting that Frazier is better defensively than Rolen, but the suggestion is that Frazier has the bat speed and hitting ability to create a boost in the level of production that is not currently being shown.
In a non-expert opinion and much to the opine of many Reds fans, Todd Frazier should be the starting third baseman for the Cincinnati Reds for the remainder of this season.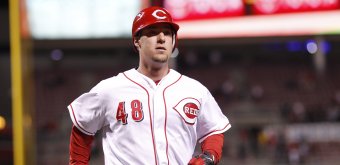 Joe Robbins/Getty Images
Let us move on to left field. The Reds signed Ryan Ludwick in the offseason in hopes that he would be able to nail down the starting gig and hit like he did when Walt Jocketty had him in St. Louis. Through a little over one month into the season, it has been apparent that he has not.
The flip side would be to stick Chris Heisey out there every day, but he is also not providing any production to the position either. The question will be, what are the Reds going to do?
We can look at this problem in a number of different lights. The first solution would be to stick with one or the other. When you run Ludwick out one game and Heisey the next, you are not really giving one player the opportunity to provide a meaningful impact.
The next solution would be to reach into the farm system and find an answer, but judging by the numbers in AAA right now, that solution is near zilch.
The third solution would be to find someone on the trade market, but who? You have to remember the Reds have committed a ton of money to a few guys, so finding someone to help now may be a little tougher than originally thought. The Reds could try for Delmon Young, who is a free agent after the season, but then you have the baggage that surrounds him currently. Young is a much better hitter than Heisey and Ludwick at the moment, but defensively, that is a whole new ball game.
There are a few other options out there, but trying to pry those players away from their teams may cost a lot more then the Reds are willing to spend. Option one looks to be the best option as of now, but we all know things could change before the deadline.
The third issue facing the Reds right now is Aroldis Chapman and what to do with him. Does he start? Does he close? Or should he just stay where he is?
The Reds are paying Chapman starter money, and they had envisioned him as a potential ace of the staff. But circumstances have arisen in which he is needed out of the bullpen. The Reds were hoping for Ryan Madson to be the everyday closer this season, but due to injury, that notion has gone right out the window.
Joe Robbins/Getty Images
The Reds currently employ Sean Marshall as the closer, which originally looked like a great idea. But he is an off-speed kind of pitcher, which in the notion of closing a ball game, is not the best option. Do not get me wrong—Marshall is an excellent reliever, as evidenced by his performance in 2011. But is he truly a closer? I do not think so.
The other side of the equation is the Reds' need for a fifth starter right now. Homer Bailey and Mike Leake have not been effective this season, and running them out every fifth day does not bode well for the remainder of the season. Bailey has shown some flashes of finally reaching his potential, but he is highly inconsistent. Leake has been dreadful to begin the year and could use some tuning up in AAA. Leake was in the same predicament a year ago, and after a handful of starts in Louisville, he came back to the big leagues and was, simply, awesome.
Do the Reds consider moving Chapman to the rotation? Or do they opt for finding help on the trade market? The answer: Chapman should be the closer.
Chapman is dominant, and when we look at the most successful closers in the game, they too are dominant. This is not to say that Chapman could not be a dominant starter, but that is an unknown at the moment. The Reds could try him as a starter and see how it goes, with the back-up plan being to move him back to the bullpen. But it appears he has more of a closer in him now.
The Reds should make a move on the trade front to find a fifth starter. There are options out there that are inexpensive and would not cost the farm system to get them. If this is going to be the year for the Reds to achieve glory, then finding that starter should be a major priority. Some options the Reds could consider would be Erik Bedard, Shaun Marcum, Carl Pavano or Joe Saunders. These four are all free agents after the season, and they all would bring an upgrade to staff immediately.
The Reds look like they have some issues to address. But they are still in the hunt, and they have received excellent performances from their pitching and offense. The key would be consistency here.
Johnny Cueto is looking like a serious contender for the Cy Young Award. Joey Votto is, well, Joey Votto. Jay Bruce is hitting like he has been expected to since he was drafted. The bullpen has been nothing short of lights out, and the Reds have been able to hang around late in games to give themselves a chance.
If this is going to be the Reds' year, they will have to find that consistency to keep winning series and find ways to get production out of players that have yet to produce.
This article is
What is the duplicate article?
Why is this article offensive?
Where is this article plagiarized from?
Why is this article poorly edited?

Cincinnati Reds: Like this team?