Wigan Athletic: Bidding Adieu to out-of-Contract Players This Summer
May 12, 2012

Jamie McDonald/Getty Images
Wigan Athletic is preparing to bid farewell to out-of-contract players this summer including striker Hugo Rodallega and defensive midfielder Mohamed Diamé. 
Rodallega is the current all-time leader in scoring at Wigan with 23 goals. 
He was instrumental in saving their 2011-12 season but has found himself wanting to leave for better waters since January. Rodallega's intentions sparked interest in a couple of Premier League teams, including a Ligue 1 team, but nothing has transpired as of yet. 
If Rodallega were to leave, Wigan would be out of a proven goal scorer, although the Colombian has yet to hit the 10-goal mark this season. He has just two goals from 22 appearances in league competition which brings his value down, but he does have three assists to his name.
Wigan manager Roberto Martinez had this to say about Rodallega (via Sky Sports):
"I don't know if he has another club lined up but he will go with our blessing," he said of the South American.

"I can't praise him enough for his attitude. He's been very unselfish. I think everyone will look at the time he had at the club as a success.

"We have to be prepared and know we need to bring in four players as quickly as possible."
Mohamed Diamé has made a name for himself in the Barclay's Premier League and is known for his hard-tackling abilities and his tendency to get stuck in.
The Senegalese midfielder made his debut for Wigan immediately after his transfer in 2010 and has been a consistent and ever-present figure in the Wigan midfield. This season, however, he has seen himself fielded in just 26 games, although managing to score three times.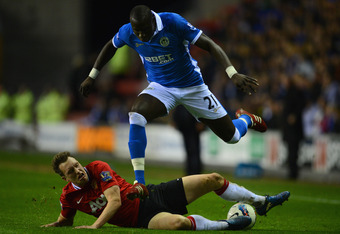 Michael Regan/Getty Images
Martinez expect the aforementioned players plus two out-of-contract players to leave the club. 
"There are four players out of contract and I expect them all to go," Martinez said. However, he is certain to keep players under contract on the team and hopes to keep the squad together.
In an attempt to stop speculation of Victor Moses, Martinez confided, "...I don't expect to lose anyone who is under contract." Moses looks to leave the club after rejecting offers of a renewed contract. 
This exodus can only mean peril for Martinez, although he looks calm and confident and steadied for the rough waters of the summer transfer season.