New York Knicks Offseason: Trade Amar'e Stoudemire? Sign Steve Nash?
May 12, 2012

Scott Gries/Getty Images
There's been no bigger NBA moment than seconds before tip-off of Game 7 of the 1970 Finals between the Los Angeles Lakers and New York NY Knicks. Injured Knicks captain Willis Reed hobbled onto the court to play in a game he was supposed to miss.
Never mind that Reed scored only four points.  After he limped onto the court in the world's most famous arena, the Knicks won 113-99.
New York is a basketball city and the Knicks are a storied NBA franchise. Yet they haven't won a championship since 1973.
The Knicks are a mess and one that won't be easy to clean up. The parts just don't fit well together.
The biggest part came at a huge expense. The Knicks acquired Carmelo Anthony last year, along with Chauncey Billups, Anthony Carter, Shelden Williams and Renaldo Blackman, none of whom are still with the team.
The Knicks gave up Wilson Chandler (a future All-Star), Raymond Felton, Timofey Mozgov, their 2014 first-round pick and second-round picks from Golden State in 2012 and 2013. Oh, and they threw in $3 million.
This year, the Knicks brought in Tyson Chandler to join Carmelo and Amar'e Stoudemire in the frontcourt. A formidable frontcourt at that. On paper. On the court, not so much.
Carmelo is an isolation guy. Give him the ball and get out of the way. Stoudemire is a pick-and-roll guy. With Chandler there also, it's all clogged up. It's as if the Knicks acquired players who are good and never thought through the chemistry on the court.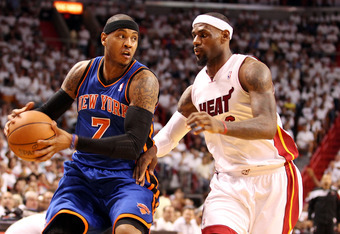 Marc Serota/Getty Images
What to do about it now? Well, trades are not easy in the NBA with the salary cap. You have to bring back salaries within a certain percentage of the salaries you trade away.
Does it seem obvious to trade Stoudemire? Sure, it does. The only problem is that Stoudemire is not going anywhere.  He's still owed $83 million over the next four years and that isn't insured because of his multiple knee surgeries. No one can afford him.
Trade Carmelo? I don't see how you can do that after giving up so much for him just last year. By the way, it would have been smarter to wait and sign him as a free agent. I know Denver wanted something for him, but Carmelo could have refused to sign a new contract wherever he was traded,  then signed with the Knicks in the offseason.
What do the Knicks do now? The move begging to be made is to bring Phoenix point guard Steve Nash to the Garden. He would steady the Knicks and give them the ball-handler they need to run the offense.
What about Linsanity, you ask? He could play shooting guard and would mesh well alongside Nash. What better way could there be to develop Lin?
The other question is whether to give interim coach Mike Woodson the permanent job. He deserves the chance because of the defensive improvement he's brought to the team. Last year, the Knicks were 21st in the league in defensive efficiency, which is measured by points per 100 possessions. This year, the Knicks ranked fifth.
I said this mess won't be easy to clean up. But it can be done. The question becomes, will it? It might if owner James Dolan stays out of the way and, for Pete's sake, doesn't bring back Isiah Thomas.
Follow on Twitter@sprtsramblngman