2012 NBA Draft: Can the Philadelphia 76ers Find an Impact Player at 15?
May 12, 2012

Drew Hallowell/Getty Images
Surprisingly, the 76ers ground out a win versus the Bulls in the first round of the NBA playoffs. They go into the record books as only the fifth No. 8 seed to beat a No. 1 seed in NBA history.
But pump your breaks, 76ers fans. The team still has major problems.
Even without Rose and Noah, the Bulls were on their way to forcing a Game 7 until C.J. Watson inexplicably passed the ball to their worst foul shooter, Omer Asik, in the waning seconds of Game 6.
For the series, the 76ers were held below 80 points in half of their games and averaged a mere 86 points per game, which is five points below the playoff average. 
It is clear that the 76ers need to find ways to score more effectively, especially in the half court. With a weak free-agent market, the team must look to the draft to add talent. Since experts claim that the 2012 NBA draft is loaded with talent, finding an impact player at 15 should be reasonable. So here's a look at the at five prospects the 76ers might consider.
Jared Sullinger
Jared Sullinger could be this year's last player in the green room, and that would be wonderful for 76ers fans. Although he is not the prototypical center in terms of size and athleticism, he makes up for it with smarts and power.
Right now he is being compared to a Kevin Love-type player with both an inside and outside game. Adding a player of this caliber would really open the floor up for Holiday and Turner.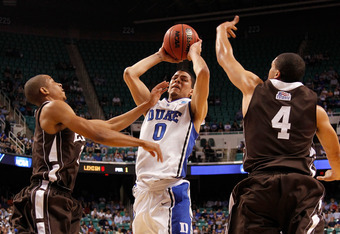 Mike Ehrmann/Getty Images
Austin Rivers
Austin Rivers could be the perfect replacement for Louis Williams. After coming in second for the Sixth Man of the Year award, Williams will likely gain some attention in a weak free-agent market. The 76ers would likely need to overpay to keep Lou, and that would not be possible with their current payroll situation.
This is the ideal situation for Rivers. Like Lou, Rivers will be relied on to provide offense off the bench. That's it.
Although Rivers may develop into a competent point guard or shooting guard down the road, he isn't there yet. And the 76ers provide him the best opportunity to learn under Coach Collins and continue to do what he does best—score.  
Tyler Zeller
The 76ers should strongly consider taking Tyler Zeller. The 76ers have a pressing need at center whether resign Spencer Hawes or not. One of the reasons that their half court offense is so stagnant is that they don't have a post game. Zeller can provide this post game and shows signs of developing a reliable jump shot.
Also, the bread and butter of this 76ers team is getting out in the open court. This is something that Zeller showed he can do in North Carolina's up-tempo offense.  The major knock on Zeller is that at times he got pushed around in college. Unless he adds strength, this will not bode well against NBA talent.
Arnett Moultrie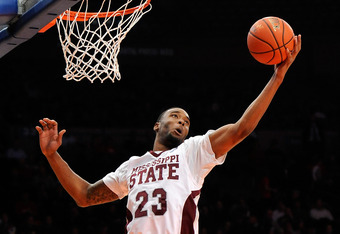 Patrick McDermott/Getty Images
Arnett Moultrie is a freak athlete. At 6'11'' he's extraordinarily quick and is made up of the raw potential that makes many scouts salivate. The problem is that he doesn't have a true position. Many draft sites have him classified as a PF/C.
However, in college he flourished on the perimeter offensively. The 76ers are loaded with perimeter talent and are in desperate need of solid post play.
Defensively, Arnett doesn't have the strength to handle professional power forwards and centers. Also, the 76ers have someone on their bench who possesses the same type of potential, Craig Brackins. Drafting Moultrie would be a waste of a pick for the Sixers.
Meyers Leonard
Even though Spencer Hawes has shown some signs of life in the playoffs, it remains clear that the 76ers are in desperate need of a center.  So it is logical that the team will take a hard look at Meyers Leonard, who measures in at 7'0'' and is athletic for his size.
But the Sixers should be weary of drafting Leonard. Despite his superior size and athleticism, he was unable to dominate inferior completion in college. Also, he is raw offensively and doesn't possess enough rebounding and defensive skill to compensate. Further, it has been reported that he has questionable motor. As we saw with Marreese Speights, that would not be tolerated by Doug Collins.