Players Championship 2012 TV Schedule: Strong Day 2 Makes Tiger Woods a Threat
May 12, 2012

David Cannon/Getty Images
Tiger Woods is down, but he ain't dead just yet.
Woods shot a four-under 68 to put him at two shots under par for the tournament, six strokes back from co-leaders Matt Kuchar, Kevin Na and Zach Johnson at The Players Championship. After a horrific Thursday that put him in danger of missing the cut for the straight second tournament, Woods rebounded rather nicely in Round 2.  
While this is certainly nothing to go crazy over, it does suggest progress is being made, and that's all you can ask for from Woods at this point.
TPC Sawgrass requires a very consistent golfer; one who stays level-headed and doesn't gamble too terribly much.
That's exactly what Tiger was able to do on Friday.
He played a very steady round with an explosive four holes in the middle. He hit four straight birdies from the eighth to the 11th as all facets of his game were clicking.
Woods played a bit too conservatively from there, but he will certainly take the final score.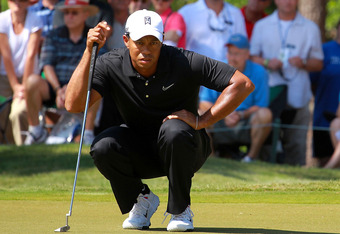 Andy Lyons/Getty Images
Heading into the weekend, Woods went from a tie for 100th to a tie for 30th. What can he do on Saturday?
Certainly it's going to be a complete roll of the dice with the inconsistencies he has displayed in 2012, but the biggest thing to take away from Friday was his mental strength.
He seemed calm, relaxed and extremely focused. Considering how much pressure is on his shoulders, that's incredibly important right now. After his embarrassing performance at the Masters and missing the cut last week, Woods is fighting just to be relevant right now.
No sport requires the mental toughness golf does, and Woods was getting crushed in that category as recently as Thursday. To see him register a promising performance just one day later is a very encouraging sign for Woods.
So no, I don't think Woods will end up winning this weekend, but I do believe he is going to register two more days of under-par play. A top-10 finish is in his future.
Woods will tee off well before the leaders at 11:25 a.m. Saturday with Keegan Bradley. Johnson and Na are in the final group at 2:35 p.m.
TV Coverage (All Times EST):
Round 3 TV Coverage: 12-2 p.m ET, Golf Channel, 2-7 p.m NBC
Round 4 TV Coverage: 12-2 p.m ET, Golf Channel, 2-7 p.m NBC