Johnson, Na, Kuchar in Lead; Tiger, Phil Make Cut
May 12, 2012

Andy Lyons/Getty Images
Kathy Bissell
Ponte Vedra Beach, FL–Carnage. Love the TPC Sawgrass or hate it, the water and sand and awkward lies and island green and alligator are all a part of the challenge of the biggest tournament on the PGA Tour. The course keeps professional golfers off balance, making them uncomfortable from start to finish. 
Discomfort is what the TPC at Sawgrass does best. Big names have trouble here. Rory McIlroy missed the cut, Steve Stricker is going home, Graeme McDowell is packing up, as is Hunter Mahan, one of the pre-tournament favorites.
Meanwhile, after enduring round after round of criticism, Tiger Woods clawed his way back from +2 on Thursday to get to -2 by the end of the day Friday with a four under 68. He had six birdies in his round, which pretty much proved armchair analysts wrong when they said that he had lost his game.  He had four birdies from the eighth to the 11th. He birdied three of the four par fives, letting only the second hole get away from him. 
"66 was my number today," he said about his target score. "It would have put me four back, but I'm still with a good chance."
He said his putting was good. 
"I had good speed on the greens, and finally what I was seeing and what I was feeling were matching up on speeds," he said.  
He attacked the par fives.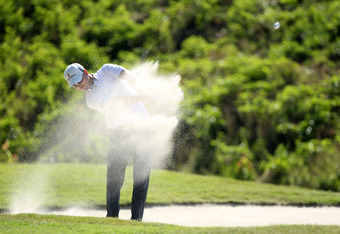 Andy Lyons/Getty Images
"I had to play them better than I'm playing par fives, period. Good driver here, you're hitting irons to just about every par five," he explained.
The big difference for Woods was in the swing. "We did some work yesterday afternoon and tightened it up, felt better with what we're working on, and I went with it today, and it worked out pretty well," he concluded.
The only golfers who had it easy, easy being a relative term, were the typical straight hitters. Former Masters champ Zach Johnson is at the top of the leaderboard along with Matt Kuchar, another straight hitter, and a resurgent Kevin Na.
"I never really gave the golf course much," Johnson said about his round. "I kept it where you need to keep it.  My misses were proper."  He said the course was good for his game which relies on hitting a lot of fairways. "Fairways are typically one of my stronger aspects of my game."
Kevin Na said he had added confidence in his game after winning in Las Vegas last fall. He is now more relaxed when in contention.
Matt Kuchar is accustomed to the spotlight. "It's fun to be back in position with a chance to win again," he said.
Quote of the day:  " It's an absolute challenge, all Pete's golf courses are. You have to be committed to your line here, tees and greens. He gives you a lot more room than you think, but if you miss it, good luck." –Tiger Woods
 List of victims of TPC Sawgrass grows: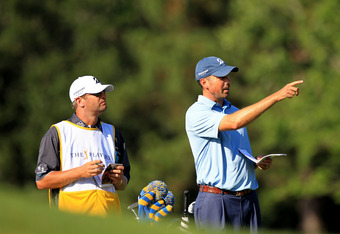 Sam Greenwood/Getty Images
WD Victim No 6: Hunter Haas, Thursday.  He started with a triple and had a bogey at the third.  At least he was close to the clubhouse.
No. 7: Scott Verplank – wrist after starting the back nine par, bogey, bogey, double, double.  Verplank has actually had wrist problems in the past, so we'll give him a fall pass on this one.
No. 8:  Briny Baird – left shoulder.  He was +9 though 13 holes and had just gone bogey-- bogey.
No. 9: DQed -- D.J. Trahan, incorrect scorecard.  80-74 is what scoring had for him.  He mysteriously disappeared from the media center leaderboard after the DQ. 
Equipment malfunction: After six holes, Tiger Woods changed one shoe.   The right one.  Broken shoe eyelet. 
Highest score without withdrawing:  Andres Romero, +14.  he had seven bogeys, two doubles, a triple and a quadruple bogey in two rounds.    
Balls in the water @ 17 on Thursday & Friday:  29.   
Balls in trees:  1, Kevin Na on the first hole, Thursday.
Kathy Bissell is a Golf Writer for Bleacher Report. Unless otherwise noted, all quotes were obtained first-hand or from official interview materials from the USGA, PGA Tour or PGA of America.