MLB Trade Buzz: Surprising No One, Washington Nationals Looking for Outfielders
May 11, 2012

Claus Andersen/Getty Images
After Jayson Werth suffered a broken wrist on Sunday, it seemed natural to presume that the Washington Nationals would be looking for some outfield help.
The team's depth at that position was already thin. Michael Morse has been out all season with a lat injury, leaving the Nats to twirl a carousel of spare parts in left field.
Bryce Harper looked like the solution when he was called up from Class AAA, but with Werth's injury, he's been moved over to right field (where he was originally projected to play anyway). 
Yet the Nats insisted that they wouldn't try to bolster their outfield by making a trade. According to the Washington Post's Adam Kilgore, general manager Mike Rizzo and manager Davey Johnson were content to play Roger Bernadina and Xavier Nady in left field. Steve Lombardozzi and Chad Tracy could also help, if needed. 
That seemed like a sound approach, especially if the Nats planned on playing all four of those guys in left at the same time, like a Voltron robot of mediocrity. 
So it shouldn't be any surprise that the Nats are reportedly checking around on available outfielders. According to Fox Sports' Ken Rosenthal, the Nationals and Los Angeles Angels have had "preliminary discussions" about a trade involving center fielder Peter Bourjos.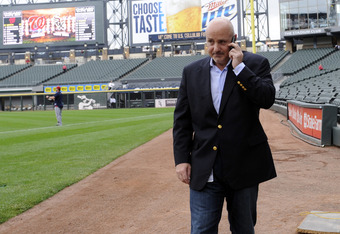 David Banks/Getty Images
It's possible that Rizzo would've inquired on Bourjos anyway, as he's been looking for a center fielder for quite some time. Last year, there were rumors of the Nats sending Drew Storen to the Minnesota Twins for Denard Span, but the deal fell through at the trade deadline. 
Though Bourjos would be a longer-term solution than Rick Ankiel, he's a bit of a curious choice for the Nats to pursue. The team's outfield defense and speed in the lineup would certainly improve with Bourjos, but he doesn't provide what the Nats really need right now: offense.
Bourjos is batting .192/.259/.288 with 15 strikeouts in 61 plate appearances this season. To be fair, he hasn't gotten much of a chance to improve those numbers, as the recent call-up of Mike Trout has squeezed him out of the Angels' starting outfield. 
But if Bourjos hit like he did last year, compiling a .271/.327/.438 with 12 homers, 43 RBI, 22 stolen bases and 11 triples, he would be a vast improvement over what the Nationals are running out there. Perhaps that's what Rizzo envisions.
It could be a moot point, however. MLB.com's Alden Gonzalez basically shot down the trade rumor, with an Angels source telling him there was no truth to the report. Of course, that doesn't mean there haven't really been talks between the two teams. 
Otherwise, the Nats are better off looking for a more productive offensive player.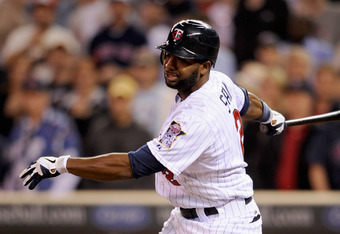 Hannah Foslien/Getty Images
If Span is still on the table, he's batting .298/.351/.364 and would provide the same level of defensive play. But if the Twins still want Storen, they'll have to wait and see if he comes back healthy after having bone chips removed from his elbow. 
Seth Smith doesn't have impressive numbers this year, batting .224/.381/.316, but like Bourjos, he's shown better production in the past. He certainly gets on base more often than most of the Nationals' current hitters. 
With the Toronto Blue Jays keeping Travis Snider in Class AAA, perhaps they'd be interested in making a deal. Snider is hitting .370/.447/.682 with four homers and 24 RBI in Las Vegas. But it probably says something that the Jays are asking around about Shane Victorino (and Bourjos, too) instead of calling Snider up. 
Rizzo could really take a chance on offense and ask the Detroit Tigers about Delmon Young. While he wouldn't improve the team's outfield defense or provide much of an on-base threat, he does have some power that might interest the Nats. And the Tigers have previously shown interest in John Lannan, so there might be a match. 
Well, maybe Bourjos is the best and most available option after all. 
Follow @iancass on Twitter