NHL Playoffs 2012: 5 Reasons the Phoenix Coyotes Are Done If They Lose Game 1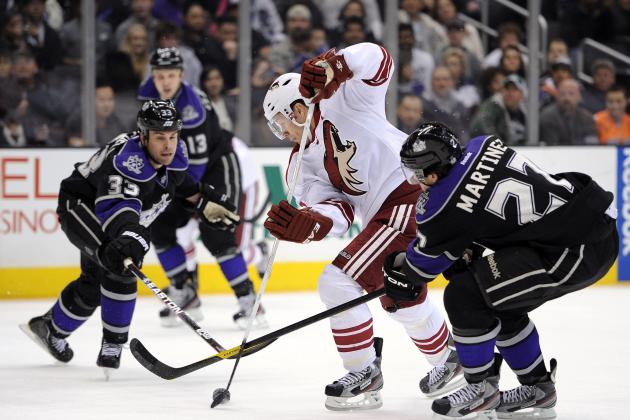 Harry How/Getty Images

These NHL playoffs have shown that anything is possible. So when someone suggests that a team could lose a series if it loses Game 1 of a seven-game series, I understand where some people might have some questions.
Having said that, the Phoenix Coyotes are going to need another miracle on Sunday night (and throughout the Western Conference finals in general) if they hope to knock off the Los Angeles Kings.
The Los Angeles Kings have been playing a "downhill" style of hockey. Picture a snowball, dropped from the top of a snowy mountain and rolling down the hill.
By the time it gets to the bottom, there's nothing that can be done to slow it down.
The Phoenix Coyotes need to deter the Kings before they can ever get into their downhill style of game.
Still not convinced that the Coyotes are underdogs for the third series in a row?
Here are five reasons why the Coyotes should pack it in if they lose Game 1.
Begin Slideshow

»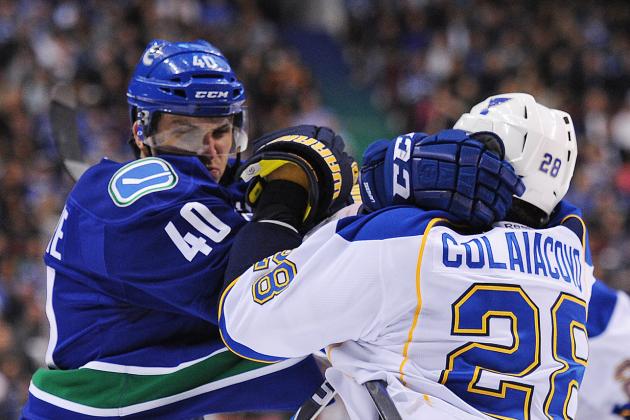 Derek Leung/Getty Images

The eighth-seeded Los Angeles Kings have certainly not been playing like a No. 8 seed.
The Kings became the first No. 8 seed to knock off the No. 1 and 2 seeds in the same playoff season.
In fact, they didn't just knock them off, they completely obliterated them, outscoring them by a combined 27-14 over the two series.
14 goals against in nine playoff games.
Now, don't get me wrong, St. Louis doesn't exactly have the best offensive team in the world, but the Blues did only give up 155 goals in 82 regular-season games, becoming the only team to have a team goals against of less than 2.00.
The Kings didn't seem to care. They put up 15 goals on the Blues in just four games, sending them home early in a sweep.
Harry How/Getty Images

The L.A. Kings have not lost a Game 1, 2 or 3 yet this playoff season.
That's unfortunate news for the Coyotes, but it's something that they can overcome if they give it 100 percent effort.
The Kings have outscored the Canucks and the Blues in Games 2 and 3 by a score of 14-6, including a Jonathan Quick Game 3 shutout against the Canucks to seal that series up.
The Coyotes must win Game 1 to avoid continuing the trend of Los Angeles dominating teams early in each series they've played.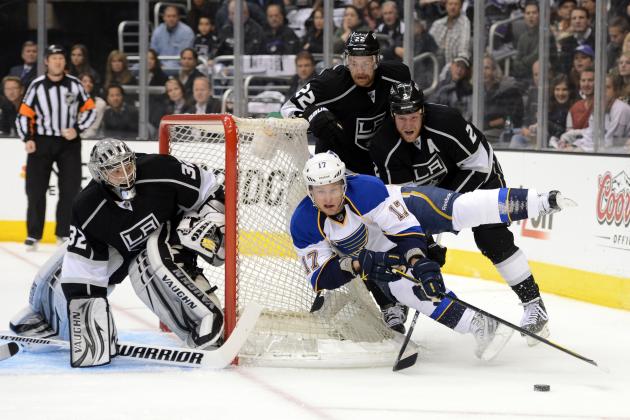 Harry How/Getty Images

The Kings have a 5-on-5 goals for/against ratio of 1.45:1.
Why does this statistic have any relevance in this series?
Well, considering that both the Phoenix and Los Angeles penalty kill are 89.5 and 92.1 percent, respectively, you can bet your bottom dollar that most of the goals will be scored at 5-on-5.
This means that if Phoenix falls behind early, they will have to struggle against the bigger Los Angeles forwards and defensemen to get to the net and put pucks in the net.
This series will be a defensive struggle to start, and if Los Angeles is able to get an early goal or two, Phoenix can kiss any chance of coming back goodbye, because the Kings have yet to blow a lead when leading after two periods.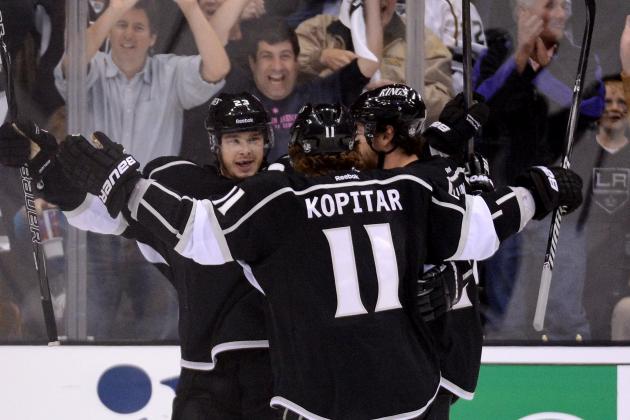 Harry How/Getty Images

Los Angeles owns a distinct size advantage over Phoenix, and that wears teams down over a seven-game series.
The Kings have seven forwards who are 200 pounds or heavier and the Coyotes only have six who are over 200 pounds (and get regular ice time).
The Kings only have one defenseman who is under 200 pounds, whereas the Coyotes only have four starting defensemen over 200 pounds.
It will be interesting to see if the Coyotes falter under the Kings' forecheck like St. Louis and Vancouver did in earlier rounds.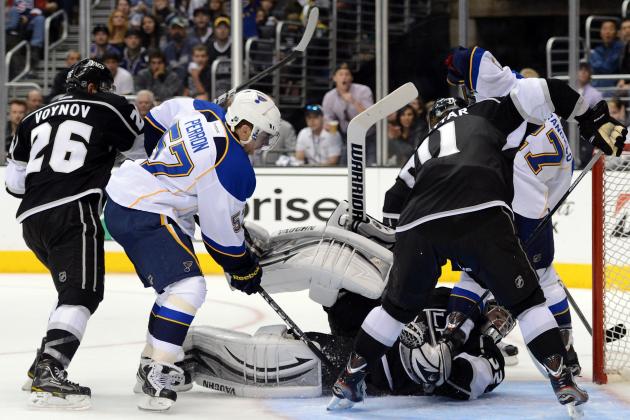 Harry How/Getty Images

The Los Angeles Kings are built from the net out.
Jonathan Quick has backstopped his team to an 8-1 record thus far, ceding only 14 goals in nine games thus far.
If the Coyotes fall behind early in the series, they will lose their boisterous home crowd.
But more importantly, the Coyotes will lose the ability to play their game because they will be working to catch up.
Mike Smith can only take this team so far. He needs some offensive support to help him out.
Take it from Brian Elliott and the St. Louis Blues: The last thing you want to do is get into a goaltending battle with the Kings because they have players who can step up and have the confidence to step up and make plays because Jonathan Quick is playing unbelievably well right now.
The Coyotes need a Game 1 win. If they get that win, they control how the rest of the series unfolds.
For more article updates, follow @isaacesmith91.