Players Championship 2012: Adam Scott and Golfers to Watch This Weekend
May 11, 2012

David Cannon/Getty Images
The Players Championship is never an easy course to play, which is why fans need to intently watch over the weekend because the leaderboard is bound to change. 
Big-time golfers such as Tiger Woods, Ernie Els, Y.E. Yang, Rory McIlroy and Steve Stricker all struggled in the early rounds. Even the defending champ K.J. Choi is having a difficult time. 
TPC Sawgrass is an intense course, and the smallest mistake can come back to haunt a golfer. The mental approach to this weekend has to be just right, or else these golfers will flop.
With that said, here are three golfers to keep a keen eye on this weekend. 
Zach Johnson 
As the current leader at -8, of course you have to watch Johnson's progress on Saturday and Sunday. He was six under through the day on Friday, so it will be interesting to see if he continues to excel like that. 
The elites know how to stay in the lead throughout the weekend, especially in tough tournaments such as the Players Championship. 
Johnson has won the Masters at Augusta National, so he knows all too well how to handle the pressure. Still, the field is strong and the course is insane, so keeping a commanding lead will be rough. 
He's fully capable of staying out in front, but how he handles adversity will be key. If Johnson crumbles at the first sign of trouble then he's toast.
Harris English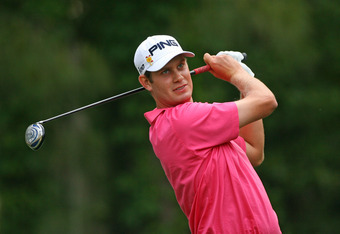 Hunter Martin/Getty Images
The soon-to-be 23-year-old turned pro in 2011, and now he has a shot at really making a name for himself. 
English finished the second round at seven under par, good enough for second place at the moment. How he approaches his first few holes on Saturday will likely determine how he fares the rest of the weekend. 
His best finish on the season so far was for eight place at the RBC Heritage in April. English faces an immense amount pressure heading into the weekend, and you'll want to see how he finishes. 
A young rising star from Georgia, English is talented enough to hang on, but his mental psyche will have to be superb on Saturday and Sunday. 
Adam Scott 
Scott finished the second round at six under par, which was good enough for a tie for third as he entered the clubhouse. 
He has great experience and is definitely capable of surging ahead and taking the lead. Scott won the Players Championship in 2004 with a score of 12 under par. 
Everyone knows who he is and what is capable of, so he is definitely a golfer to keep a close watch on this weekend.
Scott has the talent to easily take control of this tournament, and you'll be sorry if you missed out on him doing just that.