NBA Playoffs 2012: The Denver Nuggets Can Beat the Los Angeles Lakers in Game 7
May 11, 2012

Doug Pensinger/Getty Images
The hustle and heart of this year's Denver Nuggets team gives them a great chance to upset the Los Angeles Lakers in game seven.
The Nuggets absolutely crushed the Lakers last night in Denver, and no, it was not because Kobe Bryant was ill.
Although Lakers fans may use that reason to justify the beat-down that was the Lakers' game-six loss, the excuse is not rational.
Yes, Bryant looked awful physically. He was pale, slack-jawed and possibly trying to stifle his churning stomach the entire night. However, Bryant shot 13-for-23 from the field and finished with 31 points; just Kobe being Kobe.
The true abomination was Pau Gasol.
The Lakers' power forward logged 29 minutes in the loss and finished 1-for-10 from the field for three points.
Gasol is no stranger to lackluster playoff performances though. Last year in the Conference Quarterfinals against the eventual champion Dallas Mavericks, in a four-game sweep Gasol notched 15, 13, 12 and 10 points in consecutive games. Last night was another stinker of a game, but it hardly mattered after the Nuggets' torrid start.
The Nuggets got off to a 13-0 run off the opening tip, capped by a Kenneth Faried slam dunk. Although the score wasn't as ugly as that when the first quarter ended, at 30-20 in the Nuggets' favor, the game was just about over at that point.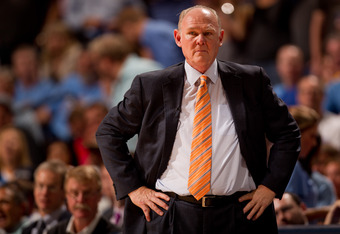 Justin Edmonds/Getty Images
Faried finished with 15 points, 11 rebounds and two blocked shots. Corey Brewer came off the bench to score 18 points while playing great defense (two steals).
Ty Lawson, the Nuggets' floor general, was clicking on all cylinders. He finished 13-for-18 from the floor (including a masterful 5-for-6 from downtown) collecting 32 points in the process.
The bulk of the credit has to go to the Nuggets' players for their stunning blowout performance, but we have to mention head coach George Karl.
Karl has used any and all tools at his disposal to motivate his players.
First, Lakers' center Andrew Bynum referred to close-out games in the playoffs as, "actually kind of easy." Not so fast, Andrew.
Karl did what he does best. He took that quote and spun it to light a fire under his players.
In addition, even if it wasn't meant as a jab against the Nuggets, a whiteboard reading "Pack for 3 games" motivated the team yet again.
If Karl believes that Andre Miller is "one of the top 10 point guards, ever," why shouldn't he believe that this Nuggets team can beat the Lakers?
Denver had big motivation for both game five and game six… they won't need any motivation to play in a do-or-die game seven.
Bryant, Gasol and Bynum will need to step up. Additionally, the return of Metta World Peace should bring some added motivation to a reeling Lakers squad. 
Nevertheless, can this Nuggets team oust the mighty Lakers from the playoffs in game seven? Absolutely.