London 2012: Luol Deng, Usain Bolt and the Many Faces of Olympic Sacrifice
May 11, 2012

Ian Walton/Getty Images
The Summer Olympics are rife with stories of self-sacrifice, and Friday's headlines bring us two such tales from polar ends of the media spectrum.
We start with All-Star forward Luol Deng, who confirmed yesterday that he will bypass surgery on his balky left wrist in order to play for Team Great Britain in London.
As he told ESPNChicago's Nick Friedell, "I'm looking forward to playing in the Olympics, I'm excited about it. It's something I've wanted to do since I was a kid and I'll prepare myself for it."
Those who watched the defensive maven grimace through a six-game playoff loss to the Philadelphia 76ers know the gravity of Deng's Olympic commitment. The man needs some serious convalescence, either by way of the knife or good old fashioned R and R.
In giving that up—and the long-term assurances that come with it—Deng embodies that famous Olympic pillar of country over self, a notion that is much a part of these Games as any other single idea.
Then there's Jamaican sprinting sensation Usain Bolt, who reportedly split with girlfriend Lubica Slovak in order to focus on his Olympic schedule.
According to the Jamaican Star, Bolt's camp, quoted anonymously, says that the defending gold-medal champion in the 100- and 200-meter sprints "cannot afford any distraction."
At first blush, it looks like silly tabloid fodder, just an eccentric sports personality either in a moment of excess or necessary temperance (depending on how you prioritize athletics).
But there could be more serious undertones.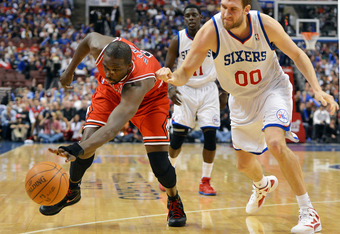 Drew Hallowell/Getty Images
According to the Sun, many Jamaicans took umbrage with the fact that Bolt's now-ex-girlfriend is white. So if Bolt is in fact ditching his girlfriend in order to eliminate distraction, one might also conclude that he's not be talking about late-night phone calls or anniversary shopping.
What if he's acquiescing to national mores on race and miscegenation and all of the extra attention that comes with challenging them (or at least appeasing a vocal minority in order to keep the peace)?
When we talk about that idea of giving oneself up for the nation, even if that means only to compete in athletics, know that it often comes with the tacit submission of one's self, one's ideals, one's right to speak and act freely.
America certainly isn't above this kind of pressure.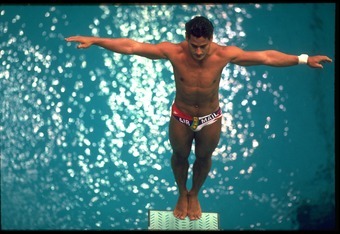 Pascal Rondeau/Getty Images
Take the case of Greg Louganis, who waited until after his Olympic career to come out as a homosexual.
I'm sure there were plenty of factors that weighed into his decision—lost sponsorships, fan reaction and the like.
But don't discount the fact that Greg Louganis' athletic identity was tied to a country that, at least at the time, had a narrow and largely negative view of homosexuals in public life. I have to believe that played some role.
When an athlete dons the Stars and Stripes—or any national colors—he or she accepts the privilege of competing on behalf of the larger group.
And by the very nature of that transformation, he or she might also have to sacrifice some part of his or her self—be it a wrist or a conviction.