Baltimore Ravens QB Joe Flacco Needs to Be More Consistent in 2012
May 11, 2012

Jim Rogash/Getty Images
In the four years that Joe Flacco has been the Baltimore Ravens' starting quarterback, the team has reached the playoffs every time. That seems to indicate that Flacco should be considered among the best passers in the league right now, but that's not so.
Last season, the Ravens averaged 213.9 passing yards per game—good for 19th in the league—and Football Outsiders ranked Flacco the 14th-best quarterback in the league.
The Ravens don't need Flacco to perform similarly to Tom Brady or Aaron Rodgers in order to win games, true. And If Flacco continues to play as he has, Baltimore still will field a very good football team. But if the Ravens get more consistent quarterback play out of Flacco, they'd be in a far better position to not only win the AFC North division but head to, and win, a Super Bowl.
In three of his past four seasons, Flacco's total passing yardage has been practically identical, with just over 3,600 in 2009, 2010 and 2011. Last year, his completion percentage took a hit. He usually has completed around 63 percent of his passes, but in 2011, that number dropped to 57.6.
At the very least, those numbers don't make Flacco look as inconsistent as he's been—they make him look like a serviceable game manager who knows what he can and cannot do and manages to make the necessary throws. But they don't show the whole picture.
The issue with Flacco is that one never knows how he's going to perform from one week to the next. Just look at this snapshot of Flacco's first seven weeks in 2011 (courtesy of Pro-Football-Reference.com):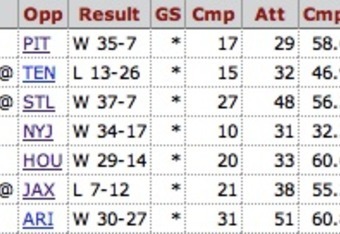 Clearly, one cannot tell which Flacco will take the field from one week to the next. Opponent does factor in, surely, but that's not the only reason why he's capable of throwing for over 300 yards one week and under 150 the next. 
Flacco's game just isn't consistent, and that's not the quality one desires in a quarterback. It's better to know what to expect from the man charged with leading the offense—at least that way, the things that need improving are well-known, and there's no fear that what worked last week won't mysteriously slip away this week.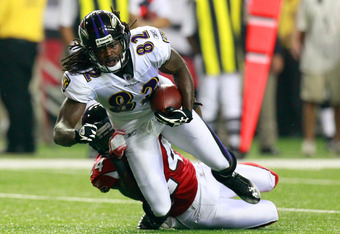 Kevin C. Cox/Getty Images
One key to help Flacco become more consistent is for his receivers to follow suit. Torrey Smith is the team's clear No. 1 receiver, and his development should be even more evident in his second season—especially now that he's healed from a hernia that nagged him for most of 2011 and the subsequent surgery.
His No. 2 target, Anquan Boldin, provides a veteran presence, as well as reliability in an otherwise young receiving corps, but Boldin would be better used in the slot.
The issue is that the Ravens have yet to develop a real No. 2 to split outside with Smith. Perhaps Tandon Doss can be that player this year, or even rookie Tommy Streeter. It's doubtful Jacoby Jones will win out that battle, but another veteran will be beneficial to the entire offense.
Quarterback development is never done, not in the ever-changing NFL landscape, so it's useless to say that Flacco is a fixed quantity. But the plateau he has appeared to hit in his overall year-by-year stats and the issues he has with consistency could quickly become a liability should the Ravens defense and run games hit a snag.
Flacco is not a bad quarterback; he's good, and he has the potential to be great. But he cannot reach that greatness until he becomes more consistent. Without Flacco's performance being a question mark, the Ravens will be even that much more dominant than they've been in the past four seasons.